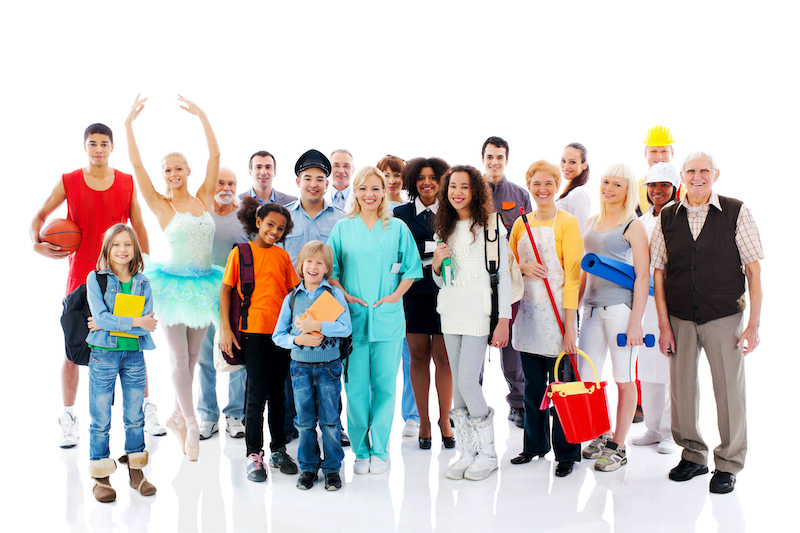 'Chiropractic Care for Everyone' is a guide to help you understand how chiropractic care can benefit you, your family, and your friends. Everyone of all ages and walks of life can benefit from chiropractic care including families, athletes, office workers, and people in the trades.
In short, chiropractic care can benefit everyone because everyone needs a healthy spine and nervous system to be healthy. After all, chiropractors are experts in caring for people's spines and nervous systems.
Also, chiropractic care is a natural and drug-free form of health care which is appealing to an increasing number of people. Many people are tired of taking drugs to mask their symptoms and treat their health problems. Instead, people are looking for healthcare providers who can solve the underlying cause of their symptoms which tends to be more safe and effective than taking drugs. As the third largest health profession in the world next to dentistry and medicine, chiropractic takes the lead in offering natural, safe, and effective health care.
This complete guide to chiropractic care takes you through what the benefits of chiropractic care are and why everyone can benefit from it. As well, we will discuss what chiropractors treat, how chiropractic works, the safety of chiropractic care, and the education chiropractors receive.
Why chiropractic care can benefit everyone?
As I have said, chiropractic care can benefit everyone because everyone needs a healthy spine and nervous system to be healthy. Let me explain this concept in more detail. First, the brain and nervous system are the command centres of the body controlling the body's ability to function well and heal well. Second, proper function of the brain and nervous system rely on good movement and alignment of the spine. Third, chiropractors are experts in improving the alignment and movement of people's spines with chiropractic adjustments. Given these facts, chiropractic care can benefit the health of EVERYONE by helping them get a healthier spine and nervous system.
In addition, chiropractors are well trained to help their patients develop a healthy lifestyle. A healthy lifestyle is important to support the health of the spine, nervous system, and overall health. For example, chiropractors can provide strategies to help patients:
with a regular exercise routine
develop social support and connections
with nutritional supplement support
reduce mental stress
To summarize, chiropractors are experts in caring for people's spines and nervous systems. As well, chiropractors are experts in knowing where a patient might need extra help with their lifestyle to support good health. In general, everyone could benefit from seeing a chiropractor.
I've been to over 15 chiropractors in Edmonton. Dr. Collins is by far the best Chiro. He's so well diverse and well educated in nutrition and health in general. Most chiropractors do a "shotgun" approach and send you on your way. He does NOT. Highly recommend Dr. Collins.

Shawn
What are the benefits of chiropractic care?
The benefits of chiropractic care for you or someone you know could be miraculous. In other words, chiropractic care could be the major key to better health for you or someone you know. For example, in the next couple of paragraphs I will share a few stories of some patients who have experienced amazing results with chiropractic care.
Frozen Shoulder – David's Story
In one case, David came to see me in 2007 as he was struggling with a very painful shoulder problem called frozen shoulder. I treated David for many months and he got a little better at best. In 2013, David came back to see me after he found out I learned a specific chiropractic adjustment which can help frozen shoulder. The results were miraculous. After one OTZ chiropractic adjustment he was able to move his shoulder fully.
Chronic Low Back Pain – Chris's Story
In another case, Chris came into my office after struggling with chronic low back pain for 13 years. Here's his story:
The past 13 years have been full of struggles due to chronic pain. I had spinal surgery in 1994 which left me crippled and unable to walk without the assistance of a cane. With an extremely high level of pain, unable to work, and barely surviving, all the specialists gave up. Then I met Dr. Collins. After 3 sessions I improved so much that I no longer needed my cane, my pain level went way down, and my quality of life improved ten fold. It has now been almost three months without my cane, and I am walking faster and sitting for longer periods. My wife finally gets back the man she met 15 years ago. Thank you Dr. Collins for giving me my life back, miracles do happen.

Chris F.
Three months after chiropractic care, Chris gave his cane to me as he no longer needed it to walk. This story still brings tears to my eyes.

Miracles can happen with chiropractic care!
Every cell, tissue, and organ is supplied by your nervous system. Therefore, chiropractic adjustments have the potential to have a positive affect on your WHOLE body. In other words, miracles can happen with chiropractic care!
Will chiropractic care work miracles for everyone? No…but it works well on most people. So isn't it worth a try?
Common benefits of chiropractic care
Decreased pain
Improved sports performance
Faster injury recovery
Overall sense of well-being
More energy
Who are our chiropractic patients?
Our chiropractic patients are families, athletes, people who work in the trades, people who sit at a computer all day, and people who want to use chiropractic care regularly to optimize their health.
Patients who do best under our care:
Don't want to rely on drugs for the rest of their lives
Are interested in finding out the underlying cause of their symptoms or health problems
Are willing to take an active role in changing their lifestyle behaviours to achieve the best result for themselves
Continue to fine tune their lifestyle behaviours to optimize their health and performance
Use chiropractic care regularly to keep their spine mobile and nervous system functioning at a high level
Chiropractor care for families
Patients who begin to see us for chiropractic care usually see how chiropractic care could benefit members of their family as well. For example, parents will often refer their kids into us to get their spines checked. The benefit of getting chiropractic care at a young age is that it can help ensure a healthy spine and nervous system throughout life.
My entire family visits Dr. Collins regularly to stay on track and maintain our health. He takes time to listen and get to know us and is always so great with our kids. He is highly skilled in chiropractic techniques and also very knowledgeable on many diverse health subjects. We drive in from Stony Plain approx. once a month for our appointments and are happy to do so!

S. Gervais
Dr. Collins has been treating our son since he was just little, and now he's 16. It has made him really aware of his body and so when things aren't feeling right, he goes in for a "tune up" every now and then. We appreciate all that Dr. Collins has done for us. I've been with him for 20 years!

TJ Mortenson
Read this post on how your children can benefit from seeing a chiropractor.
Chiropractic care for athletes
Chiropractic care is essential for athletes who want to perform at a higher level. If you're an athlete, regular chiropractic care will help you:
recover from injuries more quickly
decrease pain
increase your muscle strength
improve your balance and coordination
increase your reaction time
give you better range of motion and flexibility
help prevent injuries from arising
All of these benefits of chiropractic care equate into better athletic performance. If you're and athlete, we can help you achieve a higher level of performance.
Chiropractic care for the worker
Many people who sit at a computer for long hours would benefit from chiropractic care. Given that prolonged sitting causes lots of stress and tension to build up in the spine, chiropractic care would most certainly benefit office workers.
Read this post on how to get more movement throughout the day if you sit for work.
As well, there are lots of trades people who see chiropractors regularly to keep their spine healthy. People in the trades will often put too much stress on their spine by spending long hours working on concrete surfaces, lifting heavy things, and putting their bodies into contorted positions. Under these conditions, it is common for these workers to have injuries to their spines or other parts of their bodies. If you work in the trades, regular chiropractic care can help keep you working through the long hours and days that are demanded of you.
What do chiropractors treat?
Chiropractors correct spinal misalignments (subluxations) and extremity misalignments to help the brain and nervous system work better. As I have noted, the body can function and heal itself better when the nervous system works better. Consequently, health conditions and symptoms will get better naturally.
In saying all of this, there are common conditions and symptoms people see a chiropractor for:
Low back pain relief with chiropractic care
Low back pain can have a significant impact on anyone's lifestyle. In particular, having low back pain can interfere with the ability to sit, sleep, walk, bend forward, or any physical activity.
The good news is that chiropractic adjustments are very effective for low back pain.
I know what it's like to struggle with low back pain. My first experience with low back pain was when I was 14 years old. The low back pain was severe enough to limit my movement. For example, I had a hard time bending over to tie my shoes and bending over to skate when playing hockey. As a result, I missed weeks of playing hockey. Finally, my parents took me to their chiropractor. After one treatment from the chiropractor, I experienced relief from my low back pain and within three days I was able to play hockey again. Since then, I have been able to control and prevent low back pain from recurring with regular chiropractic care and adopting a healthy lifestyle.
This first experience with a chiropractor had such a big impact on me that it inspired me to become a chiropractor after high school.
Migraine relief with chiropractic care
Migraines are debilitating for 7-18% of North Americans and are a major cause of missed work and a disruption to family life.
Spinal misalignments and muscle tension are often found in the upper part of the neck in migraine patients. So by correcting the spinal misalignments, chiropractic adjustments can provide migraine sufferers some or complete relief.
I started having migraine headaches and conventional methods were not working. I thought chiropractic care was an alternative medicine I didn't need to explore. My migraines went away and that was enough to convince me.

Terry C.
Do you struggle with migraines? Are you tired of being curled up in a ball for days and missing out on enjoying life? Contact us, there's a good chance we can help you get some or complete relief from your migraines.
Headache relief with chiropractic care
If you struggle with headaches, chances are you have received some drug like Tylenol from your medical doctor to treat them. Unfortunately, masking your headaches with Tylenol isn't treating the underlying cause of your headache to provide you with a safe and long-term solution. Furthermore, drugs like Tylenol can have serious side effects.
The underlying cause of most headaches is from tension that builds up in the nerves, muscles, and joints between the skull and neck. Chiropractic adjustments reduce this neck tension which is why chiropractic care is often successful in helping patients get relief from headaches.
Neck pain relief with chiropractic care
Neck pain is a common complaint amongst office workers and many kids who are using electronic devices. In time, prolonged sitting draws the head forward and puts extra stress on the neck. As a result, this stress increases and can turn into poor posture, neck pain, headaches, and arthritis and degeneration.
Chiropractic adjustments, along with changing lifestyle behaviours, like standing and exercising more, often helps to improve posture and reduce neck pain.
Since I began my adjustments I can turn my head to the left or right without any pain which makes my driving easier. The pain in my right shoulder and right arm has been alleviated, and the strength in my right hand has returned so that I can grasp objects. Living without pain has also improved my disposition.

Stacey K.
I came to Dr. Collins when I was experiencing numbness and pain throughout my body. It was assessed by Dr. Collins that the issue was due to my neck. Since seeing Dr. Collins, in a short time span I have felt no more numbness and greater strength and flexibility in my neck. I have a great debt of gratitude to Dr. Collins for everything he has done for me.

Natasha
Carpal Tunnel Syndrome
Carpal Tunnel Syndrome (CTS) is a common condition that can cause pain, numbness, and tingling in the hand and wrist. There are many traditional treatment options available for carpal tunnel syndrome, including medication, splinting, and surgery. However, chiropractic care is an alternative treatment option that is becoming increasingly popular because it's safe and effective in treating CTS. Keep reading to learn more about chiropractic for carpal tunnel syndrome.
"I had so much pain in my right hand that I could not hold a pen or cup. My MD told me I had carpal tunnel and told me to wear a hand brace and take prescription anti-inflammatory medication. I did not know what to expect when I saw a chiropractor for the first time, however Dr. Collins was very calming and informative. Nothing he did in my treatment was painful. Within just a few visits my hand was actually better! Dr. Collins knew I did not have carpal tunnel. he actually had me x-rayed (which my MD never did) and found that I had degeneration in my neck. The bone spurs were pressing on the nerve that affected my whole arm. That was ten years ago. As I have aged, a few more symptoms have cropped up but Dr. Collins has always "nipped them in the bud". Dr. Collins also makes sure that your emotional health stays in good working order along with the physical."

Linda H. (business owner and manager)
Shoulder pain relief with chiropractic care
Edmonton chiropractor, Dr. Dean Collins, sees lots of patients with shoulder pain. The two most common shoulder conditions Dr. Collins treats are strained rotator cuff muscles and frozen shoulder syndrome.
Most shoulder problems occur due to weak shoulder muscles. In other words, weak shoulder muscles will cause poor mechanics when moving the shoulder leading to an injured shoulder and shoulder pain. For this reason, making the shoulder muscles stronger can fix most shoulder problems.
Getting the shoulder muscles stronger involves three steps:
loosening up the tight shoulder muscles
getting chiropractic adjustments to reestablish strong nerve supply to the muscles
sometimes having the patient strengthen the weak shoulder muscles with rehab exercises
Are you having trouble sleeping at night because of your throbbing shoulder pain? Are you struggling to lift your arm up above your shoulder or can't bring it backward enough to put your coat on? Contact us…we can help.
Increase your muscle strength with chiropractic care
Increasing muscle strength is a common reason patients see myself. I use muscle testing (applied kinesiology) on most of my patients to help decide where and how I have to treat my patients. If I find weakness in the muscles, I uses specific adjustments in the spine or extremities to make the muscle stronger. For example, athletes will notice big improvements in their muscle strength after getting chiropractic adjustments. The following are common examples of feedback I get from them:
better acceleration and follow through on golf swings
more power on tennis and volleyball serves
faster reaction times
better acceleration for sprints
longer shot-put and javelin throws
more power on deadlifts
Never ceases to amaze me…I thought I was fine but Dr. Collins checked my leg strength, found that hiding issue and corrected it.

C. Julien
Read how you can Get Stronger Legs with Chiropractic.
Improving sports performance with chiropractic care
Besides helping athletes perform better, regular chiropractic adjustments can also help athletes recover faster from injuries, and help prevent injuries. Anyone who is an athlete knows that getting injuries related to your sport is a common occurrence.
Athletes get injured because of overtraining, repetitive use, impacts and falls, and putting the body through new movements. The most common sports injuries include:
low back pain
ankle injuries
knee injuries
shoulder injuries
elbow injuries
neck pain
In summary, chiropractic care can give you an extra edge to perform better and manage injuries effectively if you're an athlete.
Wellness chiropractic care (prevention and good health)
Many chiropractic patients see the value in regular spinal check-ups and chiropractic adjustments (wellness chiropractic care) because it helps keep their spine, nervous system, and whole body healthy. In other words, many patients choose wellness chiropractic care because it is a proactive versus a reactive approach to healthcare.
Read on: Why Regular Chiropractic Check-ups are Important for You and Your Family Part 1 and Part 2
Improve your posture with chiropractic care
Poor posture is a common concern which can be improved with chiropractic care and changing your lifestyle. Seeing that most people sit all day, overuse mobile devices, and don't exercise, it's no surprise that poor posture is common. Chiropractors are specialists in helping correct postural problems with chiropractic adjustments and helping patients modify their lifestyle.
Read our posts on how you can improve your posture.
Complained his back was always sore. Turned out he was starting with scoliosis. Bi-weekly visits keep his spine straight and has helped with diving and improved form. Sleeps better and has been concentrating (most days) for school and homework.

Dawn L. (son Nicholas)
Hip pain and weakness
Hip pain and weakness while walking, running, or standing are common complaints I see as a chiropractor.
The common causes of hip pain and weakness are due to:
a pinched nerve from the lower back
the hip, knee, or foot is out of alignment
arthritis in the hip joint
tight muscles in and around the hip and pelvis
believe it or not, a misalignment between the skull and where it attaches into the neck
sometimes an inguinal hernia
Read our post to learn more on common causes of hip pain.
Sciatica relief with chiropractic care
Sciatica, pronounced "sigh-attic-ah", is stabbing or electric shock pain that travels from the low back and buttock area all the way down to the calf and foot. Sciatic pain is caused by the nerves getting pinched in the lower back most often from disc bulges, disc herniations, or bone spurs from disc degeneration.
Rest assured most sciatica gets better over time. However, sciatica often gets better faster with chiropractic care, stretching exercises, and anti-inflammatories (herbal or medicinal).
Knee pain relief with chiropractic care
Knee pain affects about 25% of the adult population and can hamper a person's mobility and limit physical activity they might enjoy.
The main causes of knee pain include the following:
spine being out of alignment
a pinched nerve in the low back
bad posture
flat feet
hip being out of alignment
being overweight or obese
the knee joints can be out of alignment
underlying arthritis or inflammation
muscle weakness and muscle knots around the knee
Chiropractors can help you with your knee pain. First, chiropractors can help correct any alignment problems in your feet, knee and spine that might might causing your knee pain. Second, chiropractors can help loosen up any tight muscles around the knee joint. Finally, chiropractors can help you make any lifestyle changes needed to treat your knee pain.
Read more about the causes of knee pain and how chiropractic care can help you:
Five Common Causes of Knee Pain
Knee Pain Caused by Head being Out of Alignment
Chiropractic care for growing pains
Previously, I mentioned the importance of getting your child's spine checked regularly by a chiropractor to ensure a healthy spine and nervous system. One of the common reasons a parent will bring their child into see a chiropractor is for growing pains.
Treating children's spines with chiropractic care for growing pains often provides complete relief.
Read more: Chiropractic Care for Growing Pains
Ankle and foot pain relief with chiropractic care
Ankle injuries are one of the most common injuries in sports. For example, sports like tennis, basketball, volleyball, and soccer involve a lot of quick stops and starts which increase the likelihood of rolling the ankle and spraining it.
As for foot pain, one of the most common foot conditions chiropractors can help patients with is plantar fasciitis. Plantar fasciitis is intense pain felt in the heel and arch of the foot.
Chiropractic adjustments in the spine and feet, combined with soft tissue therapy and lifestyle changes can help patients recover from ankle and foot injuries faster.
Elbow pain
Using your hands and arms a lot during work, hobbies, or sports strains your elbow muscles which can cause elbow pain. For example, people who work at a computer use their hands a lot when typing and mousing. Another example, would be people in the trades like electricians and carpenters who use their hands and arms a lot when working. A final example, would be athletes like tennis players, golfers, or baseball players who use their hands and arms repetitively during their sport. In summary, people who work at a computer, people in the trades, and athletes, are prone to elbow pain.
Chiropractic care can be very effective in treating your elbow pain. That is to say, by getting chiropractic adjustments and treating your strained elbow muscles, chiropractors can help get rid of your elbow pain.
Read this post: How to Treat your Tennis Elbow
Arthritis
The most common form of arthritis chiropractors can help treat is osteoarthritis. Osteoarthritis is a condition in which the joints wear out and get painful and swollen. In particular, the weight-bearing joints in the hips, knees, neck and lower back are the joints most prone to get osteoarthritis.
Some of the common underlying causes of osteoarthritis include:
poor posture
joint misalignments
traumatic injuries to the joints
Chiropractic care treats the underlying cases of osteoarthritis and can play an important role in treating osteoarthritis.
Read more about other underlying causes of osteoarthritis and how a chiropractor can help you:
Treatment of Osteoarthritis with Glucosamine Sulphate
Refined Sugar Can Cause Osteoarthritis
Foods that Cause Inflammation: 3 Food Toxins You Should Avoid
Chiropractic care for tinnitus
Tinnitus is ringing in the ears or other noises in one or both ears. The ringing can range from a mild annoyance to a severe disruption of daily life. While there are many treatment options available for tinnitus, chiropractic care can provide a natural and safe alternative. Click on the link below to read about chiropractic for tinnitus, how it works, and what to expect if you were to see a chiropractor.
What are chiropractic adjustments?
A chiropractic adjustment is a specific force applied in a specific direction to a spinal bone or extremity bone. Chiropractic adjustments can be done by hand or with adjusting instruments. The force used to perform an adjustment can be done with a very gentle sustained push or they can be done more aggressively. Edmonton chiropractor, Dr. Dean Collins uses a variety of adjusting techniques depending on the patient's condition and level of comfort.
The purpose of a chiropractic adjustment is to improve the motion and alignment of the bone which, in turn, improves the function of the brain and nerves. This is important because when the brain and nerves function well, the body can work better and can heal better. So ultimately chiropractic adjustments improve the function of the body and help the body heal itself better.
Do chiropractic adjustments hurt?
Most adjustments are comfortable and often provide immediate relief and a sense of well-being in the patient. However, there are times when adjustments can hurt temporarily. For example, an adjustment can hurt if the area getting adjusted is extremely tender or inflamed. As well, moving bones and soft tissue structures like muscles into new positions can create some pain. This would be like getting sore after exercising if you haven't exercise in awhile.
Are chiropractic adjustments safe?
Chiropractic adjustments are very safe. Chiropractic care offers a drug-free approach to healthcare with less risk than medications and surgeries.
As I noted, there are some patients who will experience some temporary soreness after getting chiropractic adjustments. However, the risk of serious side effects is rare.
The safety of using chiropractic adjustments on a patient is assessed after doing a thorough history and examination. As well, no treatment is performed until we get formal consent from patients.
I was always suffering from back pain until I came to have a treatment from Dr. Collins. I was also afraid to have a treatment from a Chiropractor because the first Chiropractor I had was too hard on me. I am so glad and happy with Dr. Collins' treatment because I'm not scared of Chiropractors anymore and the most important thing is my back is without pain. I feel good. he is an excellent, kind, and friendly doctor.

Gabriela M.
How long does it take to get better with chiropractic care?
Most patients will notice some improvement within 6-12 visits with a structured treatment plan. To clarify, a common structured treatment plan a chiropractor will recommend at the beginning of care would range from two to three treatments (adjustments) per week over a period of two to six weeks.
By following a structured treatment plan, patients can expect faster improvement. In other words, patients will usually perceive improvement in one or more of the following ways:
pain is less intense
pain is less frequent
they can move better
better range of motion and flexibility
they feel stronger
better posture or they feel more balanced
they are sleeping better
Repeated adjustments close together over an extended period of time are often necessary to get rid of the tension that has build up in the spine, nerves, and muscles. As well, the repeated adjustments enhance better nerve communication between the brain and body which speeds up the body's ability to heal and function better.
Adjustments will be less frequent when the patient's nervous system is working better. I use the following outcome measurements to help determine when a patient's nervous system is working better:
the patient's posture is in good alignment
the patient's muscle strength is good
the patient has good "tone" in the spine meaning the alignment and mobility of the spine is good and the muscles aren't too tight.
the patient has better range of motion and flexibility
Based on my experience, most patients reach this stage of care within 6-20 visits. However, how well a patient responds to care varies depending on a number of factors such as how frequent the patient can get in for treatment and if the patient is in good or bad health to begin with.
Should you be seeing a chiropractor regularly?
A healthy spine and nervous system is vital for you to function and heal at your best. So regular chiropractic spinal check-ups and adjustments can help keep your spine mobile, in better alignment, and your nervous system working healthy so you can stay healthy.
Read more on Why Your Spine Goes Out of Alignment.
Regular chiropractic spinal check-ups and adjustments are important for you in the context of modern day stressors. Everyday common stressors like mental stress, prolonged sitting, lack of exercise, poor diet, and poor sleep create tension in your nervous system and spine. Therefore, it's pretty hard to avoid these stressors in the modern day world and not have tension in your spine. Regular spinal check-ups can detect spinal misalignments and tension in your spine before it gets out of hand. Further, chiropractic adjustments can correct these spinal misalignments and reduce the tension in your nerves and spine that build up from everyday stress.
Regular spinal check-ups and adjustments vary from once a week to every 2 months depending on the patient's circumstances.
Ultimately, how long you want to benefit from chiropractic care is always up to you.
What education do chiropractors get?
Having confidence in someone you hire to take care of your health care needs is important in attaining good results. In other words, you want to know they have the skills, education, and experience necessary to take good care of you. As I have said before, chiropractors are experts in helping you get a healthy spine and nervous system. However, you may want to know what kind of education chiropractors have to give you the confidence before you decide to consult a chiropractor.
Post-secondary education
In Canada, students need a minimum of seven years of university-level education to become chiropractor. Chiropractic students receive a similar amount of total hours as medical students. However, students of chiropractic receive more extensive training on the anatomy, physiology, diagnosis, and treatment of the spine and nervous system. This education includes more than 4200 hours of specialized chiropractic training.
Chiropractic license
After completing their education, chiropractic students have to pass regulated national board exams to attain a license to practice in Canada.
Maintaining a chiropractic license
In order to maintain their license, Chiropractors in Canada are required to complete a minimum of 24 continuing education hours per year.
Are chiropractors real doctors?
Yes. Chiropractors are recognized as a Doctor of Chiropractic in Canada. Optometrists, dentists, and medical doctors also fall into this realm and are able to have the title of doctor (Dr.).
Conclusion
Having a healthy spine and nervous system is a vital part of getting healthy and staying healthy. Since chiropractors are experts in caring for the spine and nervous system, I would encourage you, if you haven't already, to consult a chiropractor for a spinal check-up to see how you could benefit from regular chiropractic care.