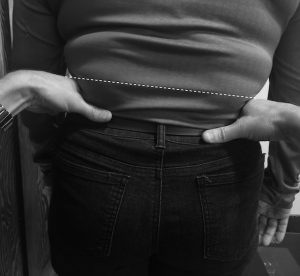 This first visit serves several purposes:
To determine the underlying cause of your symptom(s) by performing a thorough history and exam before treatment begins.
To determine whether chiropractic care would help your symptom(s).
It gives you the chance to ask any questions you may have about your symptoms or conditions and to discuss your health goals.
It provides an opportunity for us to get to know each other and determine if our clinic is a good fit for you over the long-term.
The first visit is about 50 minutes (20-30 minutes for children) and includes:
Consult and Exam
A thorough review of your health history.
A thorough exam which includes:

Posture exam: If your head is too forward or your hips tilt, it tells Dr. Collins there is likely spinal bone misalignments as well as nerve and muscle tension in the spine.
Range of motion: A decrease in your range of motion can also indicate there are underlying spinal misalignments, nerve, and muscle tension.
Strength/muscle testing (applied kinesiology): Weakness in the muscle can show Dr. Collins where an underlying spinal misalignment is interfering with the nerve signal to the muscle and can also show him if there is a problem with the muscle itself.
Orthopaedic and neurological tests: Orthopedic tests tend to stress the tissue that is injured and neurological tests would be like balance tests, muscle strength tests, and potentially reflexes, and sensory tests.
Palpatory assessment: Dr. Collins will palpate (feel) for spinal bone or extremity bone misalignments (tension and tightness) to help determine where your problem might be arising from.
The information obtained from your health history and exam helps Dr. Collins identify if your symptoms(s) is caused by a structural problem (nerve, muscle, bone and joint misalignments), mental stress, or inflammation (swelling) related to things like food intolerances, gut problems, or stress. Or perhaps your symptom(s) is related to all three causes. By using this "test, don't guess" approach he can zero in on the underlying cause of your symptom(s) more readily. Identifying the underlying patterns contributing to your symptom(s) is the key to a successful treatment and lasting outcome.
Report of Findings
During the first visit, Dr. Collins will provide a thorough, but simple explanation (report) of what's causing your symptom(s).
If Dr. Collins is confident he can help you, he will make recommendations for chiropractic care. So he will let you know what to expect as far as:
How long he feels it will take until you feel better (Relief care)
How often you should be getting treated initially
How long he feels it will take to correct the structural problem (Corrective care)
How often you should be getting your spine, extremities, and nervous system checked for preventative and wellness purposes (Wellness care)
Dr. Collins may also make recommendations for further testing. This could be diagnostic imaging like x-rays, or lab tests like food intolerance testing, gut testing, stress hormone testing or blood work.
In most cases, Dr. Collins likes to start treatment (chiropractic adjustment) on a patient's first visit, but only if the patient is comfortable with his approach and recommendations. If you're comfortable, you can begin treatment after the exam with your formal consent. There is an additional fee for the treatment.
Read this page to find out more about what happens during a Chiropractic Treatment (Adjustments).
Read this page for more information about our Fees.