What happens during a chiropractic treatment with Edmonton chiropractor Dr. Dean Collins?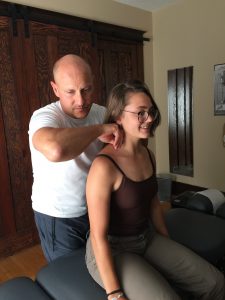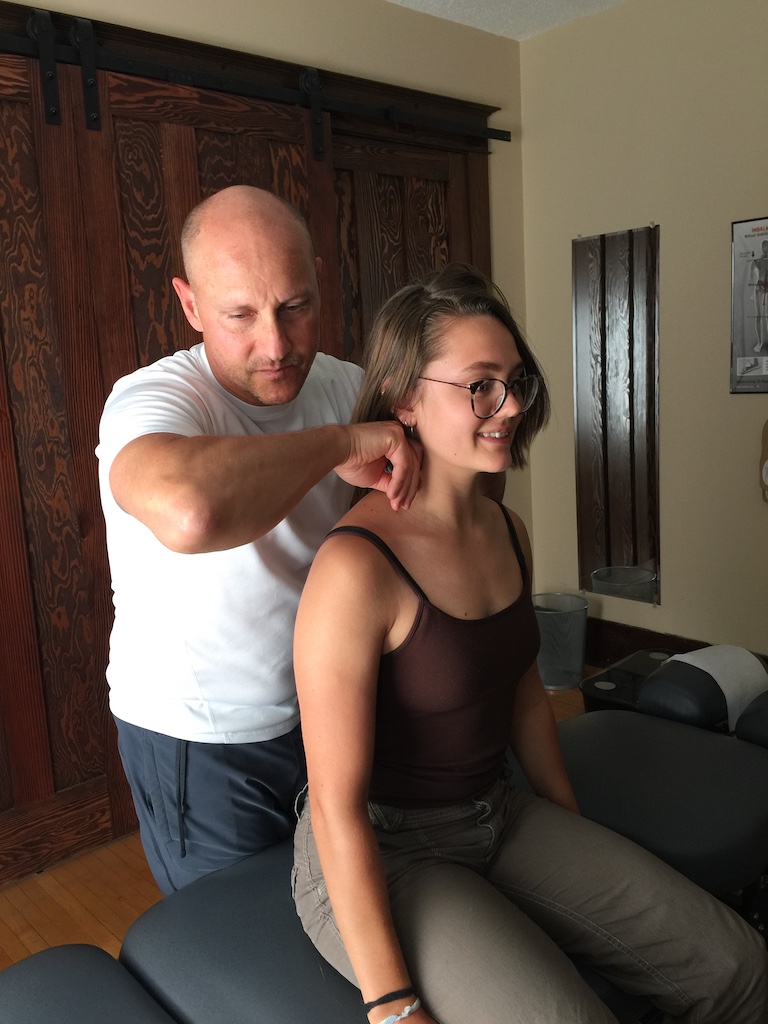 Chiropractic treatment is focussed on using chiropractic adjustments to realign your spine and extremities and to release stress that builds up in your nervous system.
A chiropractic adjustment is a specific force applied in a specific direction to a spinal bone or extremity bone. The force used to perform an adjustment can be done with a very gentle sustained push or they can be done more aggressively. Edmonton chiropractor, Dr. Dean Collins uses a variety of adjusting techniques depending on the patient's condition and level of comfort.
The primary intent of the chiropractic adjustment is to improve the function of your brain and nerves. Consequently, better brain and nerve function helps your body heal itself more quickly and correctly and helps you perform and function better.
Each time you come in, Dr. Collins will check your posture, alignment, and strength, adjust the areas that need to be adjusted, and recheck everything to make sure there's some improvement. This process takes 5-10 minutes.
Read this page for more information about our Fees for chiropractic treatments.
What is a comprehensive holistic chiropractic treatment?
This is for current patients who need or want a more comprehensive exam and treatment. This can happen if there is a new complaint, if the patient isn't responding in a timely manner and we need more time to dig deeper into their problem, if the patient's case is more complex, or if the patient feels they need a more extensive treatment done.
The treatment is similar to a regular chiropractic treatment but also involves more muscle strength tests to identify weaknesses and may involve the need for nutritional supplementation, rehab exercise, or soft tissue therapy. This process takes about 20 minutes.
Read this page for more information about our Fees for chiropractic treatments.
How long will it take until you will feel better with chiropractic treatment?
To get faster results, treatments are more frequent (ideally 3 visits per week) in the beginning. Each treatment (adjustment) builds upon the next to retrain your nervous system and peel away the layers of tension that have likely built up over a long time. Most patients will notice they start to feel better in some way within 6 visits (2-3 weeks of care). This may mean you feel stronger, have less pain, you feel lighter or more flexible, you could have more energy, etc.
How long does it take to fix my spine?
Correcting the tension and alignment problems in your spine and restoring muscle strength may take longer (usually 6-20 visits). However, the number of treatments per week becomes less as your body starts to hold its' alignment better and gets stronger.
How fast we can help you correct these problems is dependent on many things. In general, if you're really healthy, you will respond faster to treatment. As well, your strength, mobility, and alignment will sustain itself for longer periods of time. So this means if you exercise regularly, eat well, manage your stress well, sleep well, and are at an ideal body weight, you are more likely to heal fast and stay well. In contrast, if you have a poor lifestyle, you won't heal as well, and you're less likely to stay well.
Should you be getting regular chiropractic treatment?
A healthy spine and nervous system is essential for good health. So getting regular chiropractic care is important to help you optimize your performance, stay healthy, and help avoid chronic illness
Seeing a chiropractor regularly can help:
at least help slow down the progression of osteoarthritis and disc degeneration (spinal "cavities").
improve and sustain your mobility
improve your posture
increase and sustain your strength, balance and coordination
prevent pain and injuries
improve and sustain brain function
My approach I take with my health and my family's health is to be more proactive rather than reactive. In other words, my family adopts treatments and lifestyle strategies to make ourselves more resilient, to encourage better performance, and to help avoid ill health and chronic illness. So the recommendations I make to patients would be the same approach I take with my health and my family's health.
Regular chiropractic spinal check-ups and adjustments can vary anywhere from once per week to once every 2 months.
Ultimately, how long you want to benefit from chiropractic care is always up to you.
Read these posts for more information on why regular chiropractic spinal check-ups are important for you and your family.