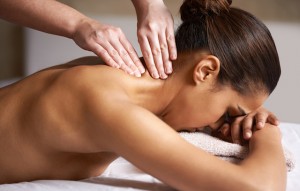 Massage can help with a variety of conditions.  Not only can it be extremely relaxing, it improves blood circulation which enhances the healing process.  It is extremely healthy for your muscles, skin and connective tissue.  The following are some of the other benefits Massage Therapy can provide you:
Stiffness

Helps improve mobilization in arthritic joints, muscle and joint injuries and post or pre-surgery patients.

Breathing Problems

People suffering from chronic lung disease report eased breathing.

Headaches/Migraines/TMJ

Helps reduce headache intensity and a reduction in medication.  Fewer sleep disturbances will allow a proper amount of sleep.

Chronic Pain Management

Helps manage various causes of pain. Experience significant pain reduction and improved muscle flexibility.

Pregnancy

Reduces lower back and pelvic strain, improves circulation and reduces edema (fluid retention)
Types of Massage
Therapeutic Massage /Remedial Massage is a paramedical treatment that helps to restore function to injured "soft tissues" (muscles, tendons and ligaments). Therapy may involve the use of various types of Massage, as well as a range of other physical treatments to assist your recovery. In addition, you may be asked to perform some activities at home to assist the process of recovery.
Deep Tissue Massage targets the deeper layers of muscle and connective tissue. The massage therapist uses slower strokes or friction techniques across the grain of the muscle. Deep tissue massage is used for chronically tight or painful muscles, repetitive strain, postural problems, or recovery from injury. People often feel sore for one to two days after deep tissue massage.
Relaxation Massage is a smooth, flowing style that promotes general relaxation, improves circulation and range of movement, and relieves muscular tension.
Hot Stone Massage is a variation on classic massage therapy. Heated smooth, flat stones are placed on key points on the body. The massage therapist may also hold the stones and use them to massage certain areas of the body. The hot stones are usually made of basalt, a type of rock that is rich in iron, so they retain heat. River rocks are normally used because they are so smooth – they have been smoothed over time by the river's current.  The stones are immersed in water and heated in an electric heating device until they are within a certain temperature range. The heat warms and relaxes the muscles, which allows the therapist to apply deeper pressure, if desired.  The warmth of the hot stones improves circulation and calms the nervous system.
Frequently Asked Questions
I'm uncomfortable taking my clothes off to get a massage.  Can I leave my clothes on?
Yes.  Although you would be covered by a blanket, if you don't want to remove all your clothing, discuss it with the therapist. Wear what you will be comfortable in that will allow the therapist to work on the areas of your body that need it. 
Do massages hurt?
If you are getting therapeutic and deep tissue massage, it can be tender and sore at times.  It's important that you let the Massage Therapist know while you are getting the massage if the pressure is too much for you.  Most people will feel a deep sense of relaxation during and after a massage.  Sometimes you will experience soreness in your muscles for the next day or two.  A warm bath with Epsom salts can help alleviate any stiffness and release any toxins that may been building up in your system.
I want my massage to be enjoyable.  What can I do to make that happen?
Good communication is very important.  Before the session, give accurate health information and let the Massage Therapist know what you want from the massage.  During the massage session, speak up if you have any feedback on the amount of pressure, speed of movement, room temperature, music volume, or lighting.    Some people like to talk during a massage session, while others remain silent.  In general, you should do whatever you feel like, and the Massage Therapist will follow your lead. 
How long will it take to feel better?
Massage has its greatest benefits over time. The therapeutic effects of massage are cumulative, so the more often a person gets a massage, the better he or she will feel and the more quickly one's body will respond. If you are getting massage to address chronic muscular tension or recovery from a soft tissue injury, more than one session is usually needed, so be prepared to schedule several sessions. 
What kind of training do Massage Therapists have?
In Alberta, educational programs vary from 250 hours to 2200 hours in length. The accepted standard in the regulated provinces is a minimum of 2200 hours or completion of a program that results in a Diploma being received.   Our Massage Therapists are required to have the full 2200 hours.  Our therapists also stay current in their porfession by taking continuing education hours. 
Is Massage Therapy covered by Alberta Health Care?
No.  Check with you current health benefits through work or your private health insurance plan.   Most health insurance plans cover a portion of the cost for Massage Therapy services.