Estimated reading time: 4 minutes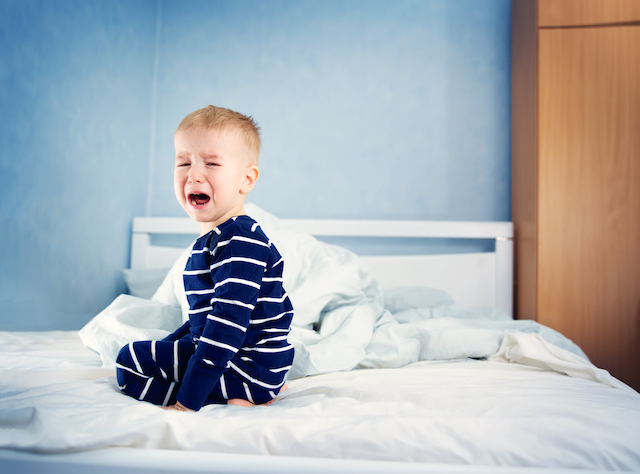 Your child has been complaining of aching and throbbing at night in their legs for months. You keep giving them Ibuprofen or Tylenol, but you're concerned about the long term side effects of giving them drugs. And really, all these drugs do, at best, is mask your child's pain. What if I told you the root cause of your child's growing pains was most likely coming from pinched nerves in their spine? I say this because treating children's spines with chiropractic care for growing pains often provides complete relief.
What are growing pains?
Growing pains in children are often described as an achy or throbbing feeling in the thighs, calves or knees. Growing pains tend to affect both legs and can often wake children up and disrupt their sleep. Although these leg pains are called growing pains, there is no proof that growing causes pain. In fact, the cause of growing pains is unknown according to the research. (1)
However, as I mentioned previously, "growing pains" likely comes from pinched nerves in a child's spine. So let's talk about how that works.
Spinal misalignments and pinched nerves as a common cause of growing pains
Children, like adults, can develop tension in their muscles, spinal misalignments, and pinched nerves from a number of ways. The following are the most common reasons:
falls in the playground
sports injuries
horsing around with siblings at home
prolonged sitting in the classroom, watching TV, or playing video games
As a result of the spinal misalignments, nerves can get pinched or irritated in a child's spine. And if the pinched nerves come from the child's low back, they can feel leg pains even without low back pain. (see Fig. 1)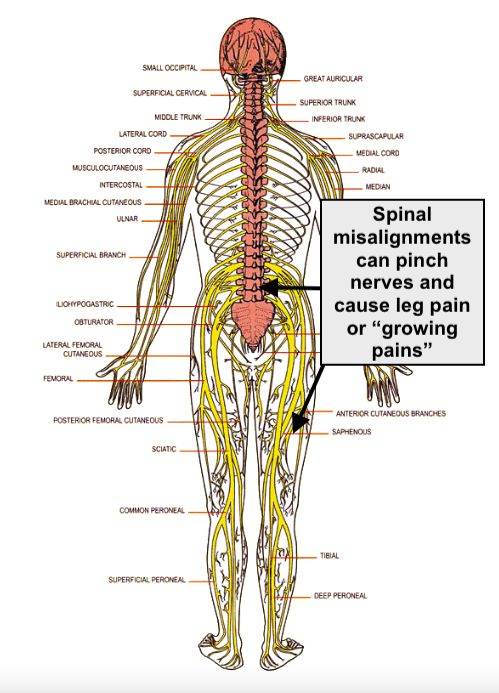 Chiropractic care for growing pains in children
Because spinal misalignments and pinched nerves are likely a common cause of growing pains, we need an effective treatment to correct this root cause. This is why chiropractic care for growing pains can be so effective. Simply put, chiropractors use adjustments (a light push on the spinal bone) to correct spinal misalignments. In turn, this takes the pressure off of the pinched nerves providing relief for growing pains. However, this "pressure off of the pinched nerves" is a simple explanation. For a more detailed explanation about how chiropractic adjustments work click here.
Is chiropractic care safe for children with growing pains?
Chiropractors are trained to do a thorough history and examination on a child's spine and nervous system. If the exam reveals chiropractic care could help, treatment can begin with the parent's consent. The adjustments chiropractors give on a child tend to be light, very safe, and very effective in resolving growing pains. As well, chiropractor's are trained to refer out to other specialists if they feel the cause of the child's growing pains is not spine related.
Summary
Spinal misalignments causing pinched nerves are a common cause of growing pains. Addressing this underlying cause is important in providing relief for your child. Chiropractic care is the perfect solution.
Chiropractic care provides a safe and effective treatment for your child with growing pains. If your child is struggling with growing pains, I would encourage you to seek out help from a chiropractor.
For more information on how chiropractic care could help you, your family, or friend read our complete guide to chiropractic care. Or give us a call, we'd be happy to help you.