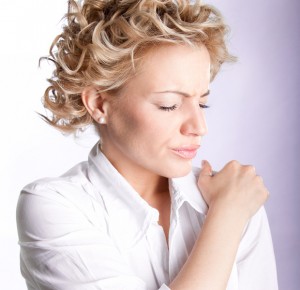 You have intense right shoulder pain.  It's so painful you can't sleep at night.  You can barely move it.  It's been going on for months and you've been told by your doctor or read that it could last up to three years or more.  You're grumpy and it's consuming your personal and professional life in every aspect. You're tired of popping pain medications and they're not working anyway.  The only thing they have done is given you stomach pain.  Maybe you have even tried chiropractic care without success.  But maybe the chiropractic care wasn't specific enough.  Find out why a specific chiropractic adjustment called OTZ has been producing dramatic improvements for frozen shoulder patients. 
Frozen Shoulder Syndrome (Adhesive Capsulitis) is a very exhausting condition involving intense pain in the shoulder and a limited ability to move the arm.  Patients who have frozen shoulder will also suffer from a significant loss of sleep because of the intense pain.  The condition usually comes on gradually and can last from 5 months up to 3 years or more. (1) Women tend to get it more then men. (2)
Frozen shoulder is a very frustrating condition for patients and the health practitioners treating it.  The treatment process is very long and often with slow results. Some patients may still have residual pain and reduced use of their shoulder for many years later.  Most medical treatments for frozen shoulder will focus on the shoulder only.  This would include pain medications (non-steroidal anti-inflammatories and steroid injections) and surgery. (3, 4, 5, 6, 7)  Physiotherapists will tend to use heat, ultrasound, stretching and shoulder mobilization. (8, 9, 10, 11)  Chiropractors tend to use adjustments (manipulation) to the neck and mid back and will get the patients to stretch the shoulder as well.  (12, 13, 14, 15)  All of these treatments work to some degree, but take a very long time.  As mentioned, some patients may never recover completely. (16)
Is there a treatment for frozen shoulder patients where they can get fast results? 
The short answer is yes and sometimes immediate results.
The OTZ chiropractic technique, founded by Dr. Francis Murphy, has shown a lot of promise in being able to get most frozen shoulder patients better significantly within a short period of time.  Although more research may need to be done to appease the masses, outcomes from applying this technique are very encouraging.  Besides the numerous patients I have personally witnessed improve immediately because of this technique, there has been a research study showing how effective it can be.  In this study, 50 cases were treated and followed over an 11 to 51 day period.  Of the 50 cases, 16 resolved completely (100% improvement), 25 showed 75% to 90% improvement, 8 showed 50% to 75% improvement, and 1 showed 0% to 50% improvement. (17)  I have used the OTZ technique on my frozen shoulder patients for several years now and I would say these numbers are accurate.
What is the OTZ chiropractic technique and how does it help frozen shoulder?
OTZ uses a unique analysis and adjustment (manipulation) of the joint between the skull (occiput) and the first spinal bone (the atlas vertebrae) in the neck.  When there is a loss of mobility or a misalignment in this joint it can interfere with the nerve signals that control some of the muscles of the shoulder.  The muscles can become weak and tight which will can cause the shoulder to become unstable.  Movement of the shoulder decreases gradually and pain sets in.  If the OTZ chiropractic adjustment is done correctly, it will turn the "nerve circuit" back on to the shoulder muscles restoring shoulder range of motion.  Again, if the OTZ chiropractic adjustment is done correctly you will often see results that will blow your socks off.
---
If the OTZ chiropractic adjustment is done correctly you will often see results that will blow your socks off.
---
I have seen many frozen shoulder patients over the years.  I'm not the most patient guy.  I like to see fast results with my patients.  Before I learned this technique I would work on my frozen shoulder patients for four to eight months and get the typical slow response to treatment with some results.  It was frustrating and boring.  I remember treating a patient of mine David on the "old protocol".  His pain got better to some degree but his range of motion was never fully restored.  He came into see me after I learned this technique and look at what happened after his first OTZ adjustment (see below video).  He got home and his wife was in tears.
That's what it is all about: making dramatic improvements in my patient's health so they can carry on living their dreams with strength, focus, energy and happiness.
If you or your loved one is suffering with frozen shoulder, please seek out a chiropractor who is proficient in using the OTZ technique.  There's a good chance it will be the solution you were looking for.
You can also refer to the following link to see a great clip of frozen shoulder patients getting the OTZ treatment on the movie "Doctored".