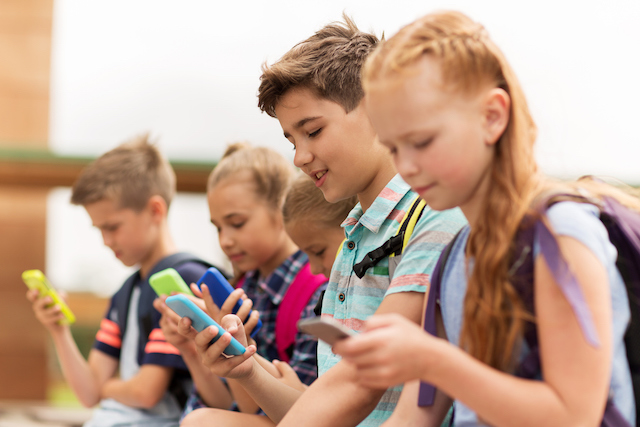 You might be familiar with rubbing your neck and shoulders after long hours on instagram, facebook, and texting.  Neck and shoulder pain, headaches, and sore thumbs and wrists are obvious consequences of prolonged smartphone and computer use.  But there are serious underlying health problems developing in your brain and body you should be aware of.  
Text neck is a term used describe the forward head posture and resulting strain of the neck that is formed after prolonged use of mobile devices.  Text neck is becoming more common as more people are found hunched over their smartphones.  This is especially true with children and teenagers.  70-75% of the Canadian and US population own a smartphone now.  (1, 2, 3)
With increased smartphone usage comes increased stress on the neck and an increased likelihood of neck and shoulder pain.  A recent study looked at 180 children and teenagers with six months or more of neck and shoulder pain.  All of them spent an average of five to seven hours a day on their smartphones and handheld devices.  They were all observed to have their neck bent forward at an angle greater than 45 degrees. (4)
Furthermore, teenagers who report constant pain are at an increased risk of chronic recurrent pain as adults. (5, 6, 7)  Many musculoskeletal conditions have a long-term pattern of recurring and then going away.  There is an increased likelihood of the condition recurring when a person is stuck in this pattern. (8)
---
Teenagers who report constant pain are at increased risk of chronic recurrent pain as adults.
---
Most times children and teenagers, yet alone young and middle-aged adults, do not know they could be doing serious long-term damage to their body.  The short-term effects aren't as noticeable.  Chronic illness works like that way.  There is an accumulation of damage done over time.  It's not until they are well into adulthood when they start to develop a chronic condition that starts to affect their quality of life.  That's when feelings of regret can be experienced. 
Serious health conditions can be a consequence of text neck
Degeneration and arthritis of the neck (cervical spine)
If you are using a smartphone for prolonged periods of time, it's not a far cry to suggest you are damaging the neck over time.  Being sedentary with your head in a forward position for long periods of time creates postural sprains (small ligaments tears) and strains (small muscle tears).  This results in chronic muscle tension, degeneration of the joints (arthritis) and discs (shock absorbers between the spinal bones), and decreased mobility of the neck.  (9, 10, 11, 12)
Bad Posture

 
Your head being drawn forward for long periods of time from prolonged smartphone use tends to cause your head and shoulders to roll forward.  You will develop bad posture. 
Specific misalignments of the spinal bones start to develop with decreased mobility of the neck.  Decreased nerve input into the brain results.  This can lead to numerous problems and a chronic stress response in the brain and body.  
Chronic Stress
Just the presence of our smartphone reduces our ability to understand, to think clearly, to reason, and to make smart choices.  This is a big problem when our biggest stressor is to get on facebook, instagram, or snapchat.  We're in this constant state of stress.  We're not thinking about getting outside to play or go for a walk or run.  We're thinking about emails we HAVE to attend to or we feel there is a NEED to post something on facebook and instagram.  Our brains are being rewired to stay on alert all of the time.  
Our prefrontal cortex (a region in the front part of the brain called the frontal lobe) allows us to be humane.  It is involved in knowing right from wrong, personality expression, and controlling social behaviour.   
When we move, the nerves in our joints send nerve input into the prefrontal cortex making it healthy. (13)  When we are stressed and inactive our prefrontal cortex is reduced in its' function. (14)  Meanwhile the part of the brain responsible for our stress response increases in growth (the amygdala).  (14)  Our ability to make good decisions is impaired, we lose our focus, we get moody, our stress tolerance goes down.  Our ability to see the big picture in life is reduced.  We can't see the forest through the trees and we get caught up in the details.  We lose perspective.
The prefrontal cortex, when working well, also keeps the front part of neck muscles relaxed.  When we have chronic stress the ability of the prefrontal cortex to keep these muscles relaxed is lost.  These muscles tighten up and draw our head forward.  Sounds like "text neck" to me.
Furthermore, if we don't move and we sit hunched over for hours during the day at a computer or at our mobile devices we seize up.  Our spines become immobile and misaligned (subluxation) and our posture changes.  Nerve input into the prefrontal cortex is reduced. (15)  This further enhances the stress response.  Our front neck muscles tighten up.  We develop forward posture.  
Text neck is the perfect storm to create stress and stress is the perfect storm to create text neck or forward head posture.
When we are in a constant state of stress, when our prefrontal cortex is unhealthy, we are prone to develop insomnia, headaches, neck pain, high blood pressure, and gut problems like irritable bowel syndrome, heartburn and GERD, leaky gut, chronic fatigue, depression, anxiety, autoimmune diseases, etc. 
---
Overuse of mobile devices and computers creates stress, decreases brain function which can create text neck and chronic illness.
---
Decreased Lung Capacity and Increased Risk of Cardiovascular Disease
When the head is drawn forward with text neck, our ability to breath deeply becomes harder.  Furthermore, the muscles in the front of the neck which help with breathing become tight and weak.  (16, 17)  Oxygen to the brain and body is decreased.  Blood pressure has to rise to pump more oxygen to tissues.  High blood pressure is associated with an increased risk of cardiovascular diseases (strike and heart attack). 
---
Text neck can result in a decrease in lung capacity and cardiovascular disease
---
What should you do prevent, manage, or reverse text neck?
Preventing, managing, or reversing text neck requires a more lengthy discussion.  I will write in more detail about the strategies to help you regain good posture and mobility of your neck in future articles.
For now, here is an overview of some strategies you can take:
Limit your screen time to two hours a day or less

Once a week have a digital detox day where you don't use your smartphone, computer, or tablet at all.

Use a standing desk or treadmill desk up to 50% of your day when you're working at your office desk.
Seek out a chiropractor to get a thorough examination with respect to your posture, muscle strength, brain and nerve function, spinal mobility and alignment, and X-rays if necessary.

 

Get on a regular schedule to get your spine adjusted to keep your spine mobile and brain function at peak level.

 

In this modern day world of increased stress and being sedentary you need this type of treatment on a regular basis to keep a positive connection to yourself and the world around you.

Pick a physical activity you enjoy and do it regularly throughout the week.

Practice some sort of stress management: meditation, art, gardening, playing music, deep breathing, etc.

Do regular posture exercises and stretches for your neck and upper back.
Summary
The bigger picture is that text neck or forward head posture has a negative impact on our brain and health.   
The overuse of mobile devices and computers affects our thoughts, beliefs, attitudes, behaviours and our actions.  It affects how we perceive the world around us and how we interact with the people around us.  Often to our detriment.