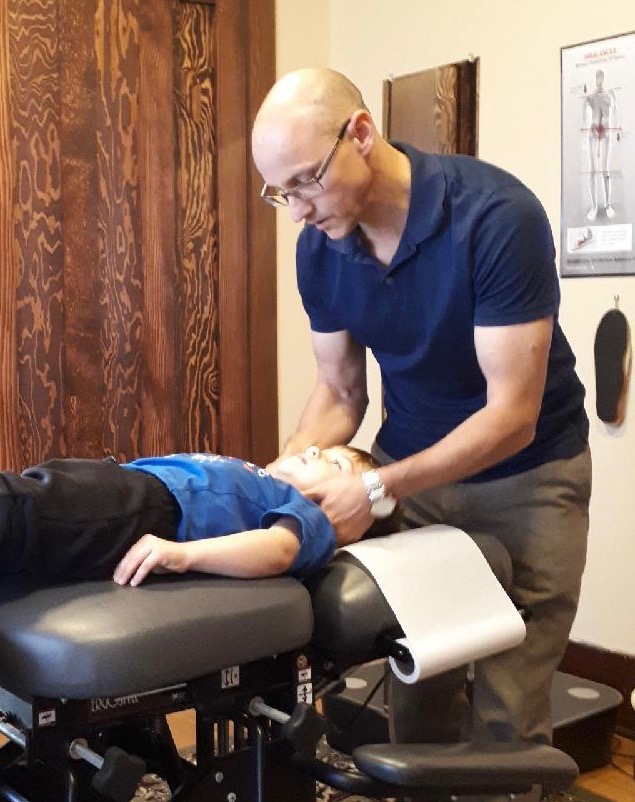 The other day a new adult patient was surprised I adjusted children and inquired why children would need chiropractic care. I told her, "Injuries and misalignments to the spine can start from birth. Making sure the spine has good mobility and alignment with regular spinal check-ups and chiropractic care, can help kids' nervous systems work better and therefore their bodies will work better. The body becomes stronger and more resilient. Regular chiropractic care for children is a proactive approach rather than a traditional reactive approach you would find in modern medicine. This is why I adjust my kids and why other parents bring their kids to a chiropractor."
Birthing process can injure your child's spine
The birthing process can be hard not only on the mother, but the baby as well. Although babies are pretty "rubbery" and flexible they are not immune to injuries to the spine, skull and extremities when being born. Here are some of the common symptoms and signs your baby may have an injury or misalignment in there spine:
Crying excessively
Poor sleeping patterns
Excessive reflux
Head tilts to one side all of the time when lying on their back
Body maintains a C-shape
Skull is misshaped
Your baby favours turning their head to one side
Regardless, if you want to be proactive, it's a good idea to get your child's spine checked by a chiropractor early on in their development. I've been checking and adjusting my kids' spines since they were born.
Falls can injure your child's spine
Falls are common in children especially when they are learning to walk. Again, kids are flexible and usually bounce back from falls pretty quickly. However, those seemingly innocent falls can create layers of damage and tension in the spine, nerves, and muscles that may not reveal themselves until later in life.
Chiropractic care for children after they fall can help correct tension in their spine and nerves. In turn, this proactive approach may help lessen the damage to the spine when children reach adulthood.
Sports can injure your child's spine
Your kids may be involved with physical activity or sports. Regular physical activity keeps the spine and nervous system well toned. However, physical activity doesn't come without injuries. For example, over training, falls, and collisions all have their toll on the spine and extremities.
Regular chiropractic care for children can be used to recover from injuries faster, help prevent injuries, optimize nerve function, increase muscle strength, and increase flexibility. In short, this means chiropractic care can improve your kid's sports performance.
My daughters have been involved with competitive dance for many years now. As dance competitions start to ramp up in the spring the stress on their body increases. It's not uncommon that I'm adjusting my kids one to times per week during these times.
Sitting for long periods can injure your child's spine
Even if your child is active they still sit for long hours in school. Kids, like adults, are too sedentary. Children sit most of the day in class and many come home and sit and play on their mobile devices, computer, and gaming units. This sedentary lifestyle leads to stiff and immobile spines, bad posture, and brains that don't work as well as they should.
Here is some more content on the side effects of being sedentary and prolonged sitting:
Standing Desk to Improve Your Posture
Specific benefits of chiropractic care for children
I have summarized a list of benefits of chiropractic care for children below. The benefits can extend well beyond this list. This is because chiropractic adjustments have the benefits of improving the function of your child's nervous system. And your child's brain and nervous system control every function in their body.
Improved posture
Better balance and coordination
Improved sports performance
Faster recovery from injuries
Injury prevention
Decreased pain
Less need for medications
More energy
Common childhood conditions helped with chiropractic care
Chiropractors correct spinal misalignments (subluxations) and extremity misalignments to help the brain and nervous system work better. As a result, the body can function and heal itself better and health conditions and symptoms can get better naturally.
Creating a healthy environment within your child's body is key for them to heal and function better. And having a healthy nervous through regular chiropractic care is one of the keys to help get your child strong and resilient.
In saying all of this, here is a list of common conditions chiropractors see children for:
neck pain
improve sports performance
ankle, knee, hip, shoulder, elbow, and wrist injuries
Is chiropractic care for children safe?
Chiropractic care for children is very safe. Chiropractic care offers a drug-free approach to healthcare with less risk than medications and surgeries.
As well, the adjustments chiropractors use on children tend to be much lighter than adjustments used on most adults.
There are some patients who will experience some temporary soreness after getting chiropractic adjustments. However, the risk of serious side effects is rare.
The safety of using chiropractic adjustments on any patient is assessed after doing a thorough history and examination. As well, no treatment is performed on children until we get formal consent from their parents.
Summary
Children are prone to injuries of the spine due to the birth process, falls, sports injuries, and being sedentary. Consequently, tension in their nerves, muscles, and spine builds up. This stress in your child's nervous system and spine has a negative impact on their overall health. And the earlier you correct the tension and stress in your child's spine and nervous system the earlier they can thrive.
Developing healthy lifestyle habits early in life will help ensure a happier and more productive childhood that will extend into their adult life. Regular chiropractic care is one of those healthy habits to help ensure a healthy spine and nervous system throughout childhood and adulthood.
I encourage you to find a chiropractor in your area and make an appointment to get your child's spine and nervous system checked.
To learn how chiropractic care can help you and your family read our ultimate guide to chiropractic care called 'Chiropractic Care for Everyone'.