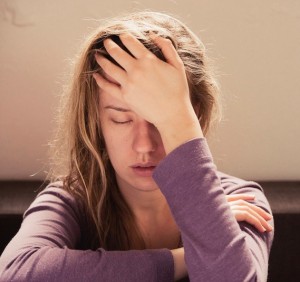 Are you getting frequent headaches? Are your headaches pounding and throbbing in the back of your head? Or do your headaches feel like an ice-pick is being driven into your eye? You're nauseous, moody, tired and you're going crazy. You're missing work and missing out on enjoying your family. Chiropractic care for headaches often provides relief so you can get your life back.
Headaches are one of the most common reasons why patients visit their medical doctors. About 66 percent of the world population get headaches. One of the most common types of headaches is tension-type headaches (46 to 78 percent). (1)
Other than tension-type headaches other common types of headaches include migraines, cervicogenic, and cluster. The good news is most headaches are not due to serious illnesses.
Masking your headaches with Tylenol
When you take drugs like Tylenol, they simply mask your symptoms and don't treat the underlying cause of your headaches. Your body doesn't even make Tylenol naturally. So how are your headaches due to a lack of Tylenol in your body?
Similarly, taking drugs like Tylenol to treat your headaches is like sticking a piece of masking tape over top of your engine light in your car dashboard. You're "masking" the real underlying cause of the engine light coming on which is in the engine. Wouldn't it make more sense to look under the hood and fix the engine?
As well, long-term use of medications can have dangerous side effects. For example, Tylenol (acetaminophen) is the leading case of acute liver failure in the United States, Canada, Australia, and the UK (2, 3).
Find the underlying cause of your headaches
Finding the underlying cause of your headaches is the key to giving you long-term relief so you don't have to rely on dangerous drugs to mask the pain. The most common cause of headaches comes from spinal misalignments and tension in the muscles, nerves, and joints in the base of the skull and neck. (4,5) Often the nerves in this area can become so sensitive that the pain travels into your head giving you headaches.
Chiropractic care for headaches
Chiropractors are experts in detecting and correcting spinal misalignments and tension in the muscles, nerves, and joints. So, by realigning the spine with chiropractic adjustments, chiropractors help release tension in the nerves, muscles and joints. This is why chiropractic care for headaches often provides complete relief.
Chiropractic care for headaches like migraines
Chiropractors can even help with migraine headaches. In fact, 72 percent of migraine suffered in a clinical trial noticed a 'substantial' or 'noticeable' improvement after a period of chiropractic care. (6)
Other causes of headaches
Headaches can often be complex. In other words, there could be many underlying causes to your headaches. The following are some other causes of headaches that may have to be considered (4):
Stress

Hormonal imbalances

Dehydration

Alcohol

Skipped meals (low blood sugar)
Chiropractors are well trained to do a thorough history and examination, to determine if there might be other causes of your headaches. Sometimes it's necessary for your chiropractor to refer you to another specialist for further testing.
Summary
You don't have to suffer from headaches and let them rule your life.  Most headaches are related to nerve, muscle tension and spinal misalignments in the neck and skull.  Even if your headaches aren't completely related to the neck and skull, most headaches can be treated successfully without the use of dangerous drugs.  There's always an answer. 
Seek out a chiropractor who is thorough and willing to dig deep for you to solve and treat your headaches naturally.  Chiropractors are experts at fixing these problems which often result in long lasting headache relief. One day you could live a life pain free and full of strength, energy, and focus.
For more information on how chiropractic care could help you, your family, and friends read here.