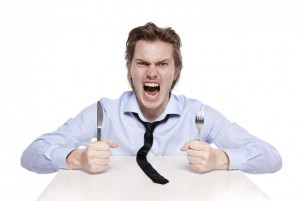 Do you get fatigued, irritable, anxious, and weak if you haven't ate in two or three hours?  What about brain fog, confusion, and the inability to find the right words when speaking to someone?  I know exactly how you feel as I struggled with these symptoms for four decades.  It was related to low blood sugars or what is called hypoglycemia   And yet, I was able to solve this problem within one week.  Let's find out how so you can get your energy, strength and focus back. 
Hypoglycemia is often defined as a condition where your blood sugar levels are low.  However, it's a little more complex than this.  I'm not going to get into the details, but you may often find, as I did, your fasting blood sugar levels show up as normal or low normal yet you display many of the following "raging" symptoms of hypoglycemia (1):
fatigue

irritability and impatience

muscle weakness

lightheadedness

shakiness

sweating, chills, clamminess

blurred vision

palpitations

anxiety

brain fog

spaciness/confusion

extreme hunger (you feel like you're going to die if you don't eat)

intense sugar cravings

nightmares or crying out during sleep
So what do you do if your medical doctor tells you everything is normal based on the lab tests?
My hangry state of being
I'm going to bare my soul here and tell you my story with the hope that you can relate to it and solve your hypoglycemia symptoms as I did.  I'm not promising you will have the same miraculous results I had, but I'm pretty sure it will at least help the majority of you.  In short, I did it solely by changing my diet which is what I am going to focus on in this article.  There are other treatment interventions you may have to use as well such as stress management, exercise, supplementation, and improving your sleep.
Deep down I have a warm heart and I'm a nice guy.  Up to the age of 43, if you had met me in my hypoglycemic state you wouldn't have known I was warm hearted and nice.  If I hadn't ate in two or three hours I would get very moody and irritable.  Five minutes after I ate I would feeI happy, energized and stronger in my muscles again.  At least for a couple of hours I would feel good, and the whole cycle would start over again.  I'm not proud of certain things I did or said to people when I was in my hungry and angry (hangry) hypoglycemic state, but I can't take that back now.  All I can say is sorry.
I was also a competitive athlete as a kid.  There were times when my performance stood out as the star of the game and times where I didn't perform well at all.  Looking back, it all had to do with my blood sugars fluctuating and my moods, strength, and energy levels would follow.  So the times I was performing well and feeling positive, happy, and energetic would be the times my blood sugars levels were at a good level.  I likely had ate something highly nutritious (i.e. meat and vegetables) two to three hours before my games.  And likely, the times I wasn't performing well and feeling irritable, fatigued, and weak would be the times I was eating something very low in nutrients (i.e. cereals, pastas, breads, and sweets).
My typical diet into my mid-twenties was the standard North American diet.  Refined flours and sugars and packaged foods (cereals, pastas, breads, and sweets).  I was addicted to cereal and toast as a kid and always had a sweet tooth.  When I felt edgy and hangry in my early twenties, I remember being saved by Snickers or Eat-More chocolate bars.  This helped take the edge off for an hour or two until I felt fatigued, weak, anxious, hungry and moody again.  Little did I know the food I was eating wasn't nutritious and wasn't sustaining my blood sugars and energy levels.  If anything, it was just creating more stress in my body and problems with my stress hormones like cortisol.  I was just throwing fuel (cereals, pastas, breads, and sweets) on the fire instead of a slow burning efficient log (meats, seafood, vegetables, fruits, nuts, and seeds).
Low Fat Mediterranean Diet
When I noticed my hypoglycemic systems affecting my work performance, I sought professional help at the age of 27.  I have spent a lot of money seeing different health professionals (MDs, naturopaths, an iridologist, and a nutritionist).  I even joined a hypoglycemic support group.  I have also spent thousands of dollars on supplements which were supposed to give me energy and cure my blood sugar problems.  All of this time and money spent wasn't a total loss.  At best, I did learn how to manage my symptoms by eating more frequently every two to three hours.  I was eating what would be considered a Mediterranean diet.  The Mediterranean diet stresses fruits, vegetables, fish, poultry, and whole grains, and limits unhealthy fats (to them this means saturated fats like butter and fat in red meats). This is what it looked like (1):
Eating primarily plant-based foods, such as fruits and vegetables, whole grains, legumes and nuts

Replacing butter with healthy fats such as olive oil and canola oil

Using herbs and spices instead of salt to flavor foods

Limiting red meat to no more than a few times a month

Eating fish and poultry at least twice a week

Enjoying meals with family and friends

Drinking red wine in moderation (optional)
There's nothing wrong with this low fat diet (except maybe for the whole grains and canola oil) if you simply have high total cholesterol and do not have blood markers of insulin resistance.  These groups of people may have to watch their saturated fat intake and red meat consumption as they are at risk for heart disease.  Otherwise, the Mediterranean diet is missing out on essential saturated fats, nutrient dense red meats and organ meats.  These types of foods keep you full and keep your blood sugar levels more stable.  This is what I was missing.
Even though I was managing my symptoms by eating more frequently, if I missed out on a snack I would still get the same hypoglycemic symptoms.
How I cured my hypoglycemia within one week: Paleo Diet 
When I was 43, a new friend and colleague introduced me to how our ancestors of over 10,000 years ago ate and lived.  This was the Paleolithic era.  What I learned is these people, as well as modern day hunters and gatherers, rarely get chronic illness of any kind including blood sugar problems.  Humans lived over millions of years under environmental conditions that helped shape our genes.  This included eating mainly meat, seafood, vegetables, fruits, and tubers.  Our genes haven't changed enough for us to adapt to a modern day diet that is comprised largely of cereals, breads, pastas, sugars, and industrial seed and vegetable oils (i.e. canola oil).  So a diet similar to our ancestors that supports our genes is the one that tends to make us the most healthy.  This made sense to me.  These groups of people would also go through short periods of time where food was scarce and they were forced to fast as well.  There bodies were trained to burn their fat for fuel during times of fasting.
I decided to adopt a style of eating that simulated what these people ate.  This is what is called the Paleo Diet.  I increased my consumption of red meats, organ meats, and seafoods.  I consumed healthy saturated fats like organic grass fed butter and coconut oil.  I cooked with pork lard regularly.  I also retrained my body to start burning fat, by employing intermittent fasting.  So I wouldn't eat for about 18 hours from dinner until lunch the next day.  To make me feel full I would have a coffee blended with two tablespoons of butter and a tablespoon of coconut oil.  This latte would keep me feeling full while my body learned how to start burning my fat for fuel as opposed to relying on glucose (sugar) from foods I ate.  I was actually eating a very low carbohydrate diet or ketogenic diet.
The miracle for me
Within one week of adopting a Paleo type of diet my blood sugar levels stabilized and most of the symptoms that occurred with hypoglycemia were gone.  This was a miracle for me.  It was so freeing to know I could have two to three meals per day versus five or six and not have to worry about my next snack or meal.  No longer did I feel weak if I didn't eat.  I no longer went into brain fog and confusion.  My moods stabilized.  My anxiety got way better.  I no longer had to prepare and carry around protein shakes and chug them down between meals.  If I'm not hungry in the morning I can choose not to eat and just fast.
---
I cured my hypoglycemia within one week by eating a Paleo Diet and by fasting
---
Important considerations for fasting
For most people, I wouldn't recommend going on a very low carbohydrate diet or ketogenic diet for long periods of time as it can raise your stress hormones like cortisol too much and cause other health problems.  You will also want to avoid intermittent fasting if you are pregnant, breastfeeding, or during times of significant stress that contribute to Adrenal Fatigue Syndrome or more accurately Hypothalamic-Pituitary-Adrenal axis Dysregulation (HPA-D).  I would highly recommend you see a healthcare provider or nutritionist who understands the risk of ketogenic diets and intermittent fasting to determine if it's right for you.
Conclusion
You don't have to let your hypoglycemia dictate your behaviour and energy levels.  Fatigue, feeling, weak, confused, anxious, and moody can be things of the past.  If you adopt eating habits that support your genetic makeup you will start to feel better.  You may not have the miraculous results I had, but you will at least feel better.
Again, each of us is an individual and you may have to modify your diet differently than I did.  I would recommend you seek out a health practitioner knowledgeable in this field as it can get more complex than just changing your diet.