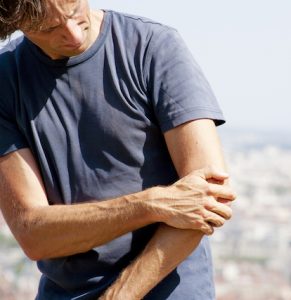 Do you get a sharp or aching pain on the outside of your elbow?  Has it become hard to grip and pick up things?  Has it got so bad that even opening the door is hard?  Or maybe you just notice a slight nagging tightness and ache in your elbow while working at your computer?  If you answered yes to any of these questions there is a good chance you have tennis elbow.  In this article I will discuss some options on how to treat your tennis elbow successfully.
Tennis elbow is a common complaint I come across in my practice.  While tennis elbow (lateral epicondylitis) does affect tennis players, it also affects carpenters, electricians, plumbers, and people that use the computer a lot.  Essentially, anyone that uses their arms and hands repetitively for long periods of time can get tennis elbow.   Yes, even chiropractors and massage therapists.
Causes of Tennis Elbow
The most common cause of tennis elbow is indeed repetitive use over long periods fo time.  Overusing your hands and arms can cause the muscle and tendon in your forearm to be strained.  A strain is a tear in your muscle and/or tendon.  In the case of tennis elbow you will have small tears.  This creates inflammation (swelling) and pain.  Another name for this type of injury is tendonitis which means inflammation of the tendon.  
Your body has the ability to heal torn muscle and tendons by mending the tear and laying down new tissue (collagen).  However, if you keep straining the muscle and tendon and you don't get it treated properly, the tissue doesn't heal properly.  The tendon and muscle fibres can get "glued" together (scar adhesions) which can create chronic tightness, weakness, and pain.  If your muscle is weak guess what you are prone to?  More muscle strains when you overuse it.  It can become a vicious cycle. 
Another cause of tennis elbow I see in my practice is a "pinched nerve" from the neck.  Nerve signals from your brain travel down your spinal cord and down your arms to contract your forearm muscles so you can move your hands.  If your nerves are pinched, those nerve signals can't get to your muscles as well and you will get muscle weakness.  If your forearm muscles are weak and you overuse them, what do you think will happen eventually?  Tennis elbow.  
One more cause of tennis elbow is underlying systemic inflammation (swelling throughout the body).  If you have generalized weakness and pain in other areas of your body as well, I would say there is a good chance that inflammation is the main cause of your tennis elbow.  Inflammation, however, also has numerous causes and so you will have to get that investigated.  I wrote an article on this subject matter if you want to dive deeper into this subject.
Treatment of Tennis Elbow
Now that you know some of the main underlying causes of tennis elbow, you can now treat it successfully.  
I will point out that treating your tennis elbow with medicinal anti-inflammatories does not amount to treating the underlying cause.  It may help with decreasing your pain or masking your symptoms, but you're not treating the cause.  When you don't treat the cause of tennis elbow, it will get worse or keep coming back.  
Furthermore, long term use of anti-inflammatory drugs can have serious side effects. The most common pain medications taken would be drugs like Tylenol (acetaminophen) and anti-inflammatories (NSAIDs) like aspirin, ibuprofen, or naproxen.  Tylenol (acetaminophen) is the leading cause of acute liver failure in the United States, Canada, Australia, and the UK (1, 2).  Taking NSAIDs long term actually slows down proper healing of your injured tendons and muscles that are contributing to your tennis elbow. Long-term use also accelerates osteoarthritis and damage to the cartilage in your joints.  Furthermore, taking NSAIDs long term also puts you at significant risk to develop cardiovascular problems, GI bleeding, kidney problems, and increased blood pressure.  (3, 4)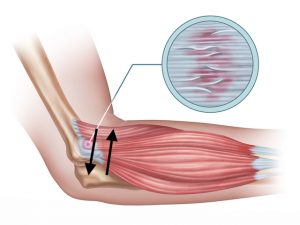 Break down the scar adhesions
There are numerous techniques to break down scar tissue in the muscle and tendon to make it looser and stronger.  I keep it simple and for the most part use my hands to break up any scar adhesions.  Some chiropractors use Active Release Technique, Graston technique, and some use machines like shockwave therapy. They all work, just find the one that works for you. 
Most times I will get my patients to take their knuckles and rub across the tendon and muscle that are affected for 30 seconds.  This cross friction massage helps tease the muscle fibres part so the muscle works better.
Chiropractic adjustments 
Chiropractors are specialists in detecting the underlying causes of conditions related to the muscles, nerves, and joints in the spine and extremities.  Spinal misalignments in the neck can cause pinching of the nerves that run down your arm.  This can cause forearm muscle weakness.  Getting your spine realigned by a chiropractor (adjustments) can help take the pressure off the nerves so that your forearm muscles are stronger.  I consider this an important part of treatment.   
Furthermore, there is often a bone that makes up the elbow joint that can be misaligned in patients with tennis elbow.  It's called the radius and it's near the outside part of your elbow.  Making sure this bone is in good alignment and good mobility is important to recover from tennis elbow.  
I find most cases of tennis elbow will respond well to the two treatments I have just mentioned.  If a patient doesn't respond to the above treatments, the patient and health practitioner have to dig deeper into the problem.
Inflammation
Persistent elbow pain that won't go away is a telltale sign of underlying inflammation (swellling).  Inflammation comes from a  variety of sources and should be investigated thoroughly.  Once you decrease the inflammation in your body, your tennis elbow will likely get better amongst many other health challenges you may have.
Summary
You don't have to let tennis elbow get in the way of your daily routine and the physical activities you enjoy.  In most cases, the solutions I provided for you will allow you to start enjoying life again.