Estimated reading time: 6 minutes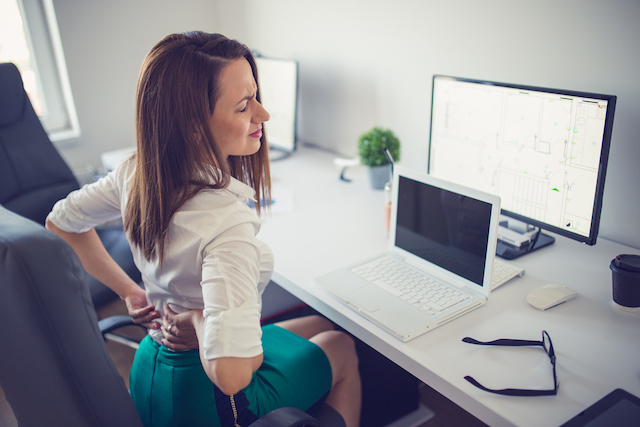 Low back pain affects 80 percent of the population at some point in their lives. (1, 2) It can affect anyone regardless of age, and can have a huge impact on simple activities such as sitting, walking, sleeping, and even bending over to brush your teeth. Is your low back pain preventing you from playing your favourite sports or even doing simple activities like getting out of a chair or putting on your socks? Try chiropractic care. Chiropractic care for low back pain is effective at providing fast and long lasting pain relief.
When I tried chiropractic care for low back pain
I know how extremely frustrating it is to have low back pain. When I was fourteen years old I suffered with acute low back pain. I couldn't play competitive hockey for two weeks and could barely bend over to tie my shoes.
Like a lot of people, we went to the medical doctor first. I don't remember if he gave me pills for it, but most people will get either a muscle relaxant or an anti-inflammatory prescription. He even sent me to an orthopedic surgeon. The surgeon was an hour and a half late and had terrible bed side manner. My parents and I received no solutions from him other than to see him in six months to get fitted for a back brace. That's when my parents decided to take me to their "witch doctor". Yes, their chiropractor.
I still remember my first visit to the chiropractor. I remember the feeling of his warm hands running down my spine and locating the exact point causing my low back pain. He explained my problem was a pinched nerve due to one of my spinal bones being out of alignment. I remember how awesome it felt to get my spine realigned (adjusted.) There was this huge release of tension in my spine. He had me up and skating again within three visits. It was a miracle for me, and it inspired me to become a chiropractor.
Masking your low back pain with drugs
The most common pain medications taken for low back pain would be drugs like Tylenol (acetaminophen) and anti-inflammatories (NSAIDs) like aspirin, ibuprofen, or naproxen.
Although there is a place for medications, long-term use of medications can have dangerous side effects. For example, Tylenol (acetaminophen) is the leading cause of acute liver failure in the United States, Canada, Australia, and the UK (3, 4). Taking NSAIDs long term actually slows down proper healing of your injured ligaments and muscles that are contributing to your low back pain. Long-term NSAID use also accelerates osteoarthritis and damage to the cartilage in your joints. Furthermore, taking NSAIDs long term also puts you at a significant risk to develop cardiovascular problems, GI bleeding, kidney problems, and increased blood pressure. (5, 6)
When you take pain medications, they simply mask your symptoms and don't treat the underlying cause of your low back pain. Your body doesn't even make Tylenol, aspirin, or Ibuprofen naturally. So how is your low back pain due to a lack of these drugs in your body? It doesn't make sense to take these drugs in most cases.
Find the underlying cause of your low back pain
Finding the underlying cause(s) of your low back pain is the key to giving you long-term relief so you don't have to rely on dangerous drugs to mask the pain.
The most common causes of low back pain come from the pain-sensitive nerve structures in the low back. The pain-sensitive nerve structures most commonly involved are the muscles, nerves, joints, and discs (shock absorbing cushions between the spinal bones).
Chiropractors are specialists in detecting the underlying causes of low back pain related to the muscles, nerves, joints, and discs. This is why chiropractic care for low back pain is so effective at providing pain relief. Spinal misalignments and tension in the muscles of the low back are often found in patients who have low back pain. Spinal misalignments cause poor nerve input into the brain and poor nerve output to your body parts. This is like having a blown electrical circuit or breaker switch. As a result, muscle weakness can also be found in low back patients. By realigning the spine (adjustments), chiropractors help restore proper brain and nerve function and turn your power back on. Muscle strength increases and low back pain will often go away.
How effective is chiropractic care for low back pain?
Getting chiropractic adjustments (spinal realignments or spinal manipulative therapy) alone is very effective in getting rid of low back pain. In fact, chiropractic adjustments consistently show superior improvement in pain and function when compared to physical modalities, medication, education, or exercise. (7, 8, 9, 10)
I have been practicing chiropractic since 1995, and I can say with confidence that in the majority of cases (80-90%), chiropractic adjustments work very effectively for relieving low back pain quickly. Most adults and children will respond favourably within six to twelve visits.
From my experience, patients who also get chiropractic adjustments regularly throughout their life can help prevent low back pain from recurring.  A spinal check up and adjustment once per week to once every two months can serve this purpose.  Of course, the frequency is based on individual circumstances.
Is chiropractic care alone enough to prevent spinal misalignments that cause low back pain? In most cases I would say no. There are many reasons why your spine goes out of alignment. Once you know the cause(s), you can find the solution.
What causes your spinal misalignments?
Even though chiropractic care for low back pain is effective, you still have to figure out what's causing tension in your nerves and muscles and spine and misalignments in the first place. Otherwise, the chiropractic adjustments won't hold or last as long and your low back pain is more likely to keep recurring. The following are some of the factors or stressors to look for:
Prolonged mental stress

Sedentary lifestyle

(desk work or prolonged sitting

)

Being overweight or obese

Flat feet

or poor footwear
Poor sleep

Lack of exercise

Too much exercise

Poor eating habits (pro-inflammatory)

Previous damage or injuries to the spine
Chronic inflammation
I'm not going to go into detail about each of these stressors. You can rad more about them in 'Why Your Spine Goes Out of Alignment'.   These stressors are very important to identify what's creating the spinal misalignments and tension in the spine. When you identify these deeper causes, you can work towards managing or reducing the stressor all together and the likelihood of recurrent low back pain will be greatly reduced.
Summary
You don't have to put up with low back pain and eat pain killers like they were going out of style. Chiropractic care is a more effective and a safer way to deal with your low back pain.
Chiropractors are experts at fixing the underlying cause (spinal misalignments and related nerve problems) which often results in long lasting low back pain relief. Find a chiropractor you're comfortable with so you can get back to being more productive at work and back to the activities you enjoy.
To learn more about how chiropractic care could help you and your family click on Edmonton chiropractor Dr. Dean Collins' complete guide to chiropractic care.