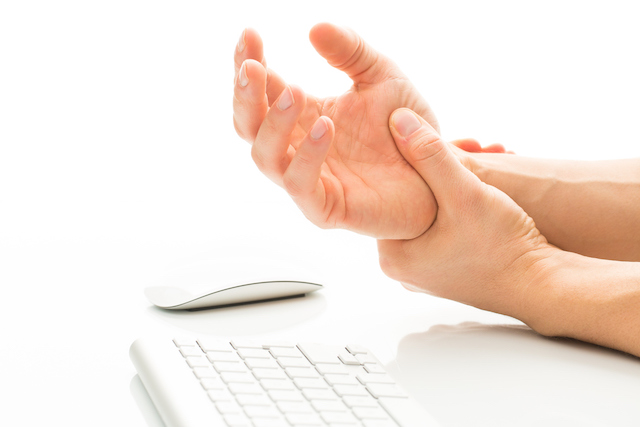 Is the numbness and tingling in your hands waking you up at night?  Can't lie on your favourite side anymore?  Not only is your sleep suffering, but you are distracted at work.  After using your mouse for awhile, your arm and hands go numb and you have to stand and shake them out.  It's driving you crazy.  Could it be a pinched nerve or a muscle knot that is causing it?
Numbness and tingling in the arms and hands is a very common complaint I receive from my patients.  The two most common causes I have observed is either a pinched nerve (in the neck, shoulder, chest, forearm, and/or wrist) or a "knot" in a shoulder or forearm muscle.
Pinched Nerve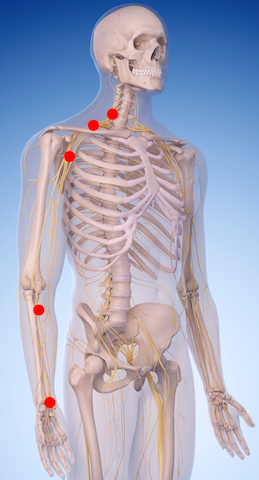 The nerves in your arm and hand originate in the brain and travel down your spinal cord.  They exit your spine in the neck and weave in and out of muscles to make their way down to your finger tips.  Any misaligned bone (spinal, shoulder or elbow bone) or soft tissue structure like a muscle can compress or pinch your nerve and cause numbness.  Once you find out where the nerve is being pinched you can get the proper therapy to take the pressure off the nerve.
Chiropractors are specialists in diagnosing pinched nerves, so I recommend you find one you're comfortable working with so you can get the help you need.  In the meantime, here are some things you can do to help determine if the numbness and tingling in your hands is caused by a pinched nerve.
Numbness/tingling is likely coming from a pinched nerve in your neck if: 
You tilt your head to the side as far as you can go (ear to your shoulder) and it causes the numbness/tingling.

You get someone to press straight down on top of your head and hold gently and it causes the numbness/tingling.

Any movement of your head like looking up at the ceiling, tilting your head, or shoulder checking causes numbness/tingling.
Numbness/tingling is likely coming from the neck or shoulder if:
You bring your affected arm above you or straight behind you (like if you were to stretch your chest muscle) and you get numbness/tingling.
Muscle knots
Muscles that get overused tighten up and get knots.  These knots (trigger points) can cause numbness or tingling.  This is very common in today's world as many people are sitting all day at a a desk using a computer.  The constant typing and mousing lead to strain injuries in the forearm and wrist.  The prolonged sitting leads to postural strain of the back and neck muscles.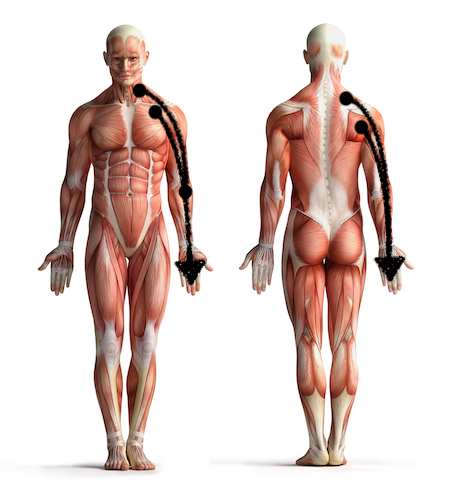 Knots in the neck, shoulder, chest, and forearms can cause numbness and tingling in the arm and hands.  
Chiropractors are nerve and muscle specialists.  This means they have the skills necessary to determine if your numbness and tinging is coming from a pinched nerve or knots in a muscle.  Chiropractors often work with massage therapists and can refer you to them to relax the knots.  There are also chiropractors who specialize in muscle techniques like Active Release Technique or other muscle relaxation therapies.
Numbness/tingling is likely coming from the muscle knots in your neck, shoulder, chest, or forearm muscles if:
If you know where to find the muscle knots and you press and hold them and it causes hand numbness/tingling.
What to do?
Get a thorough examination done by a chiropractor.  This would involve tests which would provoke numbness/tingling and even muscle weakness.  This helps determine where the nerve is pinched or if there is some muscle knots causing your problem.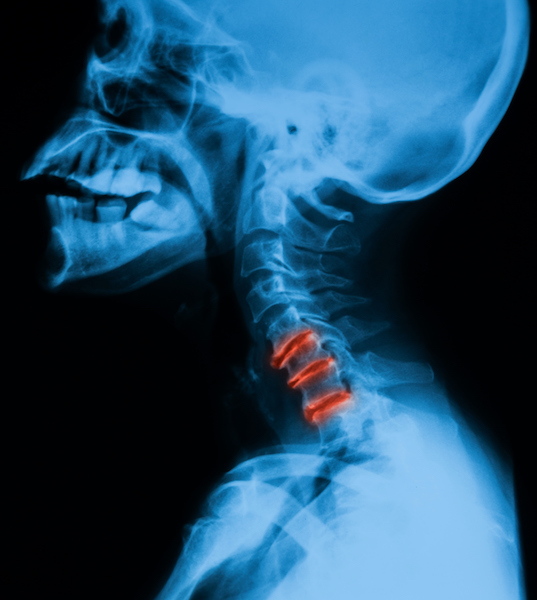 The examination would likely involve x-rays of your neck to see if your discs (cushions) between your spinal bones are wearing out (degenerative disc disease).  X-rays also reveal if there is some arthritis.  If there has been a lot of wear and tear building up over decades, your discs can bulge, thin down, joints can wear out, and bone spurs can build up.  If this happens, your nerves that come out of your neck and travel down your arm are more apt to get pinched.  
In almost every case like this, there will be a loss of mobility and misalignments in the spinal bones of your neck.  By properly correcting your spinal misalignments (adjustments), chiropractors can help take the pressure off your nerves. 
Getting the muscle knots relaxed in conjunction with the chiropractic adjustments can further aid in recovery and healing process.  
What else could your numbness and tingling be caused by?
Numbness and tingling in the arms and hands can also be due to other causes: Diabetes, vitamin B12 deficiency, stroke, heart attack, migraines, and tumours all have to be ruled out with a thorough examination and history.  
Summary
Most numbness and tingling in the arms and hands comes from either a pinched nerve in the neck and shoulder area or from specific muscle knots in the neck, shoulder, chest or forearm area.  
Chiropractic care is a safe and very effective therapy for this type of condition.  Again, seek out a chiropractor you are comfortable with and get rid of that annoying numbness and tingling.  Live pain free, start sleeping well again, and be more productive at work.