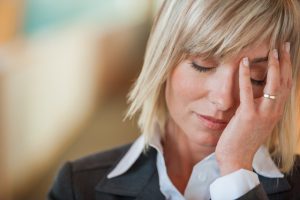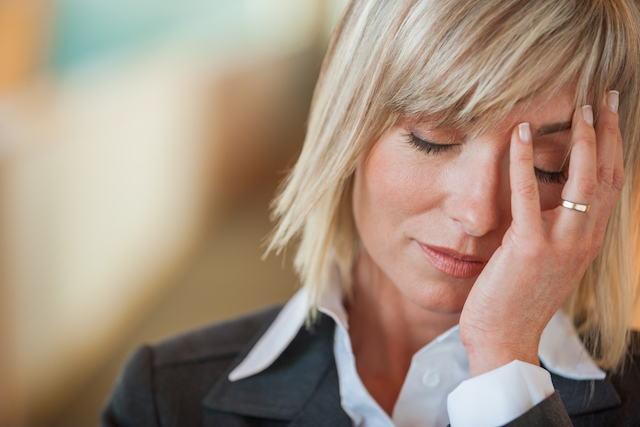 Does your migraine have you laid up in bed again?  You're missing work too often and your relationships with your family are strained.  You're locked in a dark room, your head is throbbing with intense pain, and you're sick to your stomach.  You feel alone, helpless, and you're tired of taking medications for your migraines.  There must be a more permanent solution to get your life back?
This is the second article in a series on how to get rid of migraines naturally.  Part 1 discussed chiropractic care as a solution for your migraines.  There is about a 70% chance that chiropractic care can improve your migraines.  We also started to discuss the functional medicine approach to migraines by solving leaky gut and blood sugar problems.
In this article we will focus on hormonal imbalances, stress, magnesium deficiency, and sleep problems as causes of migraines. 
Hormonal Imbalances 
Large changes in hormone levels can trigger migraines.
The balance between estrogen and progesterone plays a major role in triggering migraines.  Many women are prone to migraines just before their period when estrogen levels take a dive.  Migraines can also occur during a woman's period. (1, 2)
Imbalances in stress hormones such as cortisol can also trigger migraines.
Hormonal imbalances can get complex.  It is best to get your stress and sex hormone levels tested properly.  You can work with a naturopathic doctor to help balance them out if you want to try to do it naturally.  Treatment often involves supplementing, dietary, and lifestyle and behaviour modification. 
Stress
It's no surprise that stress can trigger migraines. (3, 4)  Stress runs rampant in the modern industrialized world.  We have created too many demands on ourselves.  The result of long-term stress is chronic illness.  Stress creates hormonal imbalances as hinted at above, blood sugar problems, sleep problems, and tension in the nervous system, vascular system, and muscles.  These are all triggers for migraines.  So wouldn't it make sense to develop strategies to manage stress better?
This is a vast topic of discussion beyond this article.  The following is a download that may help you manage stress better: How to Manage Your Stress
Magnesium deficiency
Magnesium deficiency is associated with many diseases including migraine headaches. (5, 6)
Magnesium is an essential mineral and is needed in hundreds of chemical reactions in your body. (5)
Magnesium deficiency is one of the most common nutrient deficiencies in North America and likely in the industrialized world. (7, 8, 8a)  Even if you eat a nutrient-dense healthy diet, it is likely you are deficient in magnesium.  Magnesium deficiency happens for a number of reasons:
Eating too many processed foods

Soil is depleted of magnesium

The consumption of cultivated plants does not contain as much magnesium as the wild plants our Paleolithic ancestors once ate

Because of the high number of people that have gut problems, absorption of minerals like magnesium are hampered

Increased excretion because of blood sugar problems and diuretic drugs.
How do you know you're deficient in magnesium?
It's hard to know for sure because only 1% of your magnesium is in your blood.  The rest is in your bones and other tissues.  So blood levels are not necessarily an accurate representation of magnesium deficiency, but it's the only way to measure your levels in a clinical setting at this time. (6)
Americans and Canadians consume less than the required amount of magnesium from food, and such findings, along with lab results, suggest that magnesium deficiency may be more common than not. (7, 8)
Based on the fact that magnesium deficiency is common and a potential trigger for migraines, I would recommend everyone take a magnesium supplement daily.
Magnesium supplementation has been shown to be effective for the treatment of migraines. (5, 6, 9, 10, 11)
---
Magnesium supplementation has been shown to be effective for the treatment of migraines.
---
Magnesium Supplementation
There are many types of magnesium supplements.  The type of magnesium would have to be experimented with on a case by case basis.   Here is a couple of recommendations:
Glycinate is best for sleep and constipation.  It has a calming effect, less of a laxative effect, but it still does promote gut motility.  It's absorbed easier than other forms of magnesium, and it's good for chronic pain and muscle contraction.
Magnesium citrate is rapidly absorbed, but it does have a stool-loosening effect, which may or may not be desirable.
The recommended dosage for adults would be 400-800mg per day and 200-400mg/day for children.  You would take the supplement with meals.
Sleep Problems
You're probably already aware that being deprived of sleep is bad for you health.  Poor sleep quality is a major stressor on the body.  It has been linked with obesity, insulin resistance, heart disease, impaired cognitive function (ability to focus, think, and reason), weak immune system, and many other health problems. (12, 13, 14, 15, 16, 17, 18) Studies have shown shown that people with insomnia have an increased risk of developing headaches such as migraines and tension-type headaches. (19, 20)
Even making sleep a priority doesn't guarantee you will get 7 to 8 hours of quality sleep.  About one-third of adults report one or more of the symptoms of insomnia: difficulty falling sleep, difficulty staying asleep, waking up too early, and in some cases, poor quality of sleep. (21, 22, 23)
---
People with insomnia have an increased risk of developing headaches such as migraines and tension-type headaches.
---
I suggest you read the following article '10 Tips on How to Sleep Better' if you don't feel you get good quality sleeps.
Summary
I hope these two articles gave you some strategies to help you eliminate or reduce the intensity or frequency of your migraines.  I know first hand from patients on how disruptive they can be.  I also know first hand, that it is possible to get rid of your migraines or at least make them less intense and frequent.  And when that happens, you will have more strength, energy, and focus to live a more fulfilling life.