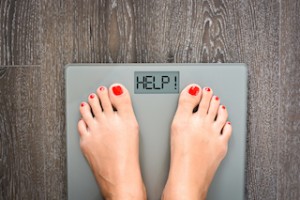 Weight loss is more complex for some people than just eating well and exercising.  I have come to this understanding after many years of discussions with my patients.  I can now empathize with my patients who have struggled with weight loss.  When delving deep into their struggles, I have realized some of them have indeed put lots of effort into losing weight but to no avail.  Why?  In the following article, I will provide some weight loss tips you may not even know about.
Exercise the right amount
There are some people who exercise too much or overtrain.  This can be especially true for someone who is overweight.  When they don't lose the weight they want, they decide to increase the training thinking they aren't exercising intense enough.  Overtraining causes too much stress on the body and leads to lots of health problems including weight gain.
---
Overtraining causes too much stress on the body and leads to lots of health problems including weight gain.
---
How much exercise should you get?
How much exercise you should get depends on your goals.  Here are some guidelines for the average person:
Stand for about half the day (I will cover this in more detail in the next section)

Walk 10,000 steps per day (walking meetings, walk all the way or part way to work, use the stairs, do your own chores, get a dog, choose a hobby that involves physical activity)

Push (Strength Training) in the following manner:

150 minutes of moderate-intensity activity per week (like jogging, yoga, or dancing); or,

75 minutes of vigorous-intensity activity per week (like running, Zumba, or playing sports); or,

30 minutes of highest-intensity exercise per week (like sprinting, jumping rope, or resistance training)
What should you do if you suspect you're overtraining?
Reduce or stop anything more than moderate physical activity for a while (moderate intensity = about 50 percent effort)

Focus on gentle activities like walking, gardening, hiking, yoga

Spend time outdoors moving gently or resting

Get plenty of sleep and rest (aim for seven to nine hours per night minimum and take naps when needed)

Eat adequate calories, macronutrients, and micronutrients (ask your healthcare provider to help you establish personalized dietary guidelines for adequate nourishment)

Do not return to high-intensity activity until fully recovered
Move and stand throughout the day
Sitting all day at work can lead to weight gain.  Exercise alone will not be enough to prevent the negative effects of prolonged sitting; you need to stand and walk too.  People who stand while they work burn more energy (2.5 fold) and burn up more calories (75% more) than those who sit all day.  Simply standing and engaging in light activity throughout the day burns as many calories as three intense spinning classes per week.  This is more effective than intense exercise at undoing the harm from excessive sitting.
What can you do to move and stand at work during the day?
Use a standing desk at work

Take standing breaks for at least two minutes every 30 to 45 minutes.  Frequent breaks from sitting lead to a lower waist circumference and a lower body mass index.

Stand up at long meetings

Do some brief walking or light movement every hour
---
People who stand while they work burn more energy (2.5 fold) and burn up more calories (75% more) than those who sit all day.
---
Get good quality sleeps
This is a big topic so I'm going to keep it short.  I have written numerous blog articles on this subject which you can refer to.
Like overtraining, lack of sleep (less than 7 hours of sleep per night) also leads to weight gain.
Make sleep a priority and apply the suggestions I have made in this article.
Eat enough (but not too much)
Going on a diet that restricts your calories over long-term will decrease your metabolic rate, increase fat storage and promote belly fat.
Ask your healthcare provider to help you determine an appropriate calorie amount that allows for weight loss without excess stress on the body.
Eat enough carbohydrates and the right kind of carbohydrates
Many people are worried if they eat too many carbohydrates they will gain weight.  This is true if we're talking about refined carbohydrates like breads and cereals.  These carbs tend to be high in calories but low in nutrients.  When you eat refined carbs you will tend to feel hungry again a few hours later and you have to eat more to feel full again.  This results in a vicious cycle of eating excess calories and carbohydrates which the body will store as fat.  However, if you eat nutrient dense starchy carbs (potatoes, sweet potatoes, yams, plantains, yuca, and taro) the overeating will not happen as readily.
---
Eat nutrient dense starchy carbohydrates like potatoes, sweet potatoes, yams, plantains, yuca, and taro, for successful weight loss
---
A low-carbohydrate diet is not always required for weight loss and may be ineffective or harmful in some cases.  Going on a low or very low carbohydrate diet (ketogenic diet) for too long will raise your cortisol levels and throw of the the normal cortisol rhythm.  By now we know what will happen with your weight when this happens.  There are circumstances where going on a low carbohydrate diet is beneficial but not for a long period of time.
How do you how much carbohydrate to have during the day?
The amount and intensity of the exercise you do is the key factor to determine your carbohydrate needs:
If you are generally sedentary and do not or cannot exercise, a low-carb diet may help you lose weight without causing stress to your body.

If you are active, especially if you do strength training or high-intensity exercise, a moderate- or even high- carbohydrate diet with lower fat intake may be a better fit.
Ask your healthcare provider to help you determine an appropriate calorie amount that allows for weight loss without excess stress on the body.
Keep food simple
Eating simpler foods leads to eating less naturally and may help reduce the body fat "set point"—the system that controls our appetite, food intake, and metabolism.
What strategies can you use to keep your meals simple?
Decrease the number of ingredients, extra flavorings, seasonings, and added fats at each meal. It is easier to overeat highly palatable foods with a range of flavors.

Increase your protein intake. Protein is the most satiating (i.e., satisfying) macronutrient, yet it is typically less rewarding/palatable than carbs or fat.

Stick to plain, whole foods like poached fish, baked potato, or steamed veggies instead of highly palatable and rewarding foods like fried or grilled meats/fish, french fries/chips, bacon, etc.

Save the highly palatable and rewarding food for special occasions.

If you are willing and really committed eat the same meal throughout the day for two to three days a week.  For example, choose chicken and broccoli and sweet potato.  Eat that for breakfast, lunch, and dinner, two to three days a week.  Because of the limited variety and reduced reward value and palatability of that meal choice, you would spontaneously eat fewer calories on those days and lose weight.

One of the most effective approaches of losing a significant amount of weight in a short period of time is doing the potato diet.  The potato diet is where people eat nothing but white potatoes, typically without any fat or even salt, and people can lose a dramatic amount of weight on these diets, and they've been shown to be safe for weeks at a time.  This obviously requires another level of commitment altogether, but if the you really want to lose a significant amount of weight in a short period of time, this is one of the most effective approaches.
Practice stress management techniques
Long-term mental and emotional stress can cause weight gain.  Learning to manage our stress can help as a weight loss strategy.
There are many ways to manage stress.  It could be going out for a walk in nature.  maybe you enjoy something creative like gardening, art, cooking, or photography.  Practice regular stress management such as meditation, yoga, deep breathing, journaling, or prayer.
Get social support and professional support
You are going to need to surround yourself with people who will support your weight loss goals.  Seek out a healthcare provider that is skilled with meal planning, and how much protein, carbohydrate, and fat you should be eating.  The healthcare provider you are seeking out should not conform to the conventional food guideline which supports grains as the staple for carbohydrate intake.  I would recommended a provider that is knowledgeable with a whole food type of diet like a Paleo type of diet.  It works so well for weight loss for so many people, because it spontaneously reduces calorie intake.
Get your stress hormones checked
An increase in cortisol levels (stress hormone)  and an abnormal cortisol rhythm are common causes of weight gain.  So wouldn't it make sense to get this assessed thoroughly?  The DUTCH test and cortisol awakening response test are accurate ways to measure your hormone profiles.  Seek out a health practitioner who is knowledgeable about these tests.   
---
Abnormal levels of stress hormones are directly related to weight gain
---
Get your gut function assessed
There are 100 trillion microorganisms in our gut (our gut flora).  In fact, there are 10 times more bacteria then all human cells in our entire body!  We now know the balance and diversity of good flora determines how your body stores the food you eat, how easy (or hard) it is for you to lose weight, and how well your metabolism functions.
Unfortunately, several aspects of the modern day lifestyle has created unhealthy gut flora in many of us:
Antibiotics and other medications like birth control and NSAIDS (anti-inflammatories)

Chronic stress

Diets high in refined flours, sugars, and processed foods

Dietary toxins like wheat and industrial seed oils (i.e. canola oil) that cause leaky gut

Diets low in fermentable fibres (the starches mentioned above, glucomannan, green plantains and bananas, unmodified potato starch, vegetables)

Diets low in fermented foods (kefir, yogurt, sauerkraut, kimchi)

Chronic gut conditions
So how do you determine if you have healthy gut flora or not?
Comprehensive gut testing involving stool analysis, breath testing and urine testing is necessary to determine the health status of your gut.  
Furthermore, gut problems like irritable bowel syndrome, Celiac disease, heartburn and GERD, and food intolerances, will all cause your cortisol levels to rise.
---
Healthy gut bacteria are crucial for normal weight and metabolism 
---
Consider tracking your diet
Eating a whole roof type of diet approach doesn't require calorie tracking for weight loss, but sometimes losing the last 10 or 20 pounds can require more attention.  Tracking can help prevent either overeating or under eating.   Sometimes people are pretty far off in terms of what they're estimating for their calorie intake, and also their macronutrient intake (particularly of carbohydrates).  A few days of using any of the popular apps like NutritionData.com or MyFitnessPal.com can help you with accountability and keep you consistently on plan.
Summary
Humans' genes are wired to move and eat a clean nutrient dense diet.  This is what kept our Paleolithic ancestors lean, strong and relatively free from modern day degenerative illnesses.  Our world today is inactive, full of chronic stress, and full of processed junk food.  Unfortunately, our genes have not changed drastically in 10,000 years to adjust to this change in our environment.  We have a situation where there is a big mismatch between our genes and our environment.  This mismatch has created an unhealthy balance within our bodies as discussed which has led to most modern day diseases.  It's also led to a combined 54 -70% of North American adults being overweight or obese. (1, 2, 3)
I hope this article has given you some insight on why it is hard for some people to lose weight.  And I hope it provides you with some solutions to get lean, strong, and full of energy like you are supposed to be.