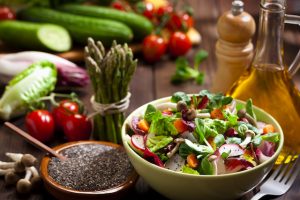 You have felt great for months or even years when you gave up eating meat.  You developed some low back pain awhile back and it's not going away or it keeps coming back.  You have tried physiotherapy, massage therapy, chiropractic care, and acupuncture with no luck.  Even your yoga practice is longer helping it.  In fact, you are no longer able to do intense exercise because you get sore and it takes you longer to recover.   Could it be that your lower back pain is due to something more than a problem with the muscle, joint, or nerve?  Could it be related to being on a vegan or vegetarian diet?
There are many reasons why people switch to a vegan or vegetarian diet.  Some do it because of the negative impact that confinement animal feeding operations (CAFO) have on the environment. Some do it because of ethical or religious purposes.  I respect these choices and appreciate anyone that thinks deeply about the impact their decisions will have on a social and spiritual level.
However, there are many people who choose to go on a vegan or vegetarian diet because they believe it is healthier for you than an omnivore diet (eating meat and plants in the diet).  I was lead to believe the same thing in the nutrition courses taught to us at chiropractic college in the 90's.  We were told eating red meat creates inflammation (swelling) and causes your arteries to clog up.  So I limited my intake of meat for along time without questioning this mainstream belief.  The fact is, red meat has a lot of health benefits and does not cause inflammation or clog up your arteries to increase your risk of heart disease.  Animal proteins are also more easily digested and absorbed by humans than plant proteins.
One of the issues I see with a lot of my long-term vegan and vegetarian patients is that they are prone to chronic recurrent low back pain and other joint and muscle pain syndromes.  They also have problems recovering from injuries.  At least part of the reason is because they aren't eating enough protein on a daily basis.  The other reason is because they may not be getting enough omega-3 fatty acids in their diet.
Protein deficiency and low back pain
Protein is used by your body to build your structure and to add support and strength to your body (muscles, tendons, bone, ligaments, connective tissue).  It's the "glue" that holds your body parts together.  Protein is also important as a building block for immunoglobulins (immune system), neurotransmitters (chemicals messengers for your nerves and brain), and some hormones.
If you're deficient in protein, all of the tissues that hold you spine together weaken.  All of your muscles and where they attach into the bones become weak.  The ligaments that hold your joints together become weak.  Your spine can become unstable, prone to misalignments, and prone to sprain and strain injuries.  Chronic low back pain is the result.  You won't be able to recover as quickly from an injury because you won't be able to repair tissue as well.
Three main reasons you can become protein deficient
Protein in plant-based diets is absorbed poorly 
Plant-based diets will focus on vegetables, fruits, nuts, seeds, legumes and grains (refined and unrefined).  Vegetables, fruits, nuts, and seeds are good sources of micronutrients (vitamins and minerals) but humans don't absorb the little protein that are in these foods very well.  Legumes and grains are poor sources of protein compared to animal protein.  They also contain antinutrients (i.e. phytic acid, trypsin inhibitors) that reduce our ability to absorb protein.  Whether it's soy, lentils, kidney beans, wheat, or corn, these antinutrients have been shown to reduce digestion and absorption of amino acids (the smaller parts of protein) in these foods by as much as 50%. (1)
Vegans and vegetarians also avoid eating organ meats, meats, fish and shellfish, all of which are the most nutrient dense foods you can eat. (2)
The table below is from the Food and Agricultural Organization of the United Nations World Health Organization.  They created a way to measure protein quality based on how complete or incomplete the protein is in each food (amino acid profile) and how well the protein in each food is digested and absorbed.  It's called the protein digestibility-corrected amino acid score (PDCAAS).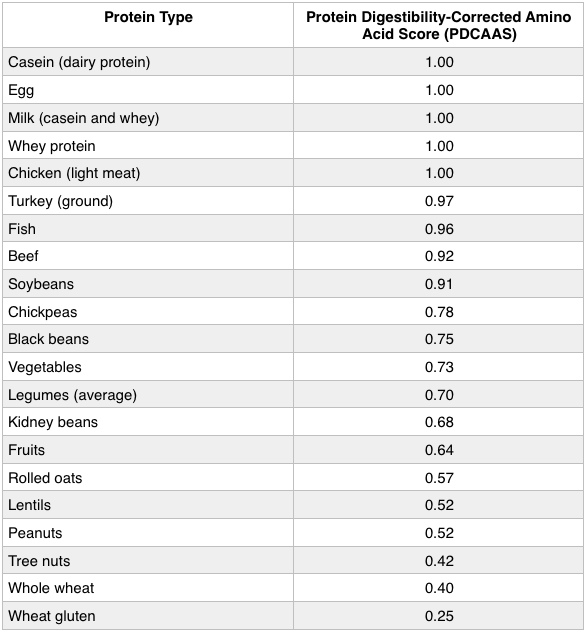 PDCAAS has been the preferred way to measure protein quality in scientific studies since 1989. (3)  You will notice soybeans are high on the list, but this measure does not take into consideration the antinutrients that interfere with the digestion and absorption of protein as noted above.  If you take this into consideration, the scores for soy protein, other legumes, and grains would be a lot lower.
Vegans and vegetarians are prone to a number of nutrient deficiencies including vitamin B12, vitamin A and D, calcium, iron, zinc, and the long chain fatty-acids EPA and DHA. (4, 5, 6, 7, 8, 9, 10, 11, 12, 13, 14, 15, 16)
Based on the PDDCAAS and antinutrient consideration there is a good chance that vegans and vegetarians would be more prone to protein deficiency than omnivores.
---
There is a good chance vegans and vegetarians are more prone to protein deficiency than omnivores.  Protein deficiency may be one of the causes of chronic low back pain and other pain syndromes.
---
You're not consuming enough protein each day.
This could be an important cause of protein deficiency in vegans, vegetarians, and omnivores for that matter.  But how much daily protein intake is optimal for a human being?  There's a lot of different answers regarding this topic.  So what authority figure do you trust?  If you want to dive deep into this subject, Registered Dietician Diana Rogers does a great job at sorting out the confusion in this article.
How much protein you should eat each day depends on your age, height, weight, activity level, and other health circumstances.  The optimal range of protein can range from 10% to 35% of your total daily caloric intake.  For men, based on a 2600 calorie diet this would range from 65 – 230 grams of protein per day.  For women, based on a 2000 calorie diet this would range from 50 – 176 grams of protein per day.
Let's say you determined you need to eat 2000 calories per day.  A well balanced amount of daily protein you would likely need would be about 20% of that.  This equates into 100 grams of protein per day or about 12 – 16 oz of meat per day.  For meat eaters, a piece of meat that is about the size of the palm of your hand would be about 4-6 oz.  For plant food, lentils are probably the most desirable source of protein because they're the least processed, non-soy option. You'd have to eat 1.5 cups of lentils, which is 337 calories, in order to get the same amount of protein that you can get from 3.5oz of fish, at about 1/3 the calories. (17)
How much protein do you need?
If you're generally healthy or you are pregnant aim for 10-20% of your calories to come from protein.  If you need to lose weight, have blood sugar problems, want to put on muscle mass then aim for 20-35% of your calories to come from protein.
Here's a calorie calculator to figure out how many calories you need per day:  exrx.net
Once you figure that out, multiply that number by the percentage of protein you want to consume per day, and then divide that number by 4 to get the number of grams of protein you should be eating per day.
You can use an app like myfitnesspal to track your daily protein intake.  Keep in mind if you eat plant based protein, the protein you actually absorb may be up to 50% less than what the app calculates.
You're not digesting protein well.
If you have low stomach acid, heartburn/GERD, IBS, or any other underlying gut problem, you won't be able to break down protein into amino acids as well for proper absorption.
Thorough lab testing with a health practitioner would be necessary to determine the underlying cause of your gut problem.  
Essential Fatty Acid Deficiency (AA and EPA), Inflammation,  and Low Back Pain
What if your chronic recurrent low back pain is due to chronic inflammation (swelling)?
Inflammation is necessary to fight off sickness and to start the healing process when you are injured. Inflammation in your joints and muscles will irritate your nerves and cause pain.  As you heal, your body decreases inflammation and pain.  If your body can't decrease inflammation, your low back pain will become chronic.  A well balanced diet between the essential fatty acids arachidonic acid (AA) and eicosapentaenoic acid (EPA) are important for decreasing inflammation and pain.
An essential nutrient means we require the nutrient from our diet so our body functions properly.  Omega-6  (i.e. arachidonic acid or AA) and omega-3 fatty acids (i.e. EPA) are essential fatty acids we get from eating animals and seafood.  They work together to keep inflammation (swelling) at a healthy and stable level.  High blood levels of both AA and long chain omega-3 fatty acids are associated with low levels of inflammatory markers in the blood. (18, 19)
The balance between omega-3 fatty acids and omega-6 fatty acids is key in keeping inflammation in control.  If our food intake of omega-3 fatty acids is low (i.e. not enough cold water fatty fish, shellfish, or grass fed beef) in our diet, our tissue levels of AA go up.  If we have high doses of omega-3 fats (i.e. too much fish oil supplements) our AA levels go down.  Neither is helpful to control inflammation. (20)
Plant foods contain omega-6 (linoleic acid or LA) and omega-3 (alpha-linolenic acid or ALA) fatty acids. Both of these are considered essential fatty acids.  ALA from plant foods (i.e. walnuts and flax) can be converted into EPA, but the conversion is poor in humans:  5-10% for EPA. (19)  Vegetarians have 30% lower levels of EPA and DHA (another omega-3 fatty acid) than omnivores (meat eaters), while vegans have 50% lower EPA and nearly 60% lower DHA. (20)
---
Because vegetarians have 30% lower levels of EPA than omnivores (meat eaters), and vegans have 50% lower EPA, vegans and vegetarians are more likely to develop chronic inflammation and pain.
---
Solutions for Vegans and Vegetarians
Switching back to an omnivore diet
The obvious solution to solve protein and EPA deficiency would be to switch back slowly to a whole food diet which includes animal meat and seafood.  I say slowly, because if you haven't ate meat or seafood in a long time, your digestive system won't be used to eating it and you might get sick.
I would recommend you start eating homemade bone broths and supplementing with collagen powders (a protein for building connective tissue).  You can also try a high quality beef isolate protein powder called PurePaleo Protein powder.
While you are on this recovery diet I would recommend you support your digestive system by supplementing with Betaine hydrochloric acid with pepsin and digestive enzymes.  This will help you digest animal protein and absorb it easier.
You could try to eat small amounts shellfish and cold water fatty fish (wild salmon, mackerel, herring, anchovies) to get EPA.  Eventually, you want to eat 12-16 ounces per week of shellfish or cold water fatty fish.  If you can't handle this I would suggest you supplement with cod liver oil and wild salmon oil.
Eventually, you should be able to retrain your digestive system to handle eating meat and seafood regularly.
Getting enough protein and EPA with a vegan or vegetarian diet
I realize not everyone is going to switch to an omnivore diet due to a variety of reasons.  So here are some solutions for vegans and vegetarians to get more protein and EPA.
Most vegetarians and vegans will need to supplement with microalgae like Algae Omega from Nordic Naturals in order to get enough EPA and DHA (another important essential fatty acid).  Plant-based omega-3 fats like flaxseed and walnuts will not provide enough EPA and DHA in most cases.
For protein requirements you can include non GMO tofu, tempeh, spirulina, and sprouted legumes.  Keep in mind, when getting your protein sources from plant food, your body may only be digesting and absorbing 50% of the protein.  So you have to compensate for this by eating more.
Because vegans and vegetarians are prone to other nutritional deficiencies I have included a handout here for you to help ensure you are getting adequate intake of essential nutrients.   Denise Minger provides some excellent tips for vegans.
Summary
Vegans and vegetarians are prone to nutritional deficiencies like protein and EPA.  Getting good amounts of protein and the essential fatty acid EPA is crucial in resolving chronic low back pain.
If you have been a long-term vegan or vegetarian and have chronic recurrent low back (or any other type of chronic pain), I would recommend you figure out if you could be lacking in protein and EPA.  If you are, take the steps I have suggested to see if it resolves your issue.