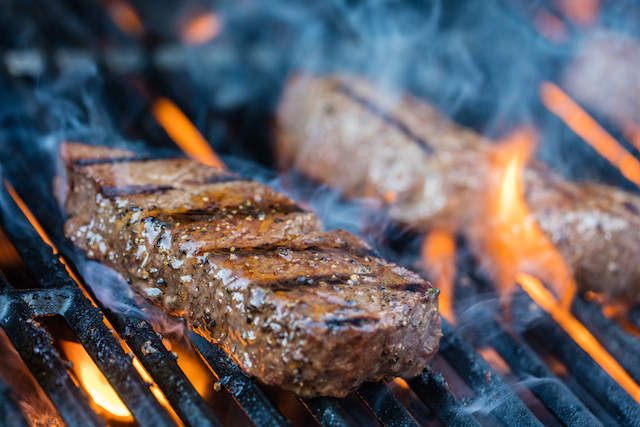 Chronic inflammation or swelling can cause persistent or recurrent joint pain.  Red meat has been singled out by the media and mainstream dietary sources (national food guides and arthritis societies) as a food to limit or avoid.  This is the second article in a series on red meat where we will focus on whether red meat really causes joint and inflammation or not.
Direct studies on red meat and inflammation 
There are two controlled trial studies showing eating red meat does not increase inflammation (inflammatory blood markers).  One of the studies showed that replacing carbohydrates (bread, pasta, rice, potatoes, and breakfast cereals) with red meat actually decreased inflammation. (1) The other study showed that a diet high in red meat versus a diet high in oily fish (food high in anti-inflammatory omega-3 fatty acids) showed no marked difference in inflammation. (2) What these studies suggest is that eating red meat is no more inflammatory than other meats and likely less inflammatory than eating carbohydrates.  
---
Eating red meat is no more inflammatory than other meats and likely less inflammatory than eating carbohydrates.
---
Arachidonic acid
In chiropractic college we focussed a lot on joint pain, muscle pain, and the nervous system.  Nutrition was a required course for the entire four years we studied.  If I had to pick one "truth" that was stressed to us, it would be that red meat causes joint pain and inflammation.  I can see my notes in my head right now:  "Arachidonic acid (AA) found primarily in red meat and eggs is an omega-6 fatty acid that promotes inflammation".  So the belief was that AA was bad for you especially because it was in foods like red meat and eggs.  But is AA really bad for you?
AA is an essential omega-6 fatty acid.  An essential nutrient means we require the nutrient from our diet so our body functions properly.  Here are some of the important roles AA plays in keeping us healthy (3):
While it's true that AA plays a role in inflammation, inflammation is necessary to fight off sickness and to start the healing process when we are injured.  AA works together with other omega-3 (i.e. EPA) and omega-6 fatty acids to keep inflammation at a healthy and stable level.  High blood levels of both AA and long chain omega-3 fatty acids are associated with low levels of inflammatory markers in the blood. (9, 10)
The balance between omega-3 fatty acids and omega-6 fatty acids is key in keeping inflammation in control.  If our food intake of omega-3 fatty acids is low (i.e. not enough cold water fatty fish or grass fed beef) in our diet, our tissue levels of AA go up.  If we have high doses of omega-3 fats (i.e. too much fish oil supplements) our AA levels go down.  Neither is helpful to control inflammation. (11)
Furthermore, having higher intakes of AA show no increase in inflammatory markers.  Studies have shown that adding 1,200 mg/day of AA (12 times higher than the average intake of AA in the U.S.) to the diet has no clear effect on increasing inflammation.  (12, 13)  As well, our Paleolithic ancestors (who were largely free chronic inflammatory disease) consumed at least twice the amount of AA that the average American does today. (14)
There are two other important facts about red meat you should know about.  First, red meat actually has a lower concentration of AA than other meats. (15, 16) Second, red meat has been shown to increase tissue concentrations of both AA and the long chain omega-3s DHA and EPA.  This helps keep the omega-3 and omega-6 fat acids in a healthy balance thereby keeping inflammation under control. (17)
Our ancestors and modern day hunters and gatherers consume red meat regularly. Not only were our ancestors largely free of chronic inflammatory diseases, but so are modern day hunters and gatherers like the Masai tribe.  Their traditional diet consists almost entirely of milk, meat, and blood. (21)  
Summary
The bottom line is that there is no good evidence red meat causes more inflammation than other meats.   If anything there is evidence that red meat decreases inflammation.  It's possible there is people that might not tolerate red meat well which might create inflammation.  In general, however, there is no reason for people to fear eating red meat on the basis of inflammation.