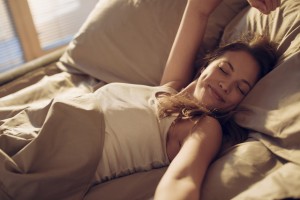 Do you have trouble sleeping?  Are you hanging on by a thread everyday?  Tired and unable to focus? Tossing and turning, fidgety, and worrying at night?  Moody? Little things annoy you?  Are you putting on a fake smile just to get through the day?  And have you ever had an amazing sleep and your whole world changes?  You're happier, more alert and focussed, you have energy to get things done and be more productive.  You communicate better, and the fake smile turns into a genuine impulsive one.  You begin to turn into the person you have always dreamed of: one that pursues their dreams with laser-like focus, copious amounts of energy, happiness, and peace.  Make sleep a priority and start following the tips in this article to help you get to sleep and stay asleep.
If you're reading this, you're probably already aware that being deprived of sleep is bad for you health.  Poor sleep quality is a major stressor on the body.  It has been linked with obesity, insulin resistance, heart disease, impaired cognitive function (ability to focus, think, and reason), weak immune system, and many other health problems. (1,2,3,4,5,6,7)
It doesn't matter if you eat really well and get regular exercise; if you don't sleep well, your health will suffer. (8)
Even making sleep a priority doesn't guarantee you will get 7 to 8 hours of quality sleep.  About one-third of adults report one or more of the symptoms of insomnia: difficulty falling sleep, difficulty staying asleep, waking up too early, and in some cases, poor quality of sleep. (9,10,11)
1. Make sleep a priority
I used to be the type who was proud I could get by with five hours of sleep a night.  I had no time for sleep.  I had too much to do and was obsessed with my to do list.  Sleep got in the way of that.  Slowly I realized how I was lying to myself.  Lack of sleep was catching up to me.  I had less drive, energy, and my focus was off.  This behaviour was making me less productive and created a lot of anxiety.  When I started to make sleep a priority and started to practice the following tips, I started to get more consistent sleeps.
At the time of this writing, my sleep still isn't perfect. Overall, it's better than it was years ago and it's something I'm still working on to master.  I have gone months at a time with good quality sleeps.  This means I was getting 7-8 hours of sleep consistently and feeling well rested and happy when I got up.  And I can tell you I feel like a superhero during these times.  My focus and energy go up ten fold.  My production goes way up.  My ability to articulate improves dramatically. It feels like the words from my mouth flow out naturally and faster.  My whole world is a better place.
2. Restrict artificial light at night
Restricting artificial light at night means limiting or not using devices that emit blue light.  This includes computers, mobile devices, and watching TV.  The blue light from these devices enters the eyes and decreases melatonin. (12,13,14)  Melatonin is the main hormone in your body that helps you sleep.
There are a few ways to reduce the effect of artificial light at night.  You can stop using devices that emit blue light 2-3 hours before you go to bed.  If you feel this is 'impossible' to do, you can change the display on your computers and mobile devices to decrease the amount of blue light they emit.  Mobile devices often have settings for this built into them and you can install a program like f.lux.  The best option is to buy amber tint safety glasses that you can start wearing at night.  These glasses have been shown to be very effective at blocking out blue light, preventing melatonin suppression, and improving sleep quality and mood. (15) Uvex and Solar Shield brands are good options.
3. Expose yourself to natural light in the morning
Getting outside in the morning for 30 minutes or more can help reset your circadian rhythm or "body clock".  Your circadian rhythm tells your body when to sleep, wake up, and eat.  Two of the most important environmental factors affecting circadian rhythm is light entering the eye and body temperature. So getting plenty of natural bright light from outside lets the body know it's daylight. (16)  Ordinary indoor light is not strong enough to have a big impact on your circadian rhythm.  It only measures 10 to 300 lux compared to outdoor light which measures 10,000 to 30,000 lux. (17)
So what do you do if you live in the Northern hemisphere like me where it is it dark outside early in the morning during the fall and winter months?  You can still try to get outside by lunchtime or another option is to buy a light therapy machine.  Buy a light machine that emits 10,000 lux of light and sit in front of it for fifteen to thirty minutes after waking up.  These machines have been studied extensively for seasonal affective disorder (SAD) and depression. (18, 19) Research suggests they can also be effective for resetting your circadian rhythm as well. (20,21) Sphere Gadget Technologies makes a good light machine I would recommend.
4. Keep your bedroom dark and cool
It is a well known fact that sleeping in a cool, dark environment makes it easier to get a good night's sleep.  Your core body temperature naturally cools during sleep onset as the body increases blood flow to the surface of the skin. (22) This allows heat to be released into the environment.  When the bedroom is too warm, your core body temperature can not cool down as well.  This can lead to a poor sleep. (23) Keep the room at a temperature of around 18℃ (65℉).
I've already talked about how artificial light can impair sleep.  Even street lights and lights from alarm clocks emit enough light to effect sleep. (24,25)  Installing black-out shades and covering any other lights in your bedroom is one option.  Another option is to buy a sleeping mask.
5. Exercise during the day
Exercise during the day has been found to improve the quality of sleep.  In fact, there are many studies which have shown exercise is effective for insomnia, and some proof that exercise is as effective as sleeping pills. (26,27,28,29)
However, when you exercise and how much you exercise has a either a positive or negative impact on your sleep.  Overtraining, for example, will increase your levels of a stress hormone in your body called cortisol. (30) Too much cortisol will disrupt your circadian rhythm leading to poor sleep quality. (31) So high intensity exercise (tennis, weight lifting, cross fit, etc.) is best done in the morning when we want our cortisol levels higher versus doing it in the evening.  If you have had a lot of mental stress for a long period of time, you would probably be best to stick with light intensity exercise (walking, yoga, tai chi, etc.) until you lower your stress levels.
A good time management tip would be to get outside in the morning and combine exercise with light exposure.
6. Lower stress levels throughout the day
Mental stress is inevitable.  How you manage it will determine if it interferes with getting good quality sleep or not.  If you don't have stress management techniques, you're quality of sleep will be poor.
Many of us are so busy with life with constant demands on us.  We have a hard time switching our brains off when we get home from work and when our head hits the pillow.  Or we may wake up in the middle of the night and can't get back to sleep because we start thinking about "stuff".  Our nervous system is constantly in this "fight or flight" state.  The part of the nervous system that is in this constant state of arousal is our sympathetic nervous system.  This sympathetic nervous system also increases cortisol which we just talked about.
How can we expect to just turn this "stress switch" off instantly?
The part of the nervous system that is supposed to be turned on most of the time is our parasympathetic nervous system.  This is our "resting, calm, and digestive" state.  It's the state our body has to be in to heal well and for growth and regeneration of our tissues to occur.
If we can shift the balance into a more parasympathetic state, this will make falling asleep and staying asleep much easier.  So how do we do that?  The list is vast and I will talk about that in a future article.  However, in general, I would say do something that you enjoy where your mind is at ease.  For example, that could be creative activities like gardening or art.  Or it could be more formal practices like yoga, meditation, or tai chi.  In fact, yoga and meditation have been found to help cure insomnia and improve sleep. (32,33,34)
7. Get regular chiropractic adjustments
After two decades of observing my patients, I can say with certainty that some patients sleep better when they receive regular chiropractic adjustments.  Adjustments stimulate the nervous system and brain. If the adjustments are done specific and precise, the body will respond better.  When specific adjustments are done in the neck and pelvic area they turn on the parasympathetic nervous system.  This can help make our bodies and mind shift from the "fight or flight" state into that "resting or vegetative" state we need for good sleep.
8. Eat more healthy starchy carbohydrates at dinner
Eating healthy starchy carbohydrates at dinner time helps increases the concentration of a substance called tryptophan in your blood.  Tryptophan turns into melatonin.  Remember melatonin is the main hormone in your body that helps you sleep, so the more tryptophan, the more melatonin can be made.  (35,36,37)
So start eating more healthy starchy carbohydrates like white potatoes, sweet potatoes, squashes, taro root, cassava root, and plantains.  This is especially true if you have been eating a low-carb diet or ketogenic diet and have run into problems sleeping.  I know this from personal experience.
In relation to this, high-protein meals can lower the chances of the body turning tryptophan into melatonin. (38) However, glycine-rich proteins found in skin and gelatinous cuts of meat don't have this effect.  So for example, having a cup of bone broth before bedtime can help you sleep. (39)
9. Supplements you can take to help you sleep
This is another big topic of discussion as there are many natural remedies for sleep.  Each has there unique way of working and what works for one person may not work for another.  Some of it depends what your melatonin levels are like or if your cortisol (stress hormone) levels are out of balance.  So the best way to determine this at the time of this writing is to get a DUTCH Test (Dried Urine Test for Comprehensive Hormones) done.  You have to go to a health practitioner that knows how to interpret the test (usually a functional medicine or functional nutrition practitioner).  In saying this, here are some natural remedies you can try.
Magnesium.  Magnesium is pretty safe to try as most people are deficient in magnesium anyway.  It's one of the important minerals that is accepted to be depleted from our soil.  Magnesium has been shown to be effective in treating insomnia and sleep. (40,41,42,43)  The safe dose for magnesium is 200 to 600 mg/day.  So you can try a product called Natural Calm (1 to 2 teaspoons before bed) or take chelated forms like magnesium glycinate or magnesium taurate.  Taking magnesium may have a laxative effect, so if that's not desirable for you, take the chelated forms.
GABA and Taurine. You can think of GABA as a chemical in the brain that switches an overactive nervous system off. (44)  Taurine is a substance that reduces cortisol levels and works with GABA. (45)  
L-theanine.  L-theanine is a unique substance that is found only in green tea and certain mushrooms.  When taken in higher doses as a supplement (200 to 400 mg), it can have a calming and focusing effect. (46) Take an hour before bed if you have trouble falling asleep, or just before bed if you have trouble staying asleep.
5-HTP. 5-HTP is a substance that turns into melatonin and has been shown to help people with chronic sleep problems. (Note: do not take 5-HTP if you are taking SSRIs or other antidepressants.) (47)
Melatonin. If 5-HTP doesn't work you can try taking Melatonin.  It is more likely to work if your melatonin levels are low.  At lower doses of 0.5mg-1mg it is likely to be safe without becoming dependent on it.  (48)
10. Address gut and brain/adrenal problems 
We have already talked about how overtraining and mental stress cause high levels of the stress hormone cortisol.   Gut problems are very common and can cause high cortisol levels too.  If you have gut problems, chances are it's going to cause inflammation (swelling) throughout the body which will put your brain into a "stressed" state.  A brain that is in this sympathetic or "stressed" state tells your adrenal glands which sit on top of your kidneys to produce more cortisol.  And we already know what that does to sleep.  So if you have symptoms like heartburn, constipation and/or diarrhea, bloating, abdominal pain, make sure you get comprehensive gut testing done by a functional medicine or functional nutritional practitioner.  This will help identify the underlying cause of your symptom(s) which will lead to a more successful treatment.
Get your cortisol levels in balance.  Cortisol levels are supposed to change throughout a 24-hour period. It's highest levels are at about 8am.  Cortisol will then gradually decline throughout the day until it's at it's lowest point between midnight and 4am.  Then it starts to rise again quickly, resulting in peak output just as we're waking up.  But what if the levels are out of balance?  Well, that can throw a lot of other things out of balance including melatonin and the sex hormones.  To get a detailed picture of these hormones and the cortisol rhythm I would highly suggest you get the DUTCH Test done.  Again, this test can be ordered by a functional medicine or functional nutritional practitioner.
Solving insomnia and sleep problems is well within your reach.  Once you start making sleep a priority and take action steps to improve it you will find your world changes for the better.  You will feel like a superhero and accomplish more in your life.