Estimated reading time: 4 minutes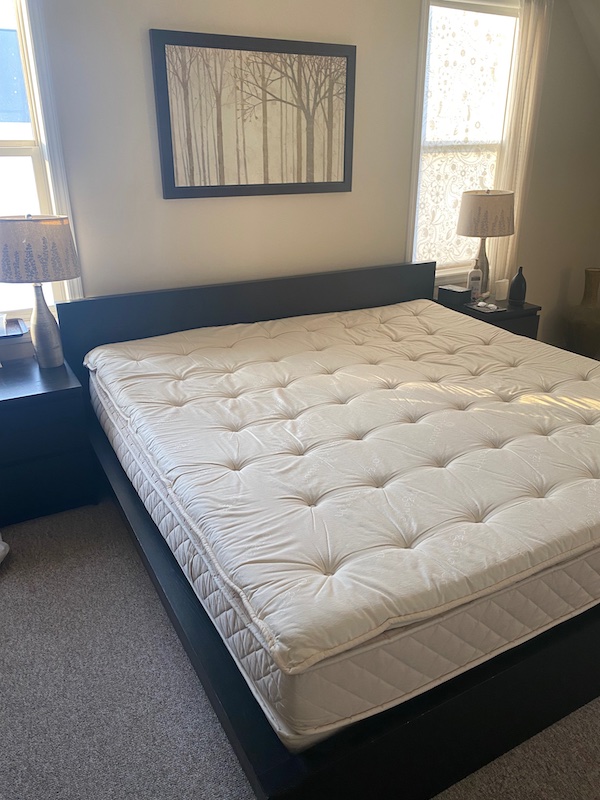 As a chiropractor I often see patients who suffer from low back pain. One common question I receive is, "What kind of mattress should I get to help relieve my low back pain?" The answer isn't simple because every person's body and sleeping preferences are different. However, choosing the best mattress for low back pain is crucial in achieving a restful night's sleep and preventing pain. In this blog post, we'll discuss the importance of a good mattress, factors to consider when choosing one, and tips for picking the best mattress for low back pain.
The link between a mattress and low back pain
The connection between the mattress you sleep on and your low back pain is significant. A mattress that's too soft or too firm can create stress on your spine, leading to poor sleep quality and more pain. As well, an unsupportive mattress can even cause new back pain or worsen existing pain. On the other hand, a supportive and comfortable mattress can reduce pain and stiffness, improve sleep quality, and increase your overall well-being. Therefore, it's essential to choose the right mattress for your low back pain.
Factors to consider when choosing the best mattress for low back pain
When choosing the best mattress for low back pain, you need to consider a few essential factors.
Mattress support
First, the mattress should provide adequate support to the spine, keeping it in a neutral position. So the mattress should conform to the natural shapes of your body, but at the same time support your spine.
Firmness of the mattress
Second, the firmness of the mattress is critical. Firmness refers to how soft or hard a mattress is. While a firm mattress is often recommended for low back pain, it's not suitable for everyone. It's crucial to find the right balance between firmness and softness that feels comfortable to you.
Mattress comfort
Finally, you should look for a mattress that offers good pressure relief, promotes healthy circulation, and provides a comfortable sleeping surface.
Tips for choosing the best mattress for low back pain
To pick the best mattress for low back pain, it's essential to test it out before purchasing it. Take your time when testing out different mattresses and don't feel rushed by salespeople. When testing a mattress, lay on it in your preferred sleeping position for at least 10-15 minutes. This way, you can experience how your body reacts to the mattress and if it supports your low back. Don't be afraid to ask questions and try different positions to see how the mattress responds.
Most stores that sell mattresses offer a 30 to a 120 day return policy. This should give you ample time to decide the mattress you bought is right for you.
Top mattresses for low back pain
I don't think there is a one mattress out on the market that is best for everybody with low back pain. Medium-firm mattresses tend to be the best option for most people with low back pain. (1) However, choosing the best mattress is purely subjective. So, you're going to have use the information I have provided and go out and try different kinds of mattresses. Some of the different kinds of mattresses vary from memory foam, latex, coil spring, and there are also rubber with cotton options. Ask the sales people the differences between all of them and do a lot of online research.
On a personal note, my wife and I bought a Sleeptek mattress (now called Obasan) many years ago and we are extremely happy with it.
Summary
In conclusion, choosing the best mattress for low back pain is crucial for relieving pain, improving sleep quality, and enhancing overall health. When looking for a mattress, consider its support, firmness, and comfort level, and take your time testing it out. If you suffer from low back pain, you may want to consider investing in a high-quality mattress. With the right mattress, you can wake up feeling refreshed and pain-free, ready to tackle the day ahead.
Dr. Dean Collins is an Edmonton chiropractor with over 20 years of experience. He provides thorough, high-quality chiropractic care and lifestyle coaching to help you live pain free, with more strength, energy, and focus.
To learn more about how chiropractic care could help you and your family click on Edmonton chiropractor Dr. Dean Collins' complete guide to chiropractic care.