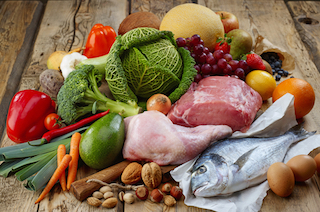 What foods would you be willing to give up if you knew there was a good chance to reduce or get rid of your chronic pain? Could you give up foods like bread, pasta, pizza and beer even for 1 month? How about 3 months? Can you imagine yourself moving better, sleeping better, sitting better, and being happy and enjoying your life more? Maybe you're tired of taking pills and injections and are ready to switch to safer, natural, and yet challenging treatments for chronic pain. Treating chronic pain with a healthy diet can be hard, but with the right mind set and smart planning, anyone can do it.
What is a healthy diet?
There are many opinions about what makes up a healthy diet. And the scope of this article isn't about debating whether a plant-based diet, for example, is the right way to go versus a carnivore diet. So for the sake of keeping this article shorter, one thing most food experts will agree on is that eating real whole foods (animals and/or plants) and staying away from refined foods (mostly packaged) is the healthiest type of diet.
Foods that can cause chronic pain (avoid these foods)
The following are a list of foods that can cause excess inflammation (swelling) and pain in your body:
Gluten (refined flours, pizza, beer, bread, pastries, pasta, cereal, crackers)
Refined sugar (table sugar, candy, soda pop, cereal)
Industrial seed and vegetable oils (canola, corn, cottonseed, soybean, safflower, sunflower, sesame)
Dairy (highly nutritious but it can create inflammation and pain in some people)
Alcohol
Foods to eat when treating chronic pain with a healthy diet
The following are a list of foods to eat to decrease pain and inflammation:
Vegetables
Fruits
Nuts and seeds
Meat (ideally wild game, grass fed beef)
Poultry (ideally free range)
Eggs (ideally free range)
Fish and Seafood
Oils (olive, coconut, avocado, walnut, flax seed, macadamia, palm)
Healthy fats (pork lard, duck fat, beef tallow, chicken fat)
How long do you have to eat healthy when treating chronic pain?
If you can commit 100% (without cheating) for 3 months you will find out if food intolerances are causing some or all of your chronic pain. I know this may seem like a long time, but think about how fast the summer months fly by. And there is a good chance you may start feeling better within a few weeks which would help give you motivation to keep eating healthy.
Don't think about what you can't have when you're eating healthy, focus on what you will be gaining: less pain, better movement, more energy, and being happier.
Strategies to deal with obstacles when treating chronic pain with a healthy diet
This is hard can't I cheat a little bit?
Once you figure out what your ideal diet is, I would agree with this. However, having a piece of bread or a small glass of milk could set you back to square one. So this isn't the time to cheat.
By avoiding foods that could be causing inflammation and pain within your body, you will be giving your body a chance to heal properly. Again, don't think about what you can't have, think about what you will be gaining.
Clean out you fridge and pantry
By getting rid of the food you would generally consider cheat food, you will be less apt to cheat during your weak moments when you are tired, stressed, or bored.
Get your spouse or family on board
Support from your loved ones is vital if you're going to succeed at doing this. It's a lot easier when you have family members doing it with you.
Prepare you meals in advance and double them up
If you prepare your meals in advance and make more, it will save you time and give you leftovers to heat up.
Plan before you go out to a restaurant
Most restaurants nowadays are more aware of food allergies and food intolerances and will usually offer menus that can cater to your needs. In saying that, it helps to go online and look at the restaurant's menu to make sure or give them a call and ask.
Learn to say no
You will likely be put into situations like family gatherings or dinner parties where you will be tempted by what is being served. Don't cave. Simply tell the truth. For example, let them know you aren't trying to be rude, but you are just trying to avoid certain foods in order to see if it helps your low back pain or knee pain.
Train your body to enjoy fasting
There may be situations where there isn't healthy foods available to eat. In this case, fasting may be your best option. And quite frankly fasting from time to time is very healthy for you.
Learn more about the benefits of intermittent fasting and how to train your body to do it.
How to stay organized and motivated
If you're motivated, a self-learner, and like cooking you can check out these extra resources:
14FOUR (a simple digital 4 step lifestyle plan that incorporates meal planning, simple recipes, and shopping lists)
The Paleo Cure book (follow a Paleo template but can be modified for vegans and vegetarians)
If you feel you need someone to coach you and tell you how to do it without doing extra research yourself, I would strongly recommend you consult a holistic nutritionist like Kat Vernelli.
Conclusion
Treating chronic pain with a healthy diet can be challenging but rewarding. You have to be willing to give up some of the foods you love in order to regain your health.
You have everything to gain and nothing to lose by doing this for 3 SHORT MONTHS!
And who knows, you may choose to eat this way for the rest of your life.