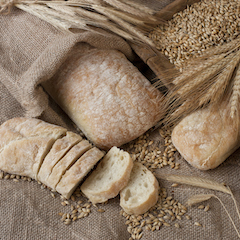 Despite many people and the media thinking Gluten Free is a fad, and the fact that large corporations are capitalizing on Gluten Free branding, there is a large amount of evidence that gluten is not good for you.   Gluten can cause fatigue, irritable bowel symptoms, skin problems, and joint and muscle pain.  Gluten can also cause serious health problems such as celiac disease and hypothyroidism.
Gluten is a mixture of several proteins in cereal grains, especially wheat, that gives the chewy or elastic texture in dough.  Gluten is found in numerous foods such as breads, cereals, crackers, some cold cuts and sausage, sauces, syrups, and even some ice creams.
The proteins found in the gluten portion of the wheat seed are numerous: gliadins and their subtypes, glutenins, agglutinins, and prodynorphins.  There are also proteins formed when wheat is consumed and broken down in the digestive tract.  Specific symptoms and conditions can arise if your immune system reacts with one or more of the gluten proteins.  You don't have to have the typical digestive symptoms like overt Celiac Disease to know if you react to gluten.(1, 2, 3, 4, 5)  Based on observational studies the following conditions and symptoms, to name just a few, have been linked to gluten intolerance:
"But Doc…I'm healthy. I don't have any of these conditions.  Gluten doesn't affect me."
Maybe you don't have the above obvious conditions at the moment, but gluten is affecting you at some level and you are putting yourself at risk for developing an autoimmune disease.  The percentage of the general population that have gluten intolerance (non-celiac) varies widely from 0.5% – 13%. (25)  Dr. Kenneth Fine, a renowned gastroenterologist, is finding prevalence might be greater than 1 in 3 people. And you're not doing yourself any favours by eating food that contains gluten (refined flours) for the following reasons:
Refined flours are low in nutrients.

The low amount of nutrients that are in refined flours are hard to absorb.

Refined flours contain phytic acid which prevents the absorption of minerals like calcium, iron, manganese and zinc.

The gliadin portion of gluten will cause an increase in zonulin (a substance produced in the small intestine) in EVERYONE.  Zonulin causes the small intestine to become "leaky" or permeable increasing the chance gluten can get into your blood and cause an immune reaction. (26) The severity of the reaction depends on the person's genetics, lifestyle, levels of stress, the health of their gut microbiome, and their general state of health.
I understand the appeal of eating refined flours better than anybody.  I was once a cereal and bread addict.  I know how it feels to sink my teeth into a croissant or gobble up a bowl of frosted flakes.  I also now know the serious and subtle health problems I developed when gluten was a part of my diet:  low blood sugar problems, insomnia, keratosis pilaris, excess mucous production, impaired breathing because of inflamed sinuses, heart palpitations, and brain fog.  And when I eliminated gluten, everything got better.  Furthermore, each time I cheated and had gluten, my symptoms got worse and I started to get gut pains.
---
In my opinion, eating refined flours/gluten is like playing Russian roulette.  Why even take the chance? 
---
There are plenty of whole food options to give you the fibre you need if you're wondering where to get fibre from other than grains.  And if you do want to indulge, there are plenty of good gluten free flour substitutes that make amazing desserts.
So how do you find out if have an intolerance to gluten?
First, there is no definitive blood test for it.  The gold standard for diagnosing gluten intolerance is by eliminating it from your diet for 14 to 90 days and reintroducing it to see how you react to it.  I will be writing more extensively on this subject matter in future articles.  The best blood test to determine if you are intolerant to gluten at the time of this writing is the Cyrex Array 3 test.  You can order this test from a healthcare provider who knows how to interpret the results of the test.
Second, gluten intolerance can be hard to diagnosis because of the several symptoms that are associated with it.  As mentioned earlier, you don't have to have digestive symptoms to have gluten intolerance.  Gluten intolerance can affect nearly every tissue in the body, including the brain, skin, thyroid gland, pancreas, liver, joints, stomach and small intestine, and blood vessels.(27)  Because the range of symptoms associated with gluten intolerance is so broad and nonspecific (can be attributed to many other conditions) many patients and medical doctors may not even suspect gluten or another food intolerance could even cause them.
Third, even with celiac disease where gluten is the known culprit for causing the digestive distress associated with it, about 30% of newly diagnosed patients don't even have gut symptoms.  Further, for every new case of celiac disease diagnosed, there are 6.4 cases that are undiagnosed which means the majority of celiac patients are atypical or have "silent" forms without gut symptoms.(28, 29)
For all of these reasons, I would say that celiac disease and gluten intolerance is being under diagnosed.
Could you be underperforming and feeling sick and tired because you have an intolerance to gluten?
I would encourage you to find out.  Eliminate gluten for 14 to 90 days and then reintroduce it and see how you feel.  However, it can get a little more complex than this.  My experience with patients tells me most patients need to be hand held through the process.  You may also need to eliminate other food groups to determine if you have gluten intolerance.  There are two options I would recommend for you.  One, I would highly recommend the 14 Four program developed by functional medical practitioner Chris Kresser for you.  Go to www.14Four.me and register.  I did this program myself and it is fantastic.  Two, seek out a healthcare provider that is skilled with meal planning, and how much protein, carbohydrate, and fat you should be eating.  The healthcare provider you are seeking out should not conform to the conventional food guideline which supports grains as the staple for carbohydrate intake.  I would recommended a provider that is knowledgeable with the Paleo type of diet.
Now I'd like to hear from you: Are you experiencing any of the symptoms or conditions mentioned?  Have you tried a gluten free diet and did you feel better?