Contrary to popular belief you don't need to supplement with calcium to have strong bones and prevent osteoporosis.  You can get all of your daily calcium needs through food.  There are many foods high in calcium if you eat a nutrient dense whole food diet. 
In the last article, we discussed that calcium supplementation does not increase bone density and does not decrease the risk of fractures.  In fact, calcium supplementation may even increase the risk of hip fractures.  Taking calcium supplements can also increase the risk of heart disease, stroke, kidney stones, and potentially shoulder pain (calcific tendonitis). 
So can we get enough calcium from our diets alone?  The answer is yes, if you eat a nutrient dense whole food diet.  In saying this, you may need to supplement with vitamin D, vitamin K2, and magnesium.  There are other factors that affect calcium levels as well. More on this in another article.
Recommended daily intake of calcium and absorbing calcium
The recommended daily intake for calcium is 1,000 mg to 2,000 mg/day.  However, your daily levels could be bumped down to about 800 mg/day if your vitamin D and vitamin K2 levels are good. Vitamin K2 and vitamin D are required so you can absorb calcium from foods and for controlling calcium levels. 
A diet like the Paleo diet that is low in anti-nutrients will also help with calcium absorption.  Anti-nutrients, such as phytates, are present in many foods (nuts, seeds, dark leafy greens, and legumes).  Phytates decrease the absorption of minerals like calcium and magnesium. 
Protein increases the absorption of calcium.  So having protein with each meal will help you absorb calcium.  This follows that diets higher in protein will increase your calcium levels.  Human beings have evolved to regulate calcium levels from food even when they are high, but less so when we consume large amounts of calcium from supplements. (1)
Foods high in calcium
Many foods that are staples in the North American diet are "fortified" with supplemental calcium.  Cereals, bread, juices, and instant oatmeal are common foods people eat that have supplemental calcium added to them.  Even almond milk you buy has fortified calcium.  Multivitamins also have supplemental calcium in them.  You should be aware of this so you don't go overboard on supplemental calcium.  
The following table shows the calcium content in whole foods starting with the best sources: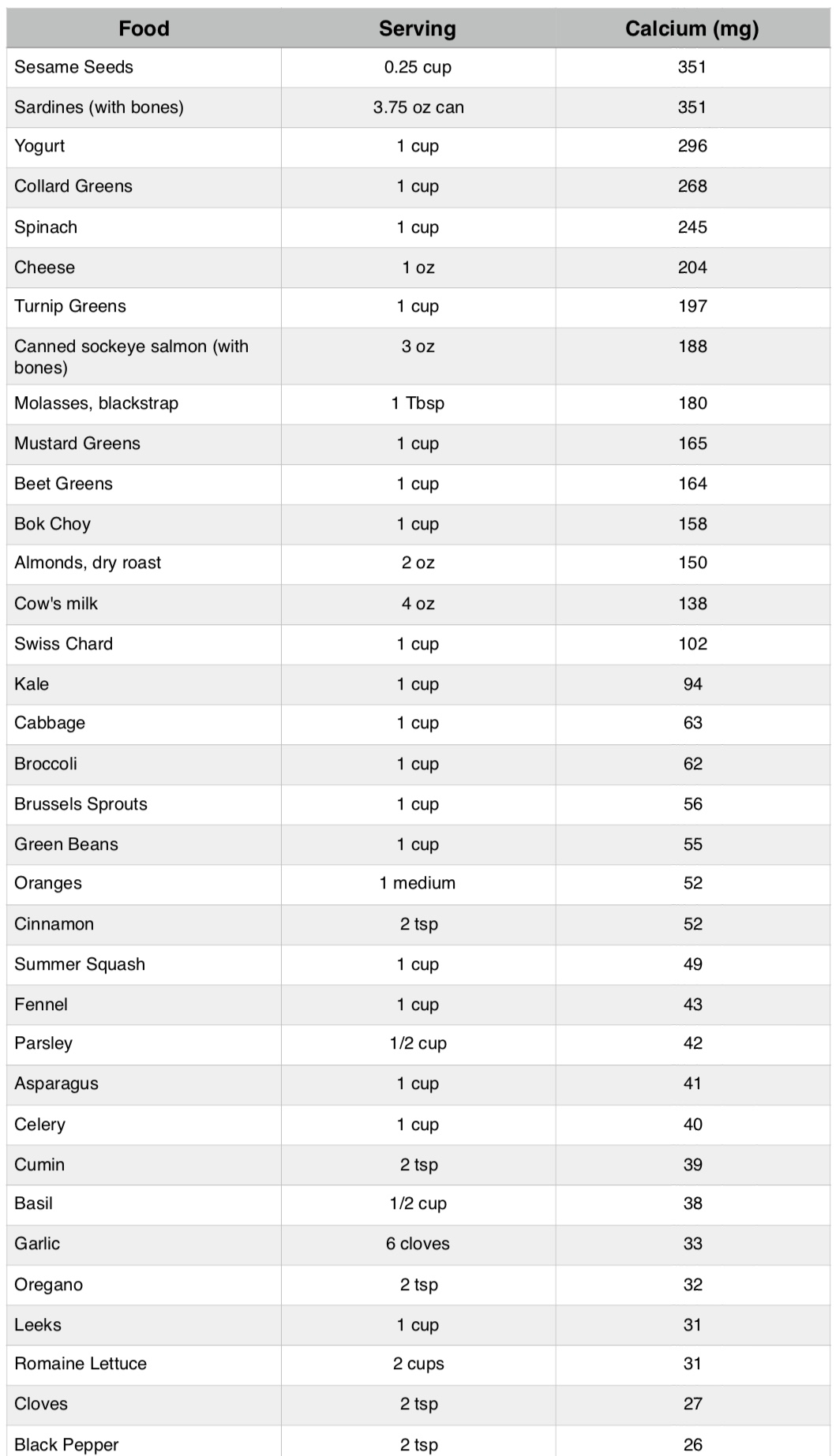 You might be surprised to see there are foods higher in calcium content than dairy.  It's a popular belief that you need to have dairy products in order to keep your bones and teeth strong.  Not true.  If you ate a can of wild sockeye salmon, had a couple of cups of leafy greens, and had 2 ounces of almonds you would be around 800 mg.
By the way, there's nothing wrong with consuming dairy.  It's highly nutritious.  If you can tolerate dairy have at it.  Plain yogurt, for example, is high up on the calcium content but also serves as a good fermented food source.  Fermented foods like yogurt, kefir, raw sauerkraut, and kimchi are really good to consume to attain and sustain good gut health.
Other important vitamins and minerals for strong bones
Calcium isn't the only important nutrient that help keep your bones strong.  In the next article, I will talk about other nutrients important to keep your bones healthy such as vitamin K2, vitamin D, and magnesium.  There are also other important factors like exercise, stress, and sleep that will have an effect on your bone health.