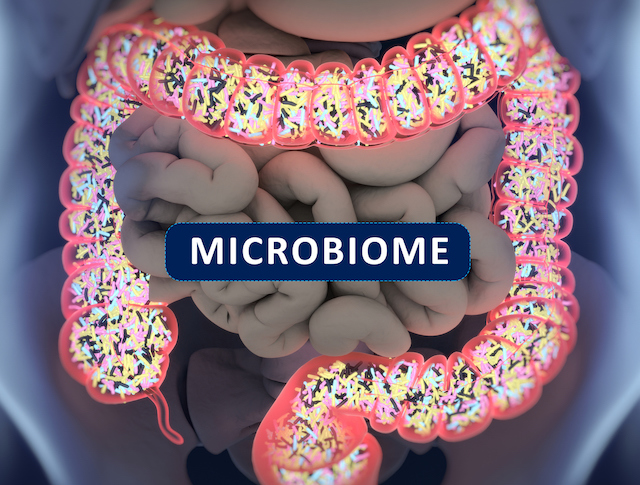 The gut wrenching stomach pain, bloating, and constipation and/or diarrhea you are experiencing can have many underlying causes.  Regardless, you have been labelled by medical doctors as having Irritable Bowel Syndrome or IBS.  IBS has a diverse group of underlying causes from gluten intolerance, leaky gut syndrome, mold and heavy metal toxicity, brain dysfunction, immune dysfunction, and a disrupted gut microbiome.  In this article, we will discuss what your gut microbiome is, why it's important, how a disrupted microbiome can cause IBS, and what causes a disrupted microbiome.  
What is your gut microbiome?
Your gut, in particular your colon, are home to many micro-organisms (bacteria, archaea and eukarya) known collectively as your gut microbiota.  There are anywhere from 1 trillion to 100 trillion organisms in your gut.  Considering you are made up of about 1 trillion cells, you have as many if not more micro-organisms in you than your own cells.  The number of genes in those microorganisms (microbiome) is potentially 100 times more than the number of genes in a human being. (1)
These micro-organisms have evolved within us for thousands of years to form a complex and mutual beneficial relationship.
What does your gut microbiome do for you?
Your gut microbiome play three primary roles in your body:  metabolic, structural, and protective.
Metabolic Role (2)
Make vitamins like biotin, folate, and vitamin K

Make important short-chain fatty acids like butyrate from carbohydrate that you can not digest though a process called fermentation

Provide energy for the cells lining your gut

Help you absorb minerals like calcium, iron, and magnesium.

Determines how you process and store the food you eat.

Certain patterns of gut microbes increase energy storage and lead to obesity, whereas other patterns have the opposite effect and tend to lead to a lean person.
Structural Role (3)
Bacteria in your gut ferment carbohydrate food (fibre) that you can not digest.  This produces short-chain fatty acids like butyrate and propionate that stimulate the growth of healthy gut cells in the small intestine.   Short-chain fatty acids also prevent the growth of unhealthy cells in the colon.
Protective Role (4, 5)
Your gut is a hollow tube made to let nutrients your body needs out of the tube and into your blood.  Your gut is also meant to keep things like toxins and bad micro-organisms (germs) in the gut to be excreted. 
The gut contain 70 to 80 percent of the immune cells in your body.  The immune cells form a layer within your gut called gut-gut-associated lymphoid tissue (GALT).  Your microbiome has an important impact on the make-up and function of your GALT. 
Your good bacteria in your microbiota also help resist the bad micro-organisms or germs from invading and causing illness.
What happens when your microbiome is disrupted?
When you have a disrupted microbiome it means the number and diversity of your good gut micro-organisms are lacking or insufficient.  A disrupted microbiome can also be called insufficiency dysbiosis.
There are many studies which show a disrupted microbiome in people with irritable bowel syndrome compared to people who don't have IBS.  Research has shown a decrease in the main species of good gut bacteria, Lactobacilli and Bifidobacteria, and an increase in bad bacteria like E. Coli and Clostridium in IBS patients. (1, 6, 7, 8)
A disrupted microbiome can lead to gut problems, an increase in toxins, inflammation, obesity, a problem with absorbing important nutrients leading to nutrient deficiency, and a "leaky gut" where the gut can't keep the toxins and bad germs out of your blood.  You can see how these problems could create IBS symptoms like stomach pain, bloating, diarrhea, and constipation.  
Furthermore, irritable bowel syndrome is associated with a variety of other conditions:
What causes a disrupted microbiome?
There are many reasons why you may have a disrupted microbiome:
Have you used antibiotics in the past.

 

Antibiotics not only kill off bad bacteria but also kill off good bacteria as well. (1)
If you were born by caesarian section (C-section) versus vaginally.

 

Good gut bacteria can start to make their home in a baby's gut while being born and passing through the birth canal.

 

New research also suggests the good gut bacteria may start to colonize in the fetus's gut by passing through the placenta.

 

This initial exposure will have an important impact on the number and diversity of your microbiome not just in the first few months of life, but possibly permanently.

 

(5)  

In fact, babies born by C-section are more prone do obesity and other conditions.

If you weren't breast fed as a baby and were formula fed instead.

Sleep deprivation can disrupt your microbiome.

Physical inactivity (40)
If you eat a diet high in refined flours (bread, cereals, pasta, pizza, pastries, beer, fast food), refined sugars (candies, candy bars, soda pop, cereals, desserts, high fructose corn syrup), and industrial and/or refined vegetable oils (canola oil, sunflower oil, safflower oil, soybean oil)

 

If you don't eat enough of and a variety of vegetables, fruits, nuts, and seeds (prebiotic foods) to feed the good bacteria so they can thrive and grow.

 

This is what is known as fiber in your diet. (41)
If you don't eat enough fermented foods

 

(probiotic foods) to help support you gut flora.
Anything that has the potential to disrupt the brain from sending signals down the vagus nerve to communicate with the gut.

 

These include degenerative brain disorders and spinal misalignments in the neck and/or misalignments in the cranial bones in the skull.
Summary
The health of your microbiome will play a huge role in determining if you are healthy or not.  A disrupted microbiome is a major cause of irritable bowel syndrome.  Rebuilding your microbiome or gut flora is an important component in getting rid of IBS.  
In the next article, we will discuss how to treat your disrupted microbiome and rebuild it.