Estimated reading time: 6 minutes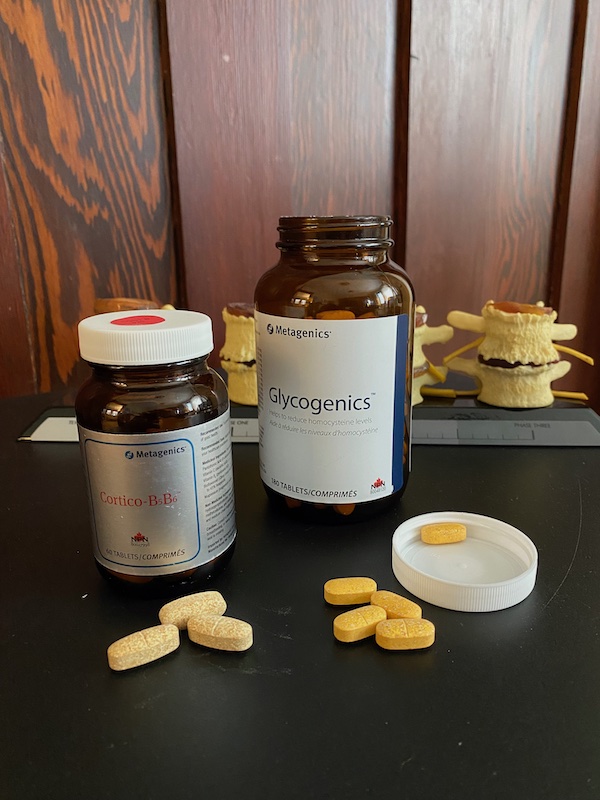 As a chiropractor, I am always looking for natural ways to help my patients improve their nervous system and ease their pain symptoms. B vitamins for pain relief are an excellent option that many people are not aware of. B vitamins are essential for overall health and wellness, and they play a vital role in reducing inflammation and improving nerve function. In this blog post, we'll discuss the benefits of B vitamins for pain relief and how to incorporate them into your diet or supplement routine.
What are B vitamins?
First, let's talk about what B vitamins are. B vitamins are a group of water-soluble vitamins that are essential for a wide range of bodily functions. They help convert food into energy, support nerve function, and play a role in maintaining healthy skin, hair, and eyes. As well, they are an important part of controlling inflammation in the body. There are eight different types of B vitamins, including B1 (thiamine), B2 (riboflavin), B3 (niacin), B5 (pantothenic acid), B6 (pyridoxine), B7 (biotin), B9 (folic acid), and B12 (cobalamin).
Benefits of B vitamins for pain relief
Now, let's dive into the benefits of B vitamins for pain relief. Several studies have shown that B vitamins can help relieve pain symptoms. This is because B vitamins can help reduce inflammation and improve nerve function, both of which can contribute to pain. (1, 2, 3, 4) B vitamins can also help improve mood and increase energy, which can help individuals with chronic pain feel better overall.
B vitamins specific for pain relief
The most effective B vitamins for pain relief are B1, B6, and B12.
Vitamin B1 can help alleviate pain caused by neuropathy, a condition that affects nerve function. (1)
Vitamin B6 can reduce inflammation in the body, which can help relieve pain symptoms associated with conditions such as arthritis or back pain. (3, 5)
Vitamin B12 can improve nerve function, which can help alleviate pain caused by neuropathy or other nerve-related conditions. (4)
Additionally, vitamins B2, B3, B5, and B9, are also needed to help control inflammation in the body.
Getting B vitamins from your diet
You have to be eating a nutrient dense diet in order to get an optimal amount of B vitamins. So before I list out foods that are nutrient dense and list specific foods high in B vitamins, let's discuss what nutrient density means.
Eating a nutrient dense diet to get B vitamins
In short, the nutrient density of food refers primarily to micronutrients and amino acids (the building blocks of protein). Dr. Mat Lalonde, a Harvard chemist, created a nutrient density scale he presented at the Ancestral Health Symposium in 2012. He used the essential micronutrients as accepted by the USDA which included:
Vitamins: A, choline, B1, B2, B3, B5, B6, B7, B9, B12, C, D, E, and K
Minerals: calcium, copper, iron, magnesium, manganese, phosphorous, potassium, selenium, and zinc
The following are foods ranked in order of their nutrient density:
Foods high in B vitamins
Eating an array of nutrient dense animal and plant foods listed above will likely get you enough B vitamins. In saying that, here is a list of specific foods that are high in B vitamins:
Liver
Clams
Seafood
Dark leafy vegetables
Lentils
Mushrooms
Spices
Poultry
Egg yolks
Peppers
Squash
Nuts and seeds
Many of us have B vitamin and other nutrient deficiencies
Your body needs about forty micronutrients to function properly. If your intake of micronutrients is less than optimal you are more prone to chronic illness including chronic pain. In fact, a significant portion of the population in Canada and the US have micronutrient deficiencies. (6, 7) For example, 10-35% of the Canadian population are deficient in vitamin B12 and B6 and close to 90% are deficient in vitamin D. (6) Here are some reasons why:
The main reason would be that refined flour, sugar, and vegetable oils make up more than 50% of the total daily calories consumed by the average person in the industrial world today. (8)  These foods are essentially void of micronutrients. Read my blog post called 'Food that Cause Inflammation: 3 Food Toxins You Should Avoid'.
Mental stress depletes B vitamins. (9)
Having gut problems can decrease the absorption of vitamins and minerals.
Supplementing with B vitamins for pain relief
While B vitamins can be obtained through a healthy diet, many individuals are not consuming enough B vitamins to achieve therapeutic levels. Further, add mental stress, gut problems, and medications to the mix of causes that deplete B vitamins. In this case, supplementation may be necessary. B vitamin supplements are available in various forms, such as tablets, capsules, or liquid form.
When supplementing with B vitamins, it's important to determine the appropriate dosage based on your individual needs. Consult with a healthcare provider before starting any new supplement regimen, especially if you are taking medication or have an underlying health condition.
How do you know if you need to supplement with B vitamins?
As mentioned, I would suggest you consult with a health practitioner before taking any new supplements. In saying that, here are a few signs, symptoms and circumstances where you may be deficient in B vitamins and may want to consider supplementing:
you have chronic recurrent pain
you feel beat up up when you first wake up in the morning (sore and fatigued)
bright lights bother you
startle with loud sounds
you have a hard time getting to sleep or staying asleep
you have afternoon fatigue
extreme hunger, irritation, or agitation if you haven't ate in awhile (low blood sugar)
you eat a vegan or vegetarian diet (specifically vitamin B12 supplements)
you get up too quickly and get dizzy
waking up with heart pounding in the middle of the night
inability to handle stress
you get really sore with exercise or can't recover well after exercise
Conclusion
If you're looking for a natural and effective way to relieve pain, B vitamins may be a good option. They can help support nerve health and reduce inflammation. In addition, they are essential for overall health. While it's always best to get nutrients from food, supplements can help ensure that you're getting enough B vitamins. Talk to your healthcare provider to see if B vitamins may be right for you.
If you're a patient of Dr. Collins, ask him if you would benefit from taking B vitamins to help your nervous system and deal with excess inflammation in your body. He has had numerous patients start taking B vitamins for pain relief with success and with the added bonus of having more energy.
For in-depth information on how chiropractic care could help you and your family, read Dr. Collins' complete guide to chiropractic care: Chiropractic Care for Everyone.