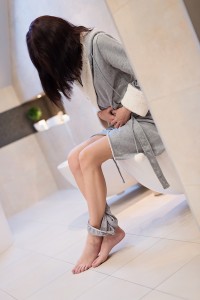 Do you have a very bloated painful stomach? Do you dread going to the bathroom because it hurts so much?  Are you at your wit's end and don't know what to do? Chronic constipation is often a symptom of an underlying problem that has to be investigated with thorough gut tests.  There are, however, some home remedies that can work very well to relieve constipation.
Constipation is a common complaint in North America.  An average of 15% of the population suffers from it. (1)  It can take over a person's life. Constipation can cause a lot of physical pain and anxiety. Patients with constipation suffer from social isolation because eating may cause their symptoms.  Most dread going to the bathroom and feel frustrated due to the lack of effective therapies and empathy from family and coworkers.  (2)  So what does one do?
Most patients will go to their medical doctor and get a colonoscopy to rule out structural problems in the gut like ulcerative colitis, Crohn's, or diverticulitis.  When structural problems of the gut are ruled out, medical doctors will often label you as having irritable bowel syndrome (IBS).   Next you are prescribed a laxative.  Your options are to take the laxatives to suppress to help suppress the symptom, do nothing, or figure out what the underlying case of the constipation is and fix that.  
Finding out what causes constipation and treating the underlying cause is the key to getting rid of constipation for good.  So how do you find out what's causing it?  You would have to get comprehensive gut testing done.  This involves testing the stool, breath, and urine.  These tests will show the following:
if their is an imbalance of good and bad bacteria in the gut (Intestinal Dysbiosis)

if their is "bad" bacteria, yeast overgrowth, or parasites 

if there is an overgrowth of bacteria in the small intestine (Small Intestine Bacterial Overgrowth or SIBO)
Once you know the underlying cause, treatment becomes focussed and very effective.
In saying that, there are a few important dietary action steps you can take in the comfort of your home to help.  Home remedies for constipation relief involve targeted supplementation and increasing your probiotic and prebiotic intake.
Supplements for Constipation
You can take Magnesium.  Magnesium glycinate is a well absorbed and a well-tolerated form of magnesium.  Starting off with a dosage of 400mg/day is safe and working up to a maximum of 800mg/day if needed.   You could also try Natural Calm, a form of magnesium citrate, before bed (1-2 tsp).
If magnesium doesn't seem to work you could try Ageless Hydro-C.  This is a blend of the magnesium, potassium, and calcium mineral with vitamin C.  Use as directed on the bottle.
You can also try aloe vera orally.
Triphala is a herbal formula that you could try. It's a gentle laxative, not a stimulant laxative, but you wouldn't want to take it too long as there is the possibility of developing a dependence on it.
Prebiotics for Constipation
Prebiotics are foods that feed certain beneficial gut bacteria.
In the case, of constipation you may want to focus on eating soluble fibres.  Soluble fibres tend to be soothing for the gut.  Soluble fibres are found in starchy tubers (e.g. sweet potatoes, white potatoes, taro root, cassava, cooked carrots, squash, and peeled fruits).
Limit your intake of insoluble fibres (e.g. lettuce, celery, onions, cauliflower, bell peppers, broccoli) if you have constipation.  Insoluble fibres can irritate the inside lining of the gut, like rubbing a wire brush on an open wound. You don't want to eliminate insoluble fibres completely as they are rich in nutrients.  So here are some ways to prepare and eat insoluble fibres so they're not as irritating on your gut:
Never eat them on an empty stomach.  Always eat them with other foods like soluble fibres.

Grate, mash, blend, dice, or chop insoluble fibres to make them easier to digest

Insoluble fibres are best eaten well-cooked.  So you can steam, boil them in a soup, or lightly fry them to soften them up.

Remove the stems or peels from veggies and fruits.

Another strategy is to eat one steamed or roasted vegetable at a time.
An extremely effective way of feeding your gut bacteria is to eat more resistant starch. (4) Resistant starch is an insoluble fiber that is not digested in the stomach or small intestine. It "resists" digestion.  When it reaches the colon it feeds the beneficial gut bacteria.  One of the easiest ways to get resistant starch is to use a concentrated form of resistant starch such as Bob's Red Mill gluten-free unmodified potato starch.  Start slowly by mixing 1/4 tsp (in cool liquid only) before bed and work your way up to 2-4 tablespoons per day.  Increase your intake of foods that form resistant starch (all cooked and cooled) such as green plantains and bananas, white potatoes, lentils (if tolerated), and parboiled white rice (if tolerated).
Probiotics for Constipation
Probiotics are fermented foods and supplements that contain microorganisms.  Probiotics don't increase the number of beneficial microorganisms in your gut directly.  While you are ingesting them, they work temporarily by controlling your immune system, supporting the body to lower inflammation or swelling, and supporting the beneficial gut bacteria.
Regularly eating more of the following fermented foods can help with your constipation.  Start slowly and slowly build up:
Kefir (made from milk, water, or coconut or young coconut water)

yogurt

raw sauerkraut

kimchi

beet kvass

kombucha
There are some advantages of fermented foods over supplemental probiotics.  Humans are adapted to getting microorganisms from these foods.  There is some evidence that probiotic bacteria in foods may be better able to survive the stomach acid.  Fermented foods increase the absorption of mood-regulating B vitamins, magnesium, and zinc, and it may improve vitamin D status.  Finally, the concentration of probiotic organisms is significantly higher in some fermented foods.
In saying that, there are times when supplementing with commercial probiotics are necessary:
if you are on a treatment which involves taking antimicrobials

to address a particular symptom like constipation or diarrhea

to provide strains that may not be available in fermented foods

some patients don't tolerate fermented foods very well (people that have an tolerance to amines, histamines or tyramines)
In the case of constipation there are certain probiotic supplements I would recommend for you.  Most of the commercial probiotics contain Lactobacillus acidophilus.  Some people people can not tolerate this type of probiotic.  Soil-based probiotics are generally well tolerated.  Lactobacillus plantarum is a probiotic that is used specifically for constipation.
Summary
Constipation doesn't have to take over your life.  You don't have to suffer from the pain and isolate yourself socially any longer.  There's an answer for you.  Home remedies such as targeted supplementation, and increasing you prebiotic and probiotic intake can help relive your constipation. Ultimately, the key to solving your constipation is to find the underlying cause of the problem.  Seek out a functional medical practitioner or functional nutritional practitioner who knows what gut tests to order to find the underlying cause of your constipation and get it treated effectively.