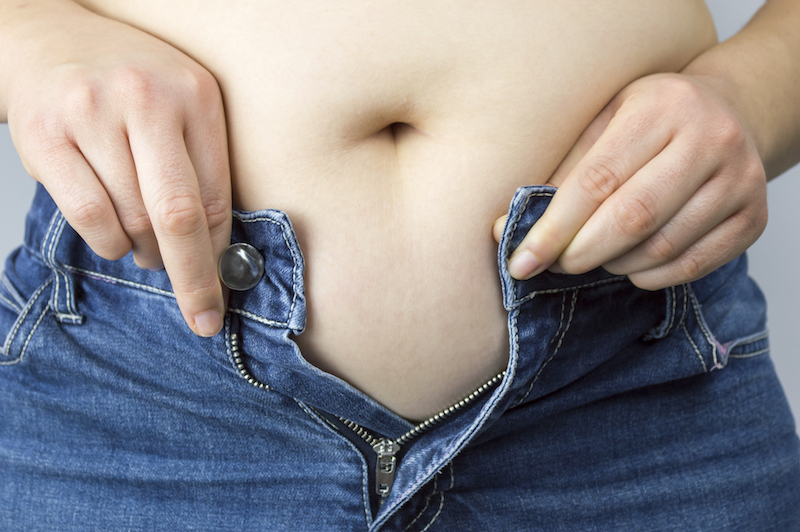 Stomach bloating is a common gut complaint and it often occurs with other symptoms like gas and stomach pain.  It's also a source of embarrassment as  some women often state, "I look like I'm pregnant".  If you have stomach bloating, you will likely be diagnosed by your medical doctor with Irritable Bowel Syndrome (IBS).   Medical treatments for IBS are used to address the symptoms only.  Find out how to get rid of stomach bloating naturally so you can get well and stay well.
Stomach bloating is a common gut complaint and it often occurs with other symptoms like gas and stomach pain.  It's also a source of embarrassment as some women often state, "I look like I'm pregnant", referring to their stomach getting bigger visibly (visible distention).  Previous studies have suggested that bloating with or without visible distention occurs in 10-30% of the general population. (1)  Most people (65%) who have stomach bloating rate their symptoms as moderate to severe in intensity and over half (54%) reported their symptoms influenced their daily activities. (2,3)
Medical approach for treating stomach bloating
If you go to your medical doctor complaining of stomach bloating and other gut symptoms related to it, he or she will often run tests to determine if you have inflammatory bowel disease (IBD), GERD, diverticulitis, and other problems that affect the structure of the intestines.  When structural problems of the gut are ruled out, medical doctors will often label you as having irritable bowel syndrome (IBS) as a diagnosis of exclusion. 
Treatment is largely based on suppressing the symptoms with medications as opposed to treating the underlying cause of the symptom.  Medications may be prescribed such as antacids, laxatives to help with constipation or medications to help with diarrhea.  You will most likely be given dietary advice such as increasing your intake of dietary fibre in the form of bread and cereals (refined flours).  Not only are refined flours low in nutrients, the little nutrients there are in them are hard for humans to extract and absorb.  As well, wheat, which is one the most common grains consumed in the world, tends to increase symptoms like bloating.
Treating the underlying cause of stomach bloating
Fortunately, stomach bloating can be successfully treated and even cured with a natural approach.  Functional nutrition, or functional medicine, as it is called in the U.S., addresses the underlying cause of the symptoms rather than suppressing the symptom.  This approach tends to lead to an improvement that is more permanent.
But what are some of the underlying causes of stomach bloating?  There are numerous causes, but for the sake of keeping this article shorter, I will give you four common ones.
#1: Gluten Sensitivity and Food Intolerances
Food intolerances to wheat and other grains as well as dairy and other foods can be a common source of stomach bloating (4).  To find out if you have a food intolerance you would do a proper elimination diet and/or get a blood test.
To do a proper elimination diet you would eliminate common foods people can become intolerant to for a period of 2 to 4 weeks.  After you're done with the elimination diet, you then reintroduce each food one by one to determine what you are intolerant to that could be causing the bloating.  This would include:
Wheat or gluten and all other grains

Dairy

Alcohol

Industrial seed and vegetable oils (canola oil, soybean oil, sunflower oil,etc.)

Processed or refined foods (if it comes in a box)

Sweeteners (real and artificial)

Beverages (soda and coffee)

White potatoes

Legumes

Chocolate
I have found most people who are successful doing a proper elimination diet tend to need some extra help.  There are a couple of recommendations I can make to help you get through this process.  14Four.me is an excellent virtual program for this purpose and/or seeing a nutritional practitioner who is immersed in the Paleo Diet or versions of it.
The next best way to determine what foods you may be intolerant to would be to get a good blood test which measures if your immune system is reacting to particular foods.  At the time of this article Cyrex labs would be the most reputable lab to analyze your blood for antibodies to foods.  You would need to find a health practitioner to order these tests for you.
#2: Disrupted gut microbiome (dybiosis)
The human gut microbiome is a complex community of 100 trillion microorganisms that have a big influence on our metabolism, physiology, nutrition, and our immune system.  When there are not enough beneficial gut microorganisms, many gut symptoms, including bloating, can develop as well as a wide range of inflammatory conditions outside of the gut such as obesity (5), Crohn's disease (6), ulcerative colitis (7, 8), irritable bowel syndrome (9), rheumatoid arthritis (10), and high blood sugar problems (11, 12).
Studies have shown that up to 83 percent of patients with IBS have abnormal fecal biomarkers (measured substances in stool samples), and 73 percent have a disrupted gut microbiome. (12)
There are labs that analyze the stool samples and can show you if your gut microbiome is out of balance or not.  At the time of this article, I would recommend you get your stool tested by two labs at the same time as it decreases the likelihood they will miss something.  The two labs are Doctor's Data and BioHealth.  You will need to find a health practitioner who can order these tests for you and analyze them.
Prebiotics
If you're microbiome are out of balance ingesting prebiotics and probiotics can help regulate the gut microbiome and therefore help resolve stomach bloating. (14)
Prebiotics are food and food ingredients that feed the beneficial gut microorganisms and therefore help them multiply and thrive.  Examples, would be vegetables, fruit, starchy tubers (root vegetables), nuts, seeds, and legumes. Here are some other more specific prebiotics:
Partially hydolyzed guar gum (food supplement)

Gluten-free unmodified potato starch by Bob's Red Mill

Cooked and cooled potatoes, lentils, parboiled rice, and green plantains
Probiotics
Probiotics are live bacteria and yeast that fine tune and regulate the immune system, promote anti-inflammatory pathways and create a favorable environment for beneficial bacteria.
You can consume probiotics in fermented foods by eating foods such as kefir, yogurt, sauerkraut, kimchi, and beet kvass.   Kombucha is a tasty fermented drink you can buy or easily make at home.
Commercial probiotics can be taken but some people can't tolerate the typical lactobacillus and bifidobacteria probiotic strain.  And some people can't tolerate fermented foods either.  Soil based probiotics are generally well tolerated.  There are other types of probiotics used to treat gut conditions and to help with constipation and diarrhea.  I would recommend you get professional advice for these types of probiotics.
In summary, prebiotics increase your beneficial microorganisms and probiotics regulate them.
#3: Gut Conditions
Bacteria, parasite, and yeast conditions in the gut can cause stomach bloating. (15)  The gut is naturally protected from pathogenic (bad) bacteria from the stomach acid we produce.  That is, if we're producing enough stomach acid. Low stomach acid production, by the way, is another cause of stomach bloating.  As well, if our beneficial gut bacteria are plentiful, they will tend to keep the bad bacteria that enter our gut from harming us.  However, chronic stress, lack of sleep, poor diet, and the use of acid-suppressing drugs have compromised this defence system.
So how do you know what type of condition you have?  Again, you get your stool tested.  Once you know what type of condition you have, your health practitioner can treat it properly.
Summary and recommendations
Unless there is a structural problem in your gut that conventional medicine has to deal with, they have limited options on how to treat stomach bloating.  They're trained to suppress your symptoms with drugs.  Often times the medical doctor and patient, despite their best efforts, are left frustrated with a problem that persists or worsens.
There is hope and good news, however.  With more investigative work, the underlying causes of bloating can often be found.  By treating underlying gut problems, fixing the patient's diet, and helping a patient to modify their lifestyle, stomach bloating can be resolved more readily.
If you are suffering with stomach bloating or related gut symptoms, I recommend you find a functional medical or nutritional practitioner to work with so you can treat the underlying cause.