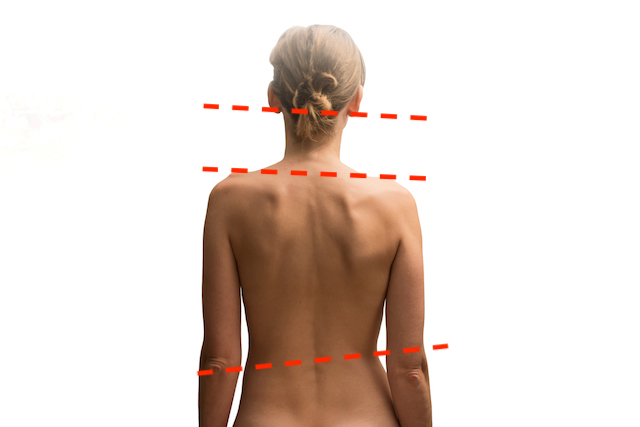 I often get asked by patients why they go out of alignment.  For those who haven't been to a chiropractor, the patient is referring to why their bones in their spine and their posture keeps going out of alignment.  Chiropractors correct spinal misalignments and posture over multiple visits only to have alignment problems come back again a week or a few weeks later even without back pain.  Why does this happen?
When you first visit a chiropractor with a health problem such as low back pain, neck pain, or headaches, you will likely receive a thorough history and exam.  The chiropractor will look at your posture to see if your head, shoulders, and hips are level or tilted and if your shoulders and head are straight (plumb) or drawn forward.  Typically your flexibility or range of motion in the spine will be checked and some of your muscles will be checked for strength and weakness.  The chiropractor will feel (palpate) your spine to see if the bones in your spine are in alignment (move well) or out of alignment (not moving well).  They will assess if the muscles are tense or tight in areas as well.  The chiropractor may get some x-rays done as well.  
When your nervous system (brain and nerves) gets stuck in a stressed or tense state, your muscles get tense, pulling your spinal bones out of alignment, causing your head, shoulders and hips to tilt.  You become less flexible and your range of motion decreases.  Your muscles can become weak because the brain doesn't work as well and can't send a strong signal to the muscle.  Weak muscles cause weak stability in your spine making it prone to going out of alignment and injury.
So what makes your nervous system stressed or tense?
Here are a list some top stressors that cause your nervous system to become stressed or tense causing spinal and posture misalignments.  Keep in mind there are other stressors, but these would be the most common: 
Sedentary Lifestyle (Prolonged Sitting)
Human beings are hard wired for movement.  Movement supports our genes and keeps us healthy.  Prolonged sitting at a desk and lack of exercise creates tension in the nervous system, muscles, and spine.  You will "seize" up if you do this six to eight hours a day, five days a week.  If you go home and sit another three or four hours in front of the TV or computer, you have created a perfect storm.  I hope you can appreciate that by being sedentary, it won't take long for your spine to stiffen up and go out of alignment.
Mental Stress
Perceived stress is rampant in our modern day world.  Deadlines, relationships, financial burden, health problems, sick family members, school exams, constantly checking our phones for texts and emails, etc.  If you have a hard time coping and rebounding quickly from perceived stress you will put your brain and nervous system into a constant flight or fight mode.  This stressed state causes your muscles to become tense and your spine and posture to go out of alignment.  
Poor Eating Habits
Refined flour (bread, baked goods, pizza, beer), sugar (candy, pop, table sugar), and vegetable oils (canola, corn, cottonseed, soybean, safflower, sunflower, sesame) make up more than 50% of the total daily calories consumed by the average person in the industrial world today. (1) These foods are low in nutrients and high in calories.  Eating foods low in nutrients leads to poor brain, nerve and muscle function.  Poor posture and going out of alignment will follow.  Furthermore, these foods promote inflammation (swelling) in your body when you eat them.  Inflammation causes a stress response in your body.
Being Overweight
54 -70% of North American adults are overweight or obese. (2, 3, 4)  If you are overweight or obese you will have extra stress on your spine, muscles, and nerves.  As well, being overweight or obese leads to underlying inflammation. (5)  For these reasons, it's not hard to figure out how being overweight or obese will create poor posture and cause your spine to go out of alignment.
Poor Sleep
One-third to two-thirds of adults in developed nations don't get the recommended seven to nine hours of sleep each night during the week. (6, 7, 8)  If you struggle with sleep deprivation, it will change your brain and nerves in such a way that you become more sensitive to pain.  Loss of sleep puts your brain and nervous system into the stressed state we have talked about, increases inflammation, and suppresses your immune system (your system that fights off bad germs and heals and repairs injured tissue).  
Flat feet
26-70% of the population in the modern industrial world have over-pronated feet or flat feet. (9, 10)  If you have flat feet or dropped arches, it means your feet are not in an ideal alignment for proper weight-bearing and gait.  Feet that are out of alignment create stress and alignment problems up to the knees, hips, spines, shoulder, and head.  
Previous injuries and irreversible damage
Significant previous injuries to your spine that were either not treated properly or have created significant arthritis or degeneration will cause ongoing alignment problems and inflammation.
Chronic Inflammation
I've already mentioned how being overweight and poor eating habits can cause inflammation, but there are other causes of inflammation.  Inflammation can arise from underlying gut problems (eg. irritable bowel syndrome, heartburn, Crohn's), problems with stress hormones, mold toxicity, heavy metal toxicity, or chronic conditions like Lyme disease.  Again, inflammation puts the nervous system and body into stressed state which can lead to spinal and posture misalignments.
Too Much Exercise
It's possible to get too much exercise.  Some people in their efforts to lose weight overtrain.  Some people think exercising excessively can compensate for them sitting all day.  Overtraining is common with cross fitters as well as elite athletes.  However, overtraining can lead to increased injury, inflammation, insomnia, cognitive decline, decreased immune function, slower fat metabolism, and reduced cardiovascular health.  If you overtrain, you don't give yourself time for recovery, you will have excess inflammation, and you may not sleep well.  All of these can cause tension in your spine and spinal misalignments. 
Chiropractic Care for restoring and maintaining brain function and alignment

 
If you have never been to a chiropractor before you will likely have to see the chiropractor multiple times in the beginning of care. As well, this will be true if it's been awhile since you have seen a chiropractor.   This may mean you are getting treatment two to three times per week for one up to eight weeks.  
The treatment you will likely be receiving from your chiropractor are chiropractic adjustments.  The chiropractic adjustments realign your spine and posture with the intent of retraining your brain and nerves to work better.  Weeks later, once your alignment and posture are ideal, your muscles are strong, and your range of motion is better, visit frequency will be less.  
My professional experience, at the time of this writing, tells me I don't see many patients hold their adjustments past two to three weeks.  The nervous system and body can slowly get tense again.  This tension and stress builds up to the point where the spine and posture misalign.  Getting a chiropractic adjustment every two three weeks helps ensure better brain function and better spine and posture alignment.
How can you help yourself maintain better brain function and better spinal and posture alignment?
There are many stressors that cause your spine and posture go out of alignment.  By knowing what the stressors are, you can help reduce or get rid of them.  You can help yourself maintain better posture and brain function.  Applying the below will help hold your chiropractic adjustments better.  You become more of a partner in your health versus a passive observer.