Estimated reading time: 5 minutes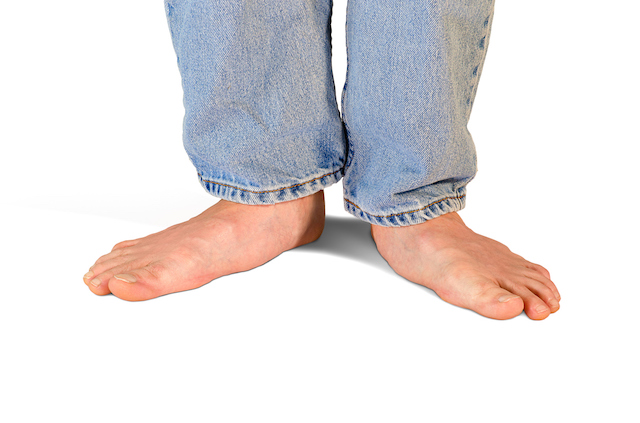 Flat feet can cause your low back pain. Are you on your feet a lot and getting recurrent low back pain despite getting treatments like chiropractic care? It could be your feet causing your issue. Flat feet are one of the main causes of recurrent low back pain. In this post, I will discuss how to determine if you have flat feet, why flat feet could be causing your low back pain, and what you have to do to correct your flat feet.
How do you know if your feet are flat?
You may have been told by one of your health practitioners that your feet are flat. Flat feet means the arches on the inside of your feet are flattening towards the ground when you stand or walk. If you haven't been told you have flat feet, here are some signs the arches in your feet have dropped:
the soles of your shoes wear out unevenly

your arches and/or low back hurt when you are standing on a hard surface for a long period of time

when you look in the mirror one hip looks lower or higher than the other

your knees bow or knock inward

if you stand on one knee and squat your knee buckles inward versus staying over top of your ankle in a straight line

when you walk your foot or feet turn out

your achilles tendon (big tendon just above your heel) bows inward

you are developing bunions (the joints on your big toes are getting bigger or swollen)
A common reason why you could have flat feet
Flat feet are common as 26-70% of the population in the modern industrial world have flat feet. (1, 2) Why is this? Humans haven't evolved to walk in shoes or on hard surfaces. Nor are we meant to sit for long periods of time in an office. We are designed to move and walk for long distances in bare feet on earth (soft-ground). Walking in bare feet on earth forces you to grasp the softer ground you are walking on. This strengthens the muscles in the feet helping to sustain a good arch. Cold weather and having the ground covered by asphalt and concrete in our modern world make it pretty hard to do this. So what ends up happening is our foot muscles and ligaments weaken and our arches begin to drop causing flat feet.
Flat feet can cause your low back pain by misaligning your spine
Your feet form the foundation of your entire skeleton and support you during standing, walking, and running. If one or both of your foot arches flatten it can cause your pelvis and spine to tilt. (see Fig.1) This tilting leads to extra stress on your spine and nerves eventually causing low back pain. Getting adjusted by your chiropractor will likely help realign your pelvis and spine. However, soon after you start weight-bearing on your feet again your spine and pelvis will start to tilt. So your low back pain will come back sooner which means another trip to your chiropractor. So you want to be able correct your flat feet so your spine and pelvis are more stable and stay in better alignment.
Flat feet can cause your low back pain by weakening your muscles
Flat feet can also cause the muscles that hold your back upright (postural muscles) to become weak. As a result, your head and upper body might start leaning forward. Because your muscles are involved with holding you upright, coordinating your movements, and stabilizing your joints, having flat feet increases your risk of injuring your low back and getting low back pain.
Correct your flat feet with custom foot orthotics
Placing an insert into your shoes that is custom made (custom foot orthotics) will help correct your flat feet. Custom foot orthotics will not only support and realign your arches in your feet, but they will help to support, stabilize, and realign all your joints above your feet. So this reduces the stress on your spine, helps keep your joints healthier, and creates better posture. In turn, wearing custom foot orthotics to correct your flat feet can decrease the chances of getting recurrent low back pain.
We often prescribe orthotics during a patient's treatment plan to help improve their spine alignment (posture) and muscle strength while we are treating (chiropractic adjustments) them. The adjustments realign the patient's spinal bones and their body, and the orthotics help hold their adjustments in place. This helps to speed up their healing time and helps to prevent future low back pain.
Can you correct flat feet without orthotics?
Possibly. If you are able to walk full-time in bare feet or use "barefoot" shoes on earth (soft ground), than I can see how that might help build your arches back up naturally. This would require that you live in a warm climate and live out in the country. There are also yoga instructors who claim you can build your arches back up as well with specific exercises. This would require a major commitment and compliance to do this, however. For the majority of people in the modern world, this scenario is unlikely. So we are left using a passive approach like custom foot orthotics to hold your arch up.
Read more about custom foot orthotics in FAQ Foot Orthotics in Edmonton.
Summary
Flat feet can cause poor posture, spinal misalignments, weak muscles, and ultimately recurrent low back pain. If you have flat feet consider getting custom foot orthotics to help prevent your low back pain from recurring.
To learn more about how chiropractic care could help you and your family click on Edmonton chiropractor Dr. Dean Collins' complete guide to chiropractic care.