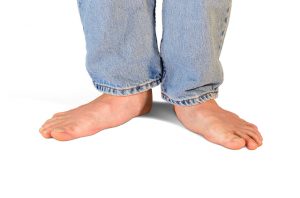 Are you getting recurrent low back pain? Although treatments like chiropractic care and massage therapy help, your back pain keeps coming back.  It's frustrating.  It's draining your energy and causing you to lose your focus. Your back pain is getting in the way of you performing to the best of your ability.  There are many reasons why your low back pain could be coming back.  Over-pronated feet (aka flat feet or per planus) are one of the main causes of recurrent low back pain.  In this article, I will discuss how to determine if you have over-pronated feet, why it could be contributing to your low back pain, and what you have to do to support your feet better.  
26-70% of the population in the modern industrial world have over-pronated feet. (1, 2) Humans haven't evolved to walk in shoes or on hard surfaces.  Nor are we meant to sit for long periods of time in an office.  We are designed to move and walk for long distances in bare feet on earth (soft-ground).  Walking in bare feet on earth forces you to grasp the softer ground you are walking on.  This strengthens the muscles in the feet helping to sustain a good arch.  Cold weather and having the ground covered by asphalt and concrete in our modern world make it pretty hard to do this.  So what ends up happening is our foot muscles and ligaments weaken and our arches begin to drop  (over-pronation).
Weak back muscles and poor posture from over-pronated feet will cause you to "fall apart"
Your feet form the foundation of your entire skeleton.  They support you during standing, walking, and running.  If your arches in your feet become unstable (over-pronation) and out of their normal alignment, it creates instability and misalignments in the joints above the feet including the knees, hips, and entire spine and skull bones. (Fig. 1)   This creates extra stress on your joints and soft tissue structures (muscles, ligaments, and nerves) which can lead to postural problems, foot pain, knee pain, hip pain, low back and neck pain, and even arthritis.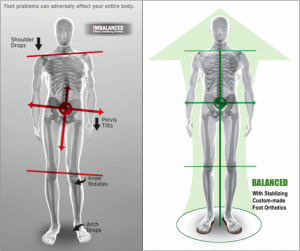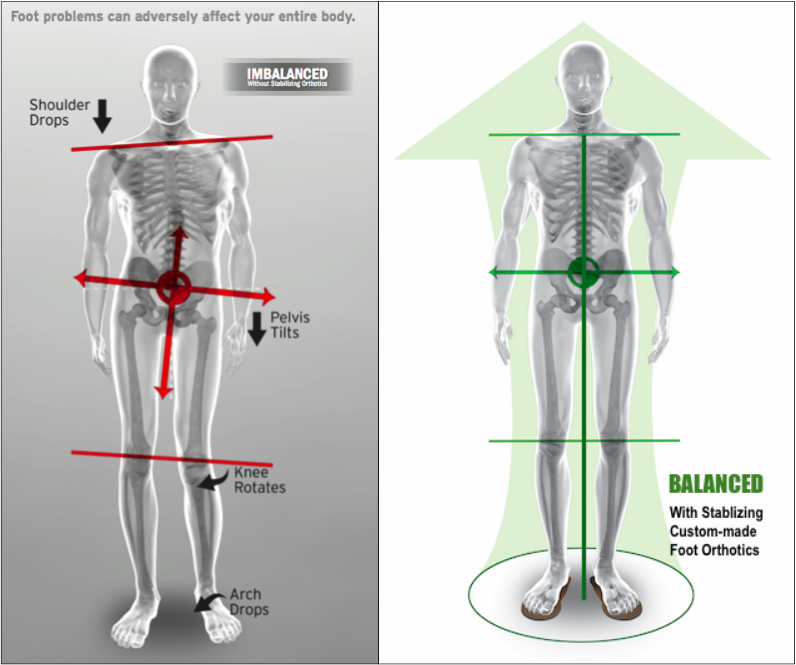 Over-pronation can also cause the muscles that hold your back upright (postural muscles) to become weak.  So you start to see people's head and upper body lean forward.  Furthermore, every time the person is on their feet, the muscles get weaker and don't engage or contract as well.  Because muscles are involved with coordinating movements and stabilizing joints, having flat feet increases your risk of injury. 
Weak back muscles and poor posture, as a result of over-pronated feet, will cause more instability in your low back.  Getting adjusted by your chiropractor will likely help, but as soon as you start weight-bearing on your feet again everything will start to become unstable or "fall apart".  Your low back pain will come back sooner which means another trip to your chiropractor.  Although getting adjusted regularly is healthy for you, you want to be able to do things outside of your chiropractors' office to make your body strong and stable.
How do you know you have over-pronated feet?
You may have been told by your medical doctor, chiropractor, or another one of your health practitioners that your feet are flat.  Or perhaps you have had a picture taken (laser scan) of the bottom of your feet by a health practitioner to determine this.  If you haven't, here are some signs your foot arches are dropping or you have over-pronated feet:
the soles of your shoes wear out unevenly

your arches and/or low back hurt when you are standing on a hard surface for a long period of time

when you look in the mirror one hip looks lower or higher than the other

your knees bow or knock inward

if you stand on one knee and squat your knee buckles inward versus staying over top of your ankle in a straight line

when you walk your foot or feet turn out 

your achilles tendon (big tendon just above your heel) bows inward

you are developing bunions (the joints on your big toes are getting bigger or swollen)
Custom foot orthotics to support your arch and correct over-pronation
If you are living in a warm climate full-time and you are able to walk in bare feet or use "barefoot" (minimalist) shoes, than I can see how that might help build your arches back up naturally.  There are also yoga instructors who claim you can build your arches back up as well with specific exercises.  This would require a major commitment and compliance to do this, however.  For the majority of people in the modern world, this scenario is unlikely.  So we are left using a passive approach.  
Placing an insert into your shoes that is custom made (custom foot orthotic) to support and realign your arches in your feet, helps to support, stabilize, and realign all your joints above your feet.  This reduces the stress and load on your joints and spine, helps keep your joints healthier, and creates better posture. 
Custom-made foot orthotics can also help to strengthen your postural muscles.
We often prescribe orthotics during a patient's treatment plan to help improve their  body alignment (posture) and strength while we are adjusting them.  The adjustments realign the joints in their body and the orthotics help hold their adjustments in place.  This helps to speed up their healing time and helps to prevent future low back pain.
If you have recurrent low back pain, and have a few of the signs and symptoms of flat feet, I would encourage you to try some custom-made foot orthotics.  Most chiropractors will carry semi-rigid custom foot orthotics.  Semi-rigid orthotics versus rigid orthotics allow for better cushioning, while still allowing for proper support and movement of the foot.
It may take up to 30-45 days to break in a pair of orthotics, but you should start to notice if they help prevent a recurrence of your low back pain within 30 to 90 days.