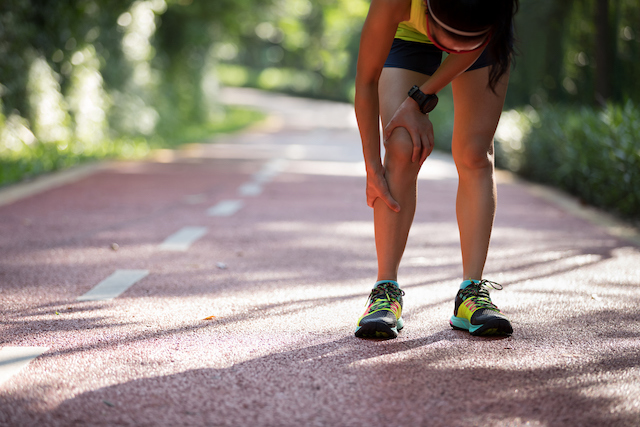 Are you frustrated by that feeling like your leg is weak when you're walking or running? You try to shake it off, do some stretches and start back up again only to have that feeling come back. Or perhaps you notice your leg is weak when doing squats or pushing with your leg when you play tennis or curl? Weak legs is a common complaint many of my patients, including myself, have experienced. In fact, I find many of my patients have pinched nerves in the spine that cause weakness in one or more leg muscles. Read on to find out how pinched nerves cause weak legs.
What do pinched nerves causing weak legs feel like?
Weak legs caused by pinched nerves can feel either like your leg is giving out or the weakness can feel more subtle and constant. So when you move your leg or put weight on it can give out or buckle suddenly. Conversely, you may feel a gradual weakness in one of your legs as you repeat a movement. The following are some examples of daily activities and sports where people notice weak legs because of a pinched nerve:
running or walking stride
follow through on golf swing
pushing off on one leg in tennis
squatting with weights
push off during curling
getting up from a kneeling position like gardening
walking upstairs
getting up from a sitting position
getting out of a car
Pinched nerves can also cause a feeling of numbness and tingling in the legs. Read more: Is a Pinched Nerve Causing the Numbness and Tingling in Your Legs and Feet?
Why do pinched nerves cause weak legs?
Pinched nerves cause weak legs because the nerve signals to the leg muscles are weaker. So if a nerve to your leg muscle gets pinched somewhere in your spine, the nerve signals to your leg muscle will be weaker. In turn, your leg muscle will be weak. As an illustration, imagine when you played with the water hose as kid on a hot summer day. Not only did you have fun spraying your parents and siblings, but when you stepped on the hose (pinched it) you would have noticed the water flow stopping or slowing down. Likewise, pinching a nerve stops or slows down the flow of nerve signals to your leg muscles.
Causes of pinched nerves in the spine causing leg weakness
The most common reasons why a nerve would get pinched in your spine are spinal misalignments, disc bulges, disc herniations, bone spurs (disc degeneration), and osteoarthritis. Often, these different reasons occur together to pinch the nerve that's creating weak legs. Let's discuss each reason in more detail.
Spinal misalignments
Spinal misalignments can compromise nerve signals and create weakness your leg muscles. While spinal misalignments don't always pinch your nerves, they will disrupt the nerve signals your brain needs to send a strong nerve signal to your muscles. The most common spinal misalignments I find that cause leg weakness are in the low back and in between the skull and first neck bone (atlas).
Disc bulges and disc herniations
Disc bulges and disc herniations in the low back commonly pinch nerves in the low back causing leg weakness. In particular, discs are gel-like cushions between the bones in the spine. When the discs in the low back get injured, they can bulge or burst out (disc herniation). If the disc bulge or disc herniation in the low back pinches the nerves, the leg muscles can become weak.
Bone spurs pinch nerves causing weak legs
If your discs wear out a lot (severe disc degeneration) you will have bone spurs that can pinch the nerves in your low back and cause weak legs. Bone spurs are bone growths that can protrude around your discs and pinch nerves. Prolonged stress and injuries to the discs can cause the discs to wear and thin which is called disc degeneration.
Osteoarthritis pinch nerves causing weak legs
Severe osteoarthritis with bone spurs in the spine can also pinch nerves causing leg weakness. In osteoarthritis (OA), the small spinal joints wear out and become painful and swollen. Like severe disc degeneration, bone spurs in severe OA take a long time to develop. Because disc degeneration and OA often occur together, nerves are more likely to get pinched.
Other causes of weak legs
There are other less common causes of weak legs that should be ruled out by one of your health providers. Less common causes of weak legs include the following:
Multiple sclerosis (MS)
Stroke
Tumour in the spine
Myasthenia gravis
Amyotrophic lateral sclerosis (ALS)
Parkinson's disease
Guillain-Barre Syndrome
Peripheral neuropathy (damage to the nerves because of conditions like advanced diabetes or vitamin B12 deficiency)
Conclusion
Weak legs is a common problem people experience during sports activities and physical activities at work or at home. Spinal misalignments, disc bulges, disc herniations, disc degeneration and osteoarthritis often occur together to pinch nerves and cause leg weakness. In fact, pinched nerves causing leg weakness most often come from problems in the spine.
In the next article, I will discuss what you can do to 'take your foot off the water hose' to get better nerve flow to your leg muscles and get your leg muscles stronger.