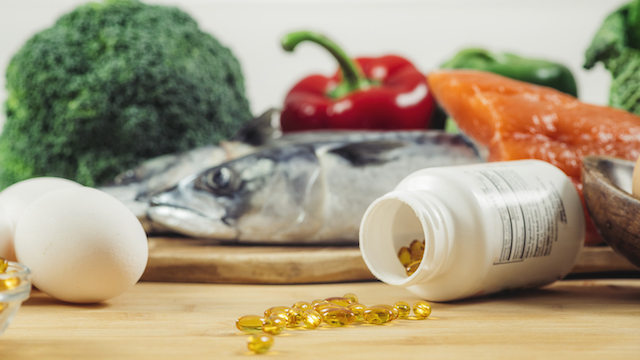 The benefits of vitamin D extend well beyond bone health.  Do you have unexplained chronic pain that just won't go away?  Low back pain, neck pain, knee pain, or shoulder pain?  Perhaps you have been diagnosed with fibromyalgia.  Regardless of the type of pain you have, your condition is frustrating you and preventing you from enjoying life to the fullest.  Although there could be many underlying factors causing your pain, vitamin D deficiency is often overlooked and not tested routinely.  In this article, we will focus on the benefits of vitamin D with respect to helping get rid of your pain.
Vitamin D is a fat-soluble hormone-like vitamin that is made largely by your skin when it is exposed to the sun.  Vitamin D has many important roles in the body including having an influence on your levels of pain. (1)
Most of the good research since 2014 has shown that vitamin D supplementation can help reduce pain levels in a variety of conditions. (2, 3, 4, 5, 6, 7, 8, 9, 10)  Fewer studies say otherwise.  (11, 12, 13)  As usual, there are studies that contradict each other and searching to obtain the truth can be hard.  In saying that, I would hedge my bets that making sure your vitamin D levels are at a good level would be important to control or eliminate pain.  
Vitamin D is not only important for you to have strong bones, but it's important for a healthy and strong immune system.  Vitamin D helps balance your immune system and control the amount of inflammation (swelling) in your body.  It is likely through this role that raising your vitamin D levels through supplementation can help eliminate or reduce pain. (1)
Vitamin D levels and Sources
Vitamin D deficiency is common in North America so you want to make sure you are getting enough vitamin D. (14, 15, 16)
As noted previously, vitamin D is best produced in your body when your skin is exposed to sunlight.  This was not a problem for our recent ancestors of over 10,000 years ago as they were exposed to frequent and intense sunlight for most of the year.  However, many modern humans work indoors, wear clothing that covers most of their body, and live far from the equator.  All of this reduces our ability to convert sunlight into vitamin D within our bodies.  
Stress, inflammation, obesity, and old age have also been shown to reduce our ability to convert sunlight into vitamin D. (17, 18, 19, 20)
So in saying all of this, it is best to get your vitamin D levels checked before supplementing to get your dosage correct and to avoid vitamin D toxicity.  I have often heard that dosing with 4000 I.U. per day for an adult is the ideal amount.  However, what if you absorb it really well and the amount causes your levels to rise to a toxic level (125 to 150 nmol/l or 50-60 ng/mL or above)?
Toxic levels of vitamin D can cause the following (21): 
nausea

vomiting

diarrhea

constipation

heart attack

stroke

calcification of soft tissues

kidney stones

weight loss

anorexia

low bone density
If you do need to supplement with vitamin D, make sure you are getting your levels checked every 3 to 6 months to determine what your daily dose should be.  Furthermore, you may need to stop supplementing in the summer.  If you are outside a lot in the summer and your skin is exposed to the sun, you may be producing plenty of vitamin D.
A healthy vitamin D range, measured as 25-hydroxy vitamin D, is 75-150 nmol/L or 30-60 ng/mL. (22, 23, 24, 25, 26)
Furthermore, getting adequate vitamin A and vitamin K2 are necessary to protect against vitamin D toxicity.  Vitamin A is found in liver, cod liver oil, pastured egg yolks, and orange and yellow vegetables.  Vitamin K2 is not easy to obtain from foods and I would recommend you supplement with about 200 mcg/day (MK7 form).  Vitamin K2 can be found in poultry liver, pastured egg yolks, natto, and cheeses like gouda and brie.
Vitamin D Supplements
Here are some of the supplements I would recommend that contain vitamin D (vitamin D3):
Rosita's Extra Virgin Cod Liver Oil
Most of these can be found in my dispensary or at health food and supplement stores.
Food Sources of Vitamin D
A mixture of sun, supplements, and food are probably going to work best for most people.  Most people will only get about 10% of their vitamin D daily needs from food.  Here is a list of foods that contain vitamin D:
cod livers or cod liver oil

 

fatty fish salmon, herring, mackerel, marlin, sardines, rainbow trout, fatty tuna

egg yolks (pasture raised have 4 to 6 times more vitamin D than conventional egg yolks)
Summary
Vitamin D is very important for your immune system.  Vitamin D deficiency can cause inflammation to rise in your body causing pain.  Get your vitamin D levels checked.  If they are low, start supplementing with vitamin D and see if it helps reduce your levels of pain.