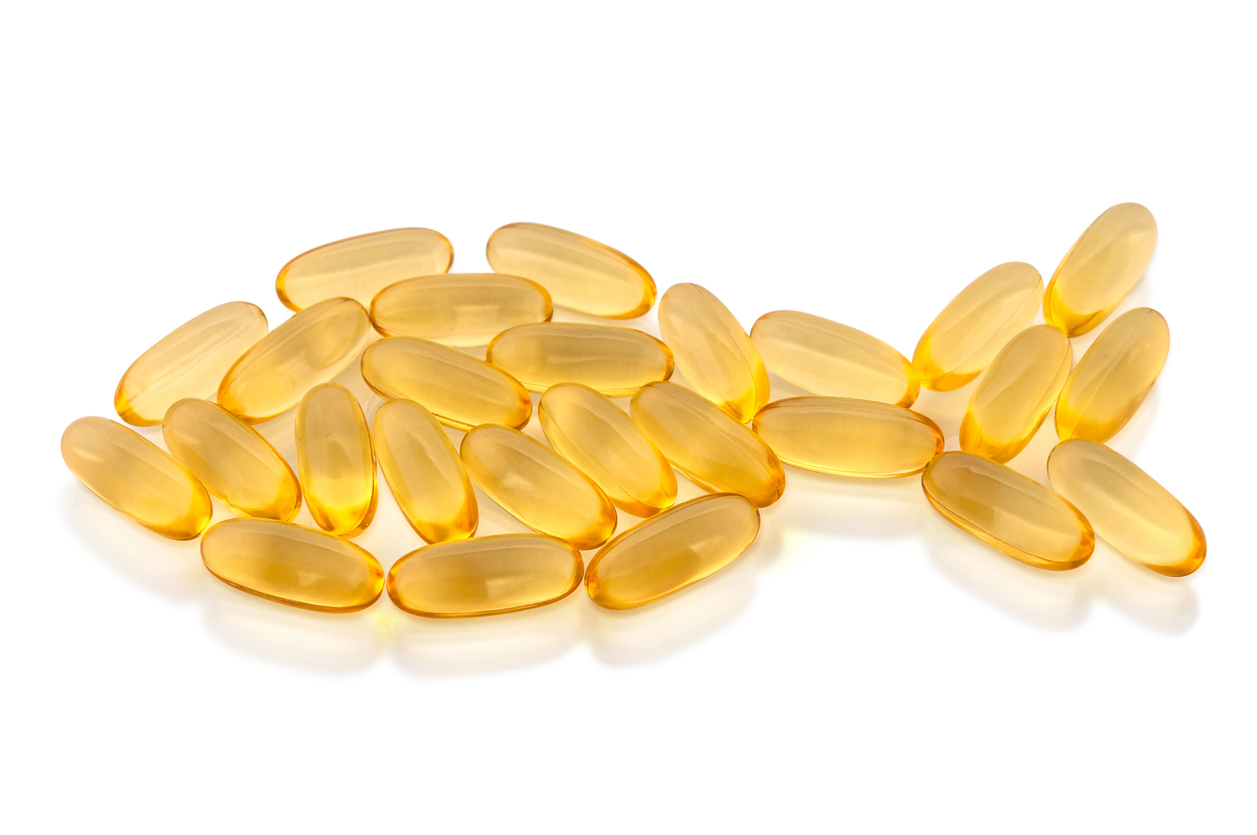 You may have been told by a doctor, nutritionist, or a friend who is a health nut that you should be taking fish oil or omega-3 fatty acid supplements to help your joint or muscle pain.   Over the last few decades, fish oil supplements have been touted to help with heart disease, blood sugar problems, skin problems, depression, and joint pain.  In this article we will focus on whether the evidence supports the use of fish oil supplements for joint pain.
During my years at chiropractic college and early years of training in clinical nutrition, we were told that taking fish oil supplements were important to help keep your joints healthy and prevent inflammation (swelling) and joint pain.  
Fish oil supplements contain EPA (eicosapentaenoic acid) and DHA (docosahexaenoic acid).  EPA and DHA are removed from fish like salmon, anchovies, sardines, and mackerel.  The EPA and DHA are then concentrated and put into capsules to be sold as fish oil or omega-3 supplements. 
EPA and DHA are essential fatty acids called omega-3 fatty acids.  Omega-3 fatty acids are called essential because we need them in our bodies to function properly, but we can't make them in our bodies.  So we need to get them from foods.  Omega-3 fatty acids are important for brain and nerve function, heart and blood vessel health, and to help control inflammation.  
Chronic inflammation is associated with nearly every chronic disease from chronic pain conditions like arthritis and fibromyalgia, autoimmune diseases, heart disease, and digestive illnesses.  
Consuming foods rich in omega-3 fatty acids is crucial to control inflammation and likely play an important in role in the treatment and prevention of chronic illness.  This includes joint pain and arthritis.  So in theory, would it not make sense just to supplement with fish oils to ensure we're getting enough omega-3 fatty acids rather from our diet?  Not necessarily.
The latest research reviews on the effect of fish oil supplementation for joint pain are mixed.  Most promising results are shown with Rheumatoid Arthritis (RA) where two recent reviews showed a moderate effect on pain levels. (1, 2)  Yet one recent review looked at eighteen studies and only eight of the eighteen studies they looked at supported the use of fish oils for reducing pain levels in RA patients. (3)  So although there is some evidence to support the use of fish oils for RA patients, the evidence to use fish oil supplementation for other causes of joint pain is low.
---
Although there is some evidence to support the use of fish oils for RA patients, the evidence to use fish oil supplementation for other causes of joint pain is low.
---
Why Fish Oils Might Not Work for Joint Pain
There are a number of reasons why fish oil supplements might not work to help with joint pain.  Here are some of them:  
there are multiple causes of inflammation causing joint pain other than a person not consuming enough omega-3 fatty acids.

 

omega-3 fatty acids from fish absorb better than potent dosages of omega-3 fatty acids from fish oil supplements

some people have gut absorption issues which can make them deficient not only in omega-3 fatty acids but also other important nutrients like vitamin D, vitamin B12, and iron.

fish oil supplements are prone to oxidation (damaged from oxygen exposure) which negates their positive effects.

fish oil supplements are missing other important ingredients that are found in fish like vitamin D, selenium, zinc, protein, co-factors

genetic variability
It is possible that fish oil supplementation may work for some people.  However, at present time, it's impossible to predict who would do well with them and who wouldn't.  Plus, there can be negative effects of taking too much omega-3 fatty acids in the form of fish oil capsules.  This is a topic for another discussion.
My Recommendations
My recommendations at this time are to consume 12-16 ounces of cold water fatty fish (sardines, anchovies, mackerel, wild salmon, herring) or shellfish per week.  If you don't eat fish, for whatever reason, I would suggest you supplement with a high quality fish oil (Arctic Omega from Nordic Naturals) or cod liver oil like Arctic Cod Liver Oil from Nordic Naturals or Rosita Extra Virgin Cod Liver Oil.  Studies don't show any harm from taking 1 gram or less of fish oil per day.
If you're vegan or vegetarian, it would be extremely important to supplement with microalgae like Algae Omega from Nordic Naturals in order to get enough EPA and DHA (another important essential fatty acid).  Plant-based omega-3 fats like flaxseed and walnuts will not provide enough EPA and DHA in most cases.
Now I would like to hear from you, have you found taking fish oil helps your joint pain?  Or have you found when you introduce more fish and shellfish in your diet that your joint pain got better?