What is Chiropractic?
Chiropractic is a greek term meaning "done by hand": In chiropractic, we are interested in looking for the root or source of your health problems (instead of just masking or treating symptoms) so you get well and stay well.  By optimizing the mobility and alignment of your spine and extremities, chiropractors help optimize function of your brain and nerves.  A healthy spine and nervous system is vital for you to live pain free, with strength, energy, and clear focus.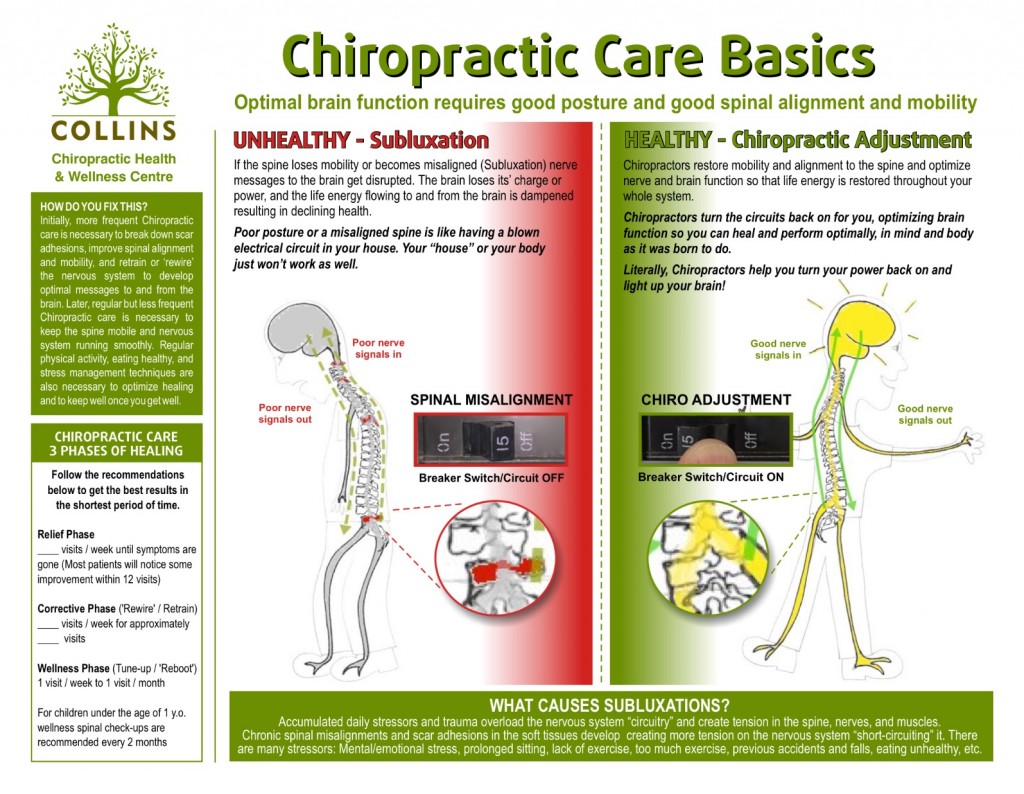 Our Approach
Who are our patients?
We treat patients with a wide range of chronic health problems, from low back pain, to neck and shoulder pain, to headaches and migraines, to pinched nerves, to sciatica, to arthritis, to numbness and tingling.  Some patients have even noticed chiropractic care helps them with more than pain.  Patients who do best under our care:
Don't want to rely on drugs or medical intervention for the rest of their lives

Are interested in finding out the underlying cause of their symptoms or health problem(s)

Are willing to take an active role in changing their diet and lifestyle behaviours to achieve the best result for themselves

Are motivated to continue to fine tune their diet and lifestyle behaviours in the long run to optimize their health and performance.
How do we work with patients?
Think of us as doing detective work for you in order to get you to a state where you are happier, full of energy, focussed, clear, on purpose, strong, a healthy body weight, and are more productive.  Our job is to work with you to find out what's preventing you from reaching a higher level of health and performance.  Often times, it's necessary to refer you to other health care practitioners.  
With chiropractic care we are focussed on finding problems related to your spine and nervous system.  We use a variety of tools to do this: posture check, range of motion, strength/muscle testing (applied kinesiology), orthopaedic and neurological tests, palpatory assessment, and sometimes x-rays.  This approach allows us to find out if your spine and nervous system are contributing to your health problem(s). Poor posture, poor alignment, and poor mobility of the spine and extremities results in poor brain and nerve function.  As a result your health declines.
By correcting the alignment and mobility of your spine and extremities we can strengthen your brain, nervous system, and muscles.  We do this by using adjustments (push or pull specific areas of the spine or extremities) and muscle therapy.  The health of the brain and nervous system are also influenced by your diet, gut problems, mental stress, prolonged sitting, lack of exercise or too much exercise, and environmental toxins.  So sometimes we have to take a more holistic approach and use nutritional therapy, herbal medicine, supplements, stress management, detoxification, and lifestyle changes.
By understanding how all of the systems in your body are interconnected, and how their function can be restored
By understanding how all of the systems in your body are interconnected, and how their function can be restored or "rebuilt", many chronic health problems can be prevented and even reversed.
When you approach your health problems in this way, you can help rebuild yourself so you are the perfect picture of health.
What is our treatment philosophy?
Dr. Collins focuses on restoring mobility, alignment, and strength to the spine, extremities and nervous system.
CHIROPRACTIC CARE IS:
Investigative.  Addresses the master control system of the body, the brain and nervous system, as one of the root causes of your health problem(s) which leads to optimal healing and long lasting results.
Holistic.  Understands the systems and parts of the body and our environment are all interconnected and recognizes the importance of theses connections in health and disease.
Safe.  Treatments have mild or no side effects, and other "untreated" complaints often improve.
Patient-centered.  Treats the patient, not the disease.  Treatments are highly individualized based on the patient's needs.  Not a "cookie cutter" plan.
Participatory.  Patients are educated, empowered, and encouraged to take an active role in their healing process.
Integrative.  Multiple treatment approaches are often used and emphasizes importance of diet and lifestyle.
Restorative.  Tests and treatments are designed to zero in on the underlying problem and optimize function and improve the quality of your life.
Preventative.  Treatments always entail that you engage in lifestyle and dietary changes that can help optimize performance and prevent chronic illness.
Evidence-based.  Based on the latest research from peer-reviewed medical journals, and uncorrupted by corporate and political interests.
What conditions do we treat?
Conventional medicine will have a specialist for each body part:  cardiologists for the heart, podiatrists for the feet, dermatologists for the skin, gastroenterologists for the digestive system, and neurologists for the brain and nervous system.  But in chiropractic we see all body parts as an interconnected whole, within a larger environment.  So when we treat the spine, brain, nervous system we understand that it will have an effect on all of the other parts of the body.
If we were to work with you as a patient, we would look at the big picture, look at the common patterns, look at examination results, and zero in on treating the most important system or systems in your body that would have the greatest impact on your overall health.  This approach tends to help you recover fast and more completely and allows us as chiropractors to treat a wide variety of health problems, including (but not limited to):
Back pain

Sciatica (pronounced 'sigh – attic – kah')

Pinched Nerve

Disc bulges and herniations ("Slipped" Discs)

Arthritis and Disc Degeneration

Back Surgery (Problems from)

Neck pain

Whiplash

Headaches (Migraines, Cluster and Tension)

Dizziness and Vertigo

Hip, leg, and foot problems (Arthritis, Bursitis, Plantar Fasciitis, Heel Spurs

Shoulder, arm, and hand problems (Rotator Cuff Tendinitis, Bursitis, Tennis Elbow, Repetitive Sprain/Strain injuries)

Numbness and/or tingling (Neuralgia)

Carpal Tunnel Syndrome

TMJ (Jaw problems)

Scoliosis

Posture Problems

Accidents

Sports Injuries
What conditions do we specialize in?
While Dr. Collins is confident that he can help most people with the conditions listed above (as well as others not on the list), he does have particular interests and training in the following:
Persistent joint and muscle pain

Improving strength and athletic performance

Gut problems and food intolerances related to chronic pain

Fatigue, low energy, and poor sleep